Throughout the difficult cancer journey that took ultimately took her life on Wednesday, June 26, Beth Chapman always remained true to her nature: positive, upbeat, and loyal to her faith.
She also kept on dancing.
Read More
In a tweet yesterday, Beth's husband, Duane "Dog The Bounty Hunter" Chapman shared a video of his late wife dancing in an empty restaurant to the Bruno Mars song, "Perm." Beth is seen singing along with a wide smile on her face.
RELATED: Dancing Her Way to Recovery – How Zumba Helped One Cancer Survivor Cope
"People have asked me.. What is something fans do not know about Beth," Dog wrote. "Here you go."
People have asked me.. What is something fans do not know about Beth… Here you go ❤️ @wgnamerica Marty Singer, Amy Weiss, Andrew Brettler @LelandBChapman @icEciLy @BabyLyssaC @dakotadog808 @Fast156 @theRealJaneBond pic.twitter.com/Om808KKV9k

— Duane Dog Chapman (@DogBountyHunter) June 27, 2019
In the days since Beth died of stage IV lung cancer at the Queens Medical Center in Hawaii after being put into a medically-induced coma to ease her suffering, the Chapman family has received an outpouring of support. Millions of people who found inspiration in Beth's faith and resilience have sent love and prayers to the Chapmans as they grapple with the grief that so many families experience after a loved one dies of cancer.
RELATED: "She Made People's Lives Straight Through Tough Love"– Celebrating Beth Chapman 
The Chapmans have shared with the public that they plan to hold two services: one in Beth's home state of Hawaii, and the other in Colorado, where the family spent much of their downtime when they weren't out hunting for fugitives (the adventures that the couple had become famous for after years starring in the show "Dog the Bounty Hunter.")
Funeral Arrangements Steeped in Hawaiian Tradition
Though the family has not yet announced details for the Colorado service, they did share the specifics of the one in Hawaii: it will begin at 2 p.m. tomorrow (June 29) at Fort DeRussy Beach in Waikiki, Hawaii, and will be open to the public.
Beth's daughter, Cecily, and stepdaughter, Lyssa, said in a press release that the service will incorporate the ocean, true to spiritual Hawaiian tradition.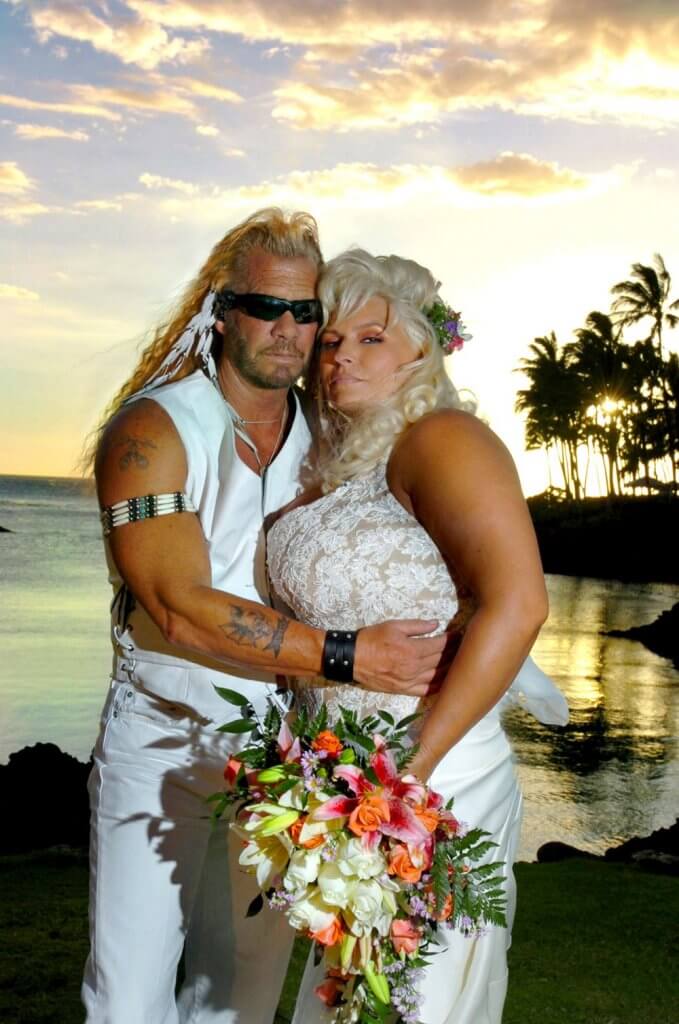 The service will begin with a traditional Hawaiian 'Oli (a chant), followed by a prayer and a "paddle out" with Beth's loved ones.
The plans are rooted in ancient tradition practiced in Hawaii—the place Beth loved most. For years, people have honored the deceased through a Sea Burial, in which loved ones paddle out into the ocean several hundred feet from the shore (in a canoe or on surfboards), and scatter the deceased's ashes into the sea. Usually, the canoe is filled with Hawaiian sympathy flowers, which capture the spirit of "Aloha," which means both "hello" and "goodbye" in Hawaiian.
The Chapmans have asked those attending the ceremony to bring ocean-friendly, loose flowers to contribute to this part of the service (not leis, though, since the strings that hold the flowers together may be harmful to ocean life.)
RELATED: "I Need You to Get Me Through This": How One Survivor Turned to God After Her Cancer Diagnosis
Dog has asked those posting on social media during the ceremony to use the hashtag "#alohaoemrsdog"—which translates loosely to "goodbye Mrs. Dog" ("Oe" means "You" in Hawaiian.)
Grief and Celebration: A Balance of Emotions Following Loss
The ceremony comes as the family both celebrates Beth's life and grieves for their loss: a balance of emotions that many people in their boat grapple with.
RELATED: How Long Will I Live? The Tough Questions After a Lung Cancer Diagnosis
"It's terrible, the most terrible time in someone's life," Dog told Hawaii News Now. "You kind of try to remember that you're celebrating life, but right now we're mourning the death, so it's not good."
But through the terrible time, the family is holding onto all that was wonderful about Beth—as evidenced in the lively dancing video that Dog posted.
RELATED: Celebrating The Life of Beth Chapman, And Mourning Along With Dog
Meanwhile, WGN America, the network that will air the Chapmans' upcoming show, "Dog's Most Wanted," posted a tribute video honoring Beth's life, and A&E, the network that hosted the Champans' previous series, "Dog the Bounty Hunter," has announced it will air its own tributes each hour during its four-hour block rerunning "Dog the Bounty Hunter" episodes.
WGN America has not responded to requests for comment on the future of the new show.
A Message from Dog: 'We Gotta Find a Cure.'
In the wake of Beth's death, Dog told reporters, "the cancer gig, of course, you know, we gotta find a cure. All we have now is … some get lucky, but most pass away."
Though the field of cancer research is advancing at a rapid pace, and new treatment discoveries are saving more and more lives every day, the most important discovery of all has been that cancer is not one disease, but rather a whole host of very specific diseases, each one with its own genetic makeup that requires a different treatment.
RELATED: "We Gotta Find A Cure": Dog Chapman Speaks About Cancer 
That's why, when Dog said "some get lucky," he wasn't entirely wrong; in 2019, people diagnosed with some very specific types of cancer can be treated with incredibly effective drugs (such as immunotherapy drugs, which empower the body to fight off its own cancer) and go on living for years as they normally would. But other cancer types and subtypes may not have one of these drugs yet—or these drugs may be available, but only work for some.
RELATED: Why Isn't Immunotherapy Effective for Everyone?
The good news is that doctors and researchers are on it: there are thousands of clinical trials going on at this very moment testing new treatments in almost every type of cancer. And while it isn't a simple process—and can take as many as ten years to bring a new drug from development to widespread use—the progress continues.
RELATED: Encouraging Trend: New Evidence Says Rates Of Cancer Deaths Are On The Decline
It's possible that someday, people diagnosed with the same specific type and stage of cancer that took Beth Chapman's life will survive for many years to come.
Learn more about SurvivorNet's rigorous medical review process.