"Dog the Bounty Hunter" star Beth Chapman is being honored in a really touching way by the family and friends she left behind.
After Beth's passing early Wednesday, her husband and co-star Duane (Dog) Chapman took a few tearful minutes to speak with reporters in the family's home state of Hawaii. He spoke about love from family, friends, and fans, finding a cure for cancer, and of course — how much he loved Beth.
Read More
"You try to remember you're celebrating the life, but right now, we're mourning the death," Dog said. Beth died Wednesday in Hawaii. She was 51. Her death comes after a brave battle with
stage four lung cancer
.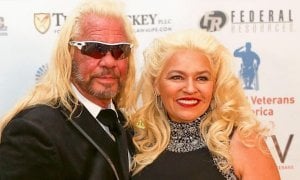 "She, for a few years, knew someday this day would come, and it came very unexpected … really fast," Dog said. "All of her clothes are exactly where they were, her makeup, everything, we didn't prepare. The cancer gig, of course, you know, we gotta find a cure. All we have now is … some get lucky, but most pass away."
Between breaks for tears, Dog went on to compare cancer to polio — saying it was a horrible disease, but one day a cure came along and changed the medical field forever. Dog also praised Beth for how hard she fought her cancer — and how she always had a brave face on. Beth was first diagnosed with throat cancer in 2017 — she underwent treatment and was declared cancer free shortly thereafter. However, her cancer returned in late 2018, and by then it had progressed to stage four lung cancer. Beth was sure to keep fans updated, documenting the challenges she was facing with a candor that inspired countless fans.
During his comments, Dog also mentioned how much love his wife was receiving from people all over the world — and that includes some of the family's famous friends. Rapper Snoop Dog took to Instagram to share a photo of Dog and Beth with the caption, "Beth. R.I.P. Miss u auntie. Dogg. Be strong know that she made a transition and she has no more pain."
Comedian Carrot Top also shared an emotional video to Instagram on Thursday where he offered condolences to the Chapman family — and mentioned what a dear, dear friend Beth had been to him.
"It's a bit of a sad day today for me and a lot of people out there," he said. "You heard the news that Beth Chapman has passed away, and she was a dear friend for years … Dog, hang in there buddy. I love you and I'm very sorry."

Carrot Top concluded his video by telling his fans that this is a good day to be kind to somebody, and to think about how life is short.
The Chapman family has also been showing an outpouring of love for Beth in the hours since her passing. Bonnie, Dog and Beth's 20-year-old daughter, had been keeping fans updated about Beth's status during the final days of her cancer battle. Now, she's taken to Twitter to share just how amazing her mom really was. She's also, unfortunately, had to deal with some trolls who are apparently disrespecting her late mother. But Bonnie is handling it all with class, shutting down negative comments and praising Beth for all that she was.
"I'd never thought I'd lose my mom at 20. I told her I thought she had a couple years left, but in her eyes she disagreed," Bonnie wrote on Twitter shortly after news broke of Beth's passing.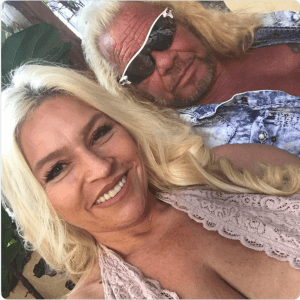 She also posted a sweet photo of her mom and dad (above) with the caption "So thankful I got your beautiful smile."
However, earlier in the day, Bonnie took to Twitter to slam trolls who were apparently making some rude comments about her mom after her passing. "For those talking shit about my mother after her death, shame on you," Bonnie wrote. "My mother was a person and doesn't deserve to be degraded because of ANY of her of my father's past. My mother fought for women's rights and was the kindest woman."
For those talking shit about my mother after her death, shame on you. My mother was a person and doesn't deserve to be degraded because of ANY of her or my father's past. My mother fought for women's rights and was the kindest woman.

— Bonnie Chapman (@Bonniejoc) June 26, 2019
After the tweet, thousands of fans commented on Bonnie's post offering comfort and kind words. "
"Oh honey I'm so sorry. Your Mother was a beautiful kind but tough lady. Don't listen to any of that nonsense. Beth is loved and will be missed by so so many. Praying for you and your family. Make your Momma proud! RIP Beth you are loved and missed by many," wrote a Twitter user named Tracie.
"Don't worry what others put. Just concentrate on you and your family. Thoughts are with you. Stay strong x," wrote another named Becki.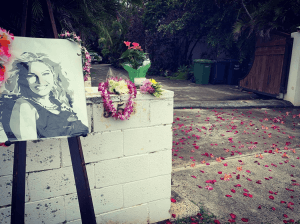 After the brief digression, Bonnie returned to posting about how much she loved her mom, and how much she will be missed. Bonnie also posted a photo of Beth's car (which has a license plate that reads MRSDOG) beautifully decorated with leis and a colorful assortment of flowers. Bonnie and her step-sister Lyssa Chapman both posted a photo of a memorial to Beth (above) featuring her photo among another assortment of flowers and leis and urged fans to come honor the late TV star "Hawaiian style."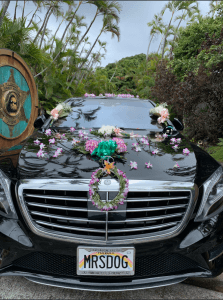 During his comments to reporters, Dog mentioned that the Chapmans would be hosting some sort of event in Hawaii to honor his wife — but the details were not hammered out yet. Like so many people who have lost a loved one to cancer, the Chapmans are likely struggling with the early stages of grief. Researchers define the stages of grief as denial and isolation, anger, bargaining, depression — and finally acceptance, though we all experience grief in a different way. Some reach acceptance much faster than others, and some linger in the early stages for a bit longer.
Though it's clear that the Chapmans are going through some extreme emotions right now with the loss of Beth so new, it is heartwarming to see that the family is spending time together during this difficult time.
Learn more about SurvivorNet's rigorous medical review process.
---