Researchers from the Dana-Farber Cancer Institute decided to study pancreatic cancer and cannabis. They figured out that a chemical derived from cannabis may be useful for fighting the disease. We thought the study was interesting enough to report, because pancreatic cancer is notoriously difficult to treat.
The study was just published in the journal Frontiers of Oncology, and it explains that "flavonoids," a compound which provides the color for plants, vegetables and fruits, are useful for stopping pancreatic cancer tumors from growing, and for stopping pancreatic cancer from spreading.
Read More
RELATED: More Cancer Patients Are Using Medical Marijuana For Pain: How Can You Benefit During Your Treatment?
They aren't sure exactly why flavonoids prevent the spread of cancer, and but they've begun to develop a hypothesis for further research.
Dr. Junella Chin on using marijuana to alleviate side effects of chemotherapy
The most common use of cannabis in cancer is for pain relief and managing side effects, but in this study, cannabis actually proved useful for treatment. "It was very surprising," said Dr. Wilfred Ngwa, Global Health Director at Dana-Farber Cancer Institute and Brigham and Women's Cancer Center at Harvard Medical School.
RELATED: Understanding How Medical Marijuana Alleviates Pain
"Microscopic drones" — Delivering the drug to the tumor
The researchers also developed a technology to direct the flavonoids to the actual cancer tumor. They call the delivery system "microscopic drones." With most drugs, according to Dr. Ngwa, you only get about 5 percent of the drug to the site it needs to reach. With the new technology, they delivered 90 to 100 percent of the drug, which may make it possible for the drug to go into clinical trials.
Why study cannabis and pancreatic cancer?
At first, the doctors were studying cannabis so that they'd have a better idea about how to answer patient questions about it's use for pain and side effect management. Dr. Ngwa said that patients come to doctors with a lot of questions about cannabis, like "Should we take cannabis to manage side effects?" And doctors are not always able to tell them what to do, because they don't have a prescriptions for them. "We can't say 'take this amount,' because different growers are different. So it has been our interest to actually isolate some active molecules, and see if they would be active in cancers and pain," he said.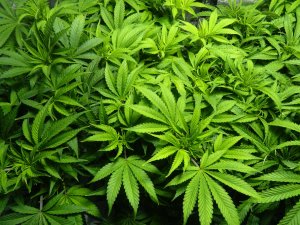 And at the time, they weren't focused on pancreatic cancer at all, "We initially weren't interested in pancreatic cancer, we were actually trying to look at lung cancer," he said.
But were also doing a completely separate pancreatic cancer study at the time, so they decided to see what they could learn about cannabis for pancreatic cancer, "We had just done this other study on pancreatic cancer, and since we had this other study going, we said, lets just isolate these molecules and see."
They were so shocked that it actually yielded results, that "we actually had to do some repeat studies to make sure [the findings] were actually true," he said.
Difference between this study and past studies
A lot of researchers have published on the topic of flavonoids and pancreatic cancer in the past, but the evidence was always contradictory in different studies. In this study, researchers tried to address that problem by screening to cannabis plants before they took the flavonoids out.
"We had a hypothesis," said Dr. Ngwa, "that plants grown in California might be different from plants grown in Massachusetts."
By screening the plants first, they made sure that they knew that the results wouldn't be influenced by different cannabis growers with different variants of the plant.
Learn more about SurvivorNet's rigorous medical review process.
---