Elizabeth Vargas On Overcoming Anxiety & Alcohol Issues
Cable News Anchor Elizabeth Vargas, 61, is hoping to remove the stigma attached to addiction after she previously struggled with alcoholism and anxiety.
Vargas, who now anchors a nightly news program on the cable channel NewsNation, opened up to SurvivorNet about the connection between anxiety, depression, and addiction and the unmet needs of many patients, especially women, regarding mental health. She stresses the importance of being able to admit when you are struggling and seek help.
The term mental health refers to both our emotional and psychological well-being. Our mental health can affect how we think, feel, and behave. Certain triggers like stress, traumatic events, or changes in your physical health can affect mental health.
The television news journalist Elizabeth Vargas tells a story about a nurse she knew who had breast cancer and was also in recovery for alcohol. As Vargas recounts it, the nurse said, "She'd rather have a recurrence of breast cancer over a relapse with alcohol because when you have breast cancer, everybody shows up." With addiction," says Vargas, "everybody runs away. We need to change. It's hard. But we do need to change that."
Vargas has come into our homes for years as a fixture of the news programs on the ABC television network and now on the increasingly popular cable channel, NewsNation. She is a 61-year-old mom of two who has had tremendous success as a deeply accomplished journalist, as well as a very public struggle with addiction and anxiety.
Read More
In an effort to continue raising awareness and helping others, Vargas sat down with SurvivorNet. She talked about the connection between anxiety, depression, and addiction and the unmet needs of many patients, especially women, and moms, when it comes to mental health.
RELATED: Check out SurvivorNet's Mental Health Resources 
The Roots of Anxiety
Vargas recalls her first memories of feeling anxious when she was six years old when her dad left to serve in Vietnam.
She tells us, "That's when I started having panic attacks every day. And the anxiety really, really overtook me. I didn't have anybody help me through that. That was a time, I think, in our country, when we weren't even helping Vietnam vets with their PTSD. Certainly, no one was helping the children of vets."
"So I was really on my own and learned very young what I thought was the truth then, which was that anxiety was something to be ashamed of, to be afraid of, to hide at all costs. And I sort of white knuckled my way through childhood and adolescence and early adulthood until right after I graduated from college, I learned for me, at least, the sort of powerful relief that a glass or two of wine would give me."
Vargas noted that is when she began using alcohol to cope with her anxiety, something she said she did initially "in a moderate way," explaining, "no different from most people for many, many years, even decades until it wasn't moderate and it no longer worked and in fact was backfiring."
Noting how millions of people have sought help and ultimately learned there are "healthier tools" out there when it comes to coping with anxiety.
She explains, "I think every single person I've ever met in the rooms of recovery, whether they are recovering from alcohol or some sort of drug, used that substance to numb something, usually anxiety, sometimes depression, but something that they didn't want to feel any longer. And I feel really lucky that I was able to find a way to deal with real life and those feelings without turning to a substance."
With regard to the connection between alcohol and anxiety, Vargas says there's a "huge link," especially among women.
"There are some estimates that 60% of women who suffer from alcohol addiction also suffer from anxiety. They're using the alcohol to soothe the anxiety. That's double the connection for men. So it's a strong connection," she says.
Vargas, who also works as the lead investigative reporter/documentary anchor for A&E Networks, explains further, "Many, many women feel very anxious, and many, many women turn to alcohol for help. The problem is that for people who are anxious, doctors in this field say it's even harder for them to stay sober; more of them relapse more often before finally getting sober."
She described how "a couple of glasses of wine" help early on until years later when more wine is needed to reach that same feeling, adding, "Then after several years, what the alcohol starts doing is it starts fueling the anxiety, and you're caught in a really, really vicious cycle. And when you take the alcohol out and you try and get sober, you're left with this hypercharged anxiety."
Alcoholism Is a Disease
Comparing alcoholism recovery to battling cancer, Vargas stressed that the outlook on both should be similar, but both health issues are viewed differently.
"Relapse is part of recovery. If getting sober or getting clean from a substance was that easy, we wouldn't have the issue of addiction in this country. People relapse because it's hard. It's really hard. And I think all too often, families, companies, corporations, friends, and colleagues are too fast to say, you relapsed, you're out, you're done. We don't tell somebody who has cancer when the cancer comes back, oh, sorry, no more chemo. But many companies, many families say, no more treatment," Vargas says.
"You relapsed. You're hopeless. You don't want to get better. You won't try hard enough. And that's the kind of thinking I think we need to change. And that's why there's so much stigma around the disease of substance use disorder."
Vargas, who is now sober, says she loves her two sons very much and would "die for them" but said that alcoholism is so "powerful" and hard to combat that she "couldn't stop drinking for them" before seeking help.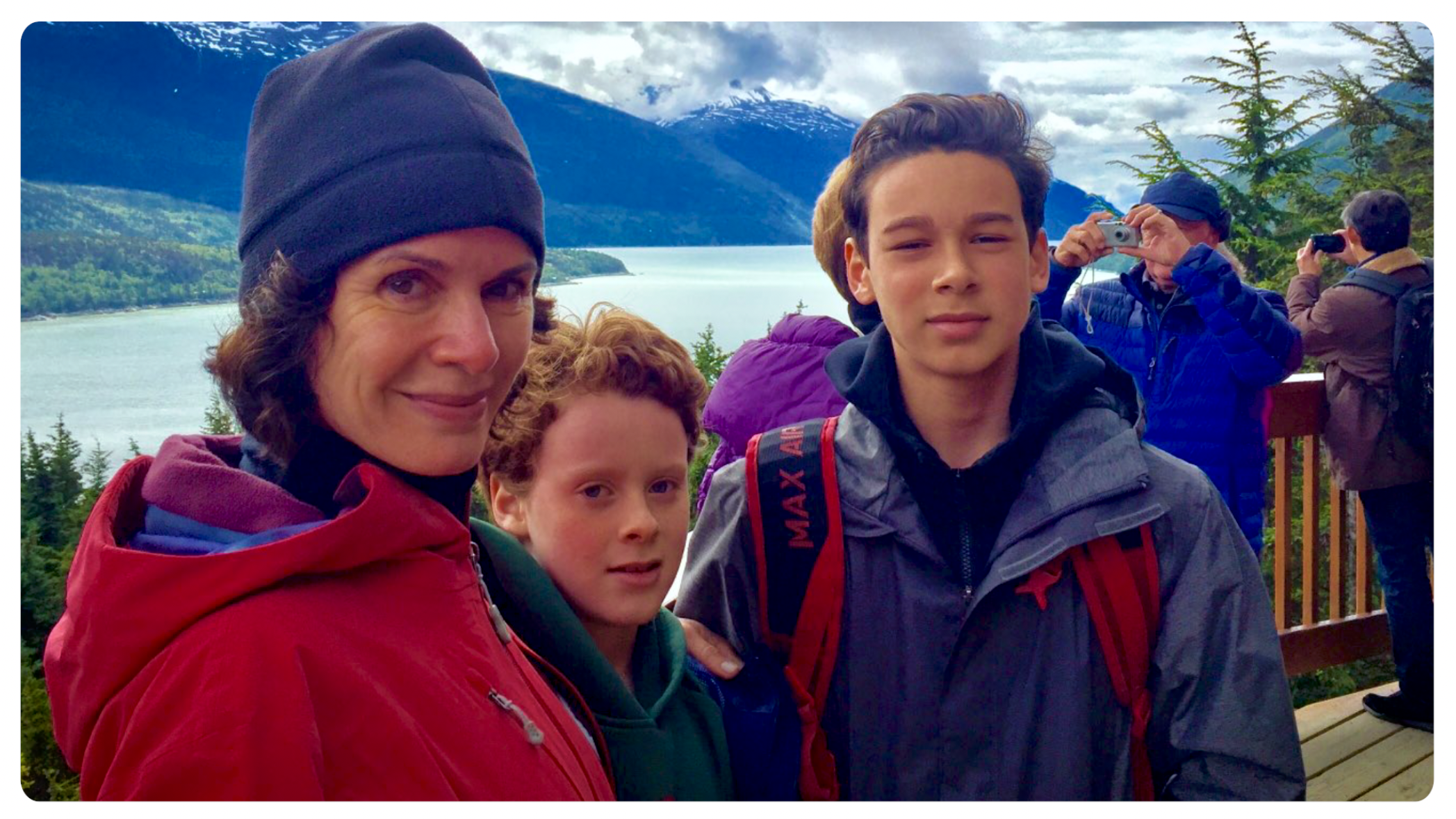 Vargas stressed the importance of communication regarding health issues and mental health. She thinks people should talk about drug and alcohol addiction like other conditions, for example, diabetes.
"We have an opioid crisis right now killing record numbers of people in this country. We have to look at drug addiction differently in order to help people get clean."
As for dealing with alcoholism amid her career, Vargas labeled herself as "highly functioning." Her former ABC News colleague, George Stephanopoulos, told her in an interview that he "never suspected" she was battling something like this.
Noting how alcoholism looks different for everyone, she tells us, "That's the fallacy for people who say, oh, people who are addicted to drugs or alcohol have no self-discipline. I was a model of self-discipline. I worked out every day. I ate healthy.
"But you can't self-discipline your way into sobriety or out of addiction because it's not about self-discipline. But for me, it allowed me to buy into all those cliches that an alcoholic is some guy under a bridge with a whiskey bottle and a brown paper bag or some messy woman falling on the floor of the restaurant with her makeup smeared all over her face. And I could say, well, I'm not those, so I can't be that. And that's just not true."
Elizabeth Vargas On How She Took Control Of Her Addiction & Anxiety
Vargas, who says she now copes with her anxiety through meditation, hopes her story will inspire others to look at addiction differently and reach out to others in need or seek help and don't be fearful to admit you are struggling.
She admitted to feeling "shameful" about her anxiety, but the best thing that can be done is being open.
Looking back at when a man once asked her if he could hold her hand as he was anxious during a plane ride with turbulence, Vargas likened the situation to people suffering from anxiety and how they should talk about it.
As for how she's living now, Vargas tells us, "I'm very, very lucky to be sober and to be happy and to have two healthy children and a career and a new way of looking at life where I'm not so afraid and know that I can handle whatever life throws my way."
Mental Health: Critical Knowledge
The term mental health refers to both our emotional and psychological well-being. Our mental health can affect how we think, feel, and behave. Certain triggers like stress, traumatic events, or changes in your physical health can affect mental health. It's really important to keep tabs on your mental health and, if necessary, seek treatment. This doesn't necessarily mean traditional therapy because while it may be really helpful (even life-changing) for some, that doesn't mean it's for everyone.
Problems with mood and overall mental well-being can be attributed to several factors. For some people, it's genetic, while others may be experiencing a response to some sort of stressor or past trauma.
How to Fix Relationships When Depression Hits – A Survivor's Guide
In order to keep your mental health in check, it's important to be aware of signs that can be subtle that there is something affecting your mind. These signs include:
A change in eating or sleeping habits
Losing interest in people or usual activities
Experiencing little or no energy
Numb and/or hopeless feelings
Turning to drinking or drugs more than usual
Non-typical angry, upset, or on-edge feelings
Yelling/fighting with loved ones
Experiencing mood swings
Intrusive thoughts
Trouble getting through daily tasks
Dr. Samantha Boardman, a New York-based psychologist, Explains How To Be "Realistically Optimistic" When Learning To Cop With Mental Health Struggles 
These symptoms can be wide-ranging and vary greatly from person to person. Everyone experiences grief differently, for example. However, if you are feeling unusually sad, on edge, or like you're no longer interested in activities you used to love, know that there are many treatment options available and many different healthy ways to help you cope.
Coping With Depression
Dr. Scott Irwin, a psychiatrist and Director of Supportive Care Services at Cedars-Sinai Medical Center, says it's crucial for patients to talk to their care team about their mental health.
"We all get depressed from time to time, have a sad day, feeling down and blue – that's part of normal human emotion, part of normal life," Dr. Irwin explained.
"Some of us, when we're dealing with difficult things such as a diagnosis of cancer, may be sad or down or blue more often. And sometimes it gets to the point where that depression can be a little bit overwhelming, and we help them through therapy, through non-medication interventions."
There are many ways to address mental health issues as a cancer survivor. Options may include:
Practicing mindfulness
Talking with a therapist
Joining a support group
Medication, such as antidepressants
Medication
When doctors and patients together decide that medication is necessary, it's important that doctors choose wisely.
"I often try to choose medications with the lowest side effect profile," Dr. Irwin said. "If patients are getting hormonal therapy, there are particular antidepressants that we can't use because they may lower the effectiveness of that hormonal therapy, and so we choose antidepressants that don't impact the cancer care."
This shows how important it is to communicate with everyone you're seeing so they can be on the same page about your treatment and options.
Dealing With Grief Related to Health Problems
Another way doctors can tailor mental health medications for their patients is through genetic testing.
Psychiatrist Dr. Lori Plutchik says genetic testing through companies like Genomind can help doctors understand how likely it is a patient may respond to different types of psychiatric medications.
"Doing the genetic testing has absolutely transformed the landscape of psycho-pharmacology," Dr. Plutchik told SurvivorNet. "It's something that I highly recommend for anybody who is taking medication, whether they are being treated for cancer or not."
WATCH: Marianne Duquette Cuozzo Shares How Art Helped Her Through Dark Times
Dr. Plutchik also explained that genetic testing can be specifically helpful for cancer patients because it may help avoid trial and error when it comes to choosing a mental health medication that does not interfere with their cancer treatment.
"So, a person who is dealing with this and may have to go on chemotherapy has already enough on their plate that they don't really want to start dealing with trial and error with medications," she said. "So, it gives me information about which medications are likely to work without having problematic side effects, and it also gives information about interactions between any of the psych medications that we choose and the chemotherapy agents that they may be taking."
Support Groups
Whether you're coping with an illness, an emotional problem, or a life transition, a support group can be a place where people in the same boat or in a similar situation can come together.
But maybe you're a little unsure or skeptical about joining a group. What will it be like? Are you expected to share your story?
Dr. Amy McNally, gynecologic oncologist with Minnesota Oncology, tries to reassure her patients that chances are they'll derive some benefit.
"I think in a support group, you're going to find women who are in similar situations but yet can share their unique stories," she says. "Just being there is worth it. You don't have to share a thing. You can just sit and listen, or you can be part of the conversation and offer your thoughts. And it can be different every time you go; it's your choice as to how or whether to participate and what you decide to get out of the group."
McNally thinks it can be helpful and comforting to be around people who know what you've been through or are going through, and that in and of itself is reason enough to try it out.
Therapy
"People that are struggling with coping with the experience, coping with body image should reach out to their doctors, find a therapist in the community," says Dr. Irwin.
A patient navigator or social worker can also help connect you with a mental health professional that you can talk to to help process your emotions.
"It's about meeting the individual patient where they are and their feelings, how they've always dealt with their body image, what the body image changes mean now in their lives and their relationships, and how they can move forward given the new reality," Dr. Irwin said.
Mindfulness
Jon Kabat Zinn, founder of the eight-week stress-reduction program Mindfulness-Based Stress Reduction (MBSR), a course that has entered the mainstream of health care, scientific study, and public policy, describes mindfulness as "paying attention in a particular way: on purpose, in the present moment, and nonjudgmentally."
Mindfulness is often suggested for cancer patients to reduce high levels of anxiety and distress associated with diagnosis, treatment, and anticipation of possible disease recurrence.
Both the American Society of Clinical Oncology and the Society of Integrative Oncology recommend meditation as part of a multidisciplinary approach to reduce stress, depression, and mood disturbance and to improve the quality of life in cancer patients. But the question remains: does it really work? We think it does.
Five tips for practicing mindfulness:
Choose one daily activity to practice mindfully (e.g., eating your lunch, brushing your teeth, or taking a shower). During this activity, notice your breath and the activity of your mind for a few moments.
Take a pause throughout your day. During your day, find a moment to stop and take five deep breaths with your eyes closed.
Kindly acknowledge a moment you're experiencing a difficulty by putting your hand on your heart and saying, "Feel my pain. How can I be kind to myself in this moment?"
Get curious about your emotions. Experiment with welcoming your emotions as they come instead of pushing them away.
Become aware when you're in a rush. Ask yourself, "Do I really need to hurry?"
Meditation
Regularly meditating allows people to start to become more aware of the emotions in the physical body and the thoughts running through the mind, to acknowledge their thoughts as they arise, and then gently let them go.
Shannon Masur, a colon cancer and Lynch Syndrome survivor, describes this as "when a thought comes in, to feel it, feel the fear, but let it go after a few seconds."
All of this is said to result in an overall reduction in stress and anxiety in the body. It may also help patients control problems such as pain, difficulty sleeping, tiredness, feeling sick, and high blood pressure.
For help getting started with meditation, here's a guided session to try.
WATCH: A Guided Meditation for the SurvivorNet Community
Overall, don't forget to prioritize your mental health if you're facing cancer. You might feel like your mind is the least of your worries while fighting the disease, but it's important to know just how big of an impact your mental well-being can have on your health as a whole.
"Actually, there's data that if you have extra stress or depression, you may not recover, or you have a higher risk or recurrence," Dr. Irwin said. "So… in treating the depression, we're actually impacting the cancer care outcomes."
Contributing: SurvivorNet Staff
Learn more about SurvivorNet's rigorous medical review process.