Nightbirde's Breast Cancer Fight
Nightbirde, the 30-year-old singer born Jane Marczewski, shared this week that she was leaving America's Got Talent due to her ongoing metastatic breast cancer battle; in a new interview with Chris Cuomo, she shares how she's feeling.
Her cancer has now spread to her liver and her lungs.
Despite the regrowth and this "devastating" time, Nightbirde is hopeful and optimistic.
Nightbirde, the 30 year-old singer who stole viewers's hearts on 
America's Got Talent
, shared her latest breast cancer battle news with Chris Cuomo this week on
Cuomo Prime Time.
Related: 'America's Got Talent' Frontrunner Nightbirde Withdraws From the Show as Her Health Worsens Amid Breast Cancer Battle
Read More
Jane Marczewski, aka Nightbirde, spoke with Cuomo candidly about her performing dreams, her cancer, and how she's coping. When asked how she's feeling, Nightbirde says, "Well, to tell you the truth, I've been curled up in a ball like a cocktail shrimp, having an A-plus pity party for myself, because it's just been a bad, bad month. It's been really, pretty devastating."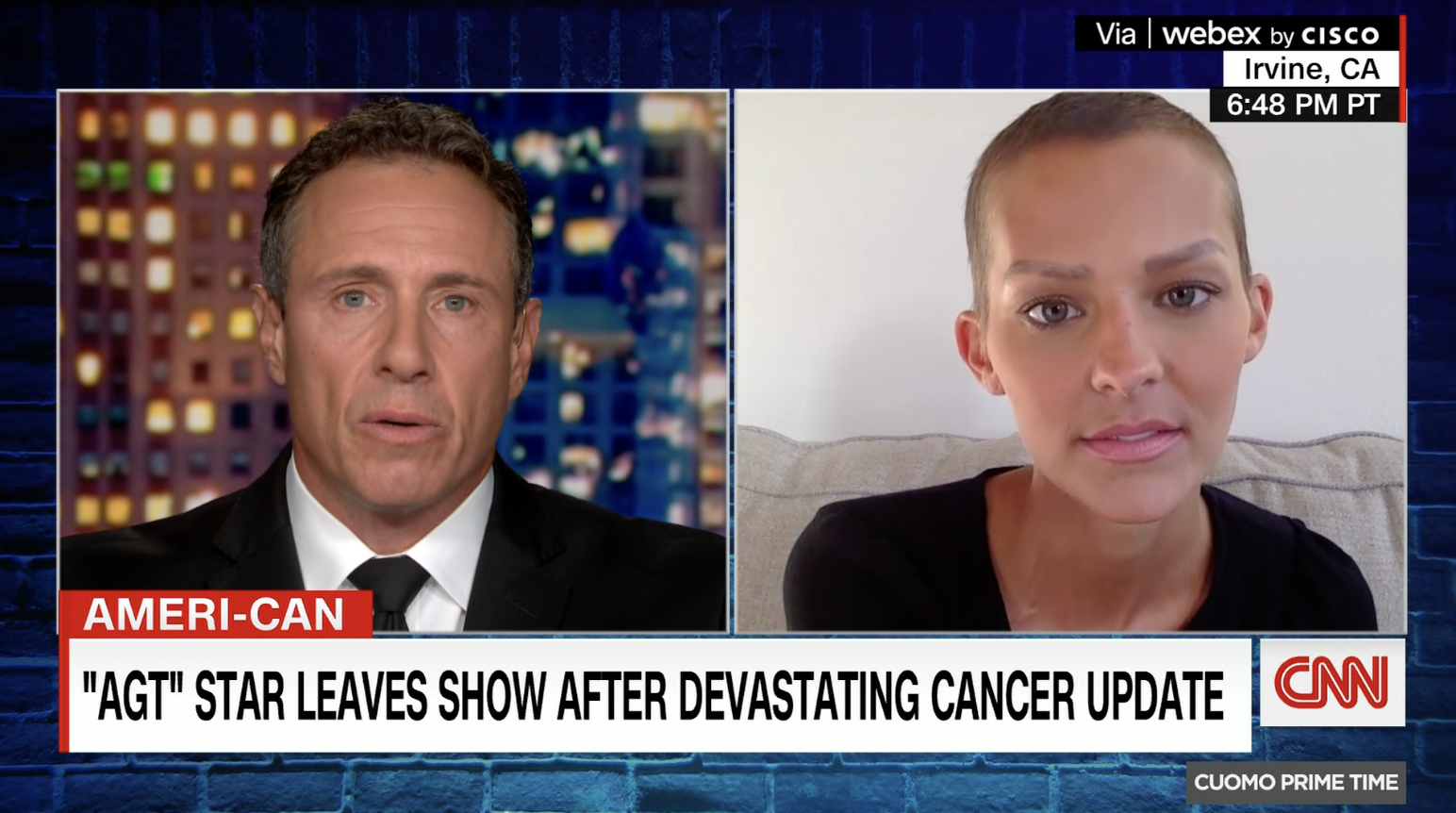 Fighting metastatic breast cancer means she needs to, at this time, focus on her health. She tells Cuomo that she's still keeping a positive attitude. "I'm not a quitter," says Nightbirde. "So it was really, really hard for me to say that I couldn't finish the show."
"I'm planning my future, not my legacy."
"I got shocking news less than a week ago about cancer regrowth that has taken over my lungs and liver," she says. "So my liver right now is mostly cancer. More cancer than liver in there right now. But like I said, I'm planning my future, not my legacy. Some people would call that blind denial. I prefer to call it rebellious hope. And I'm not stopping anytime soon."
View this post on Instagram
Nightbirde's Breast Cancer Battle
The singer was diagnosed with terminal breast cancer on New Year's Eve in 2019. Doctors found multiple tumors on her liver, lungs, lymph nodes, ribs, and spine. They told her she had three to six months to live, but two years later, she is still here; Nightbirde is an inspiring cancer warrior.
Related: 'I'm Not Afraid of It': 'America's Got Talent' Singer Jane Marczewski Details Her Three-Time Cancer Battle
Her battle with breast cancer first began in 2017 when a 4-centimeter tumor was discovered on her breast. For treatment, she had six rounds of chemotherapy and a double mastectomy. She had a brief remission in 2020.
Nightbirde currently has stage four – or metastatic – breast cancer. This means that the cancer as spread to other areas of the body, like her lungs and liver, as she disclosed to Cuomo. When breast cancer is no longer regionalized and located just in the breast, treatment looks different, due to the advanced nature of the disease.
Related: Selma Blair Bonds With Cancer Warrior Nightbirde as Madonna's Manager Praises The 'America's Got Talent' Star
Metastatic breast cancer treatment options include hormone therapy, chemotherapy, and targeted drugs. Sometimes, radiation or surgery might also be considered at this stage.
Coping with Emotions During Cancer
Cancer can be an emotionally overwhelming event. But Nightbirde shared in the interview with Cuomo that she focuses on being present, and letting go amid her breast cancer battle. She tells him, "I try not to occupy myself with questions that are too big for myself to answer. It's a waste of time. You know, just because it's a mystery doesn't mean it's the absence of meaning. Sometimes, the mystery means there is more meaning there than we can even understand and so I accept that and I let go of the questions because it's too heavy."
Related: Dealing With Grief After a Cancer Diagnosis
Nightbirde says that despite the pain she is in, she stays hopeful, and future-focused. "Not denying the pain of today and not denying the hope of tomorrow," she says.
Related: Treating Depression After a Cancer Diagnosis
"And when you go through something that is so devastating, makes no sense, there are no answers, you kind of have the choice, like, am I going to become bitter, or am I not?," she explains. "You do have a choice, you know. You do get to decide what becomes of you in a sense and, you know, I've decided in my most painful moments to keep my eyes open because it's easier."
Learn more about SurvivorNet's rigorous medical review process.