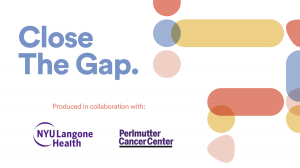 SurvivorNet and NYU Langone Health's Perlmutter Cancer Center are collaborating to help close the racial gap in cancer prevention, cancer care, and survival rates.
Read More
"When we improve access to healthcare, we see an associated reduction in racial disparities and improvement in the quality of cancer care. We must make the invisible, visible."
These were the words Dr. Yousuf Zafar, gastrointestinal oncologist and director of Healthcare Innovation at the Duke Cancer Institute, chose to summarize a new cancer disparities study in front of tens of thousands of cancer doctors and researchers at the American Society of Clinical Oncology (ASCO) Annual Meeting this Sunday.
The study that Dr. Zafar discussed looked into the race-based disparities in cancer care—specifically, the fact that black people in America who are diagnosed with cancer are less likely to receive timely treatment than white people. (For the study, researchers considered "timely treatment" to mean that, after a cancer diagnosis, patients could begin receiving treatment within 30 days).
Through analyzing thousands of electronic health records, the study's researchers—who were from Flatiron Health, Yale School of Medicine, and the Yale School of Public Health—did find evidence confirming these race-based disparities in timely treatment.
But then—and this is the "good news" part of the presentation—they also found an encouraging trend: in U.S. states that had expanded their Medicaid coverage under Obamacare (the Affordable Care Act), the difference in percentage points between black patients and white patients able to access cancer treatment within 30 days of their diagnosis nearly disappeared.
Specifically, before the Affordable Care Act's Medicaid expansion, black patients were almost five percentage points less likely to receive timely treatment than white patients. After the expansion, that disparity dropped to less than one percentage point.
The improvement in timely treatment disparities, the researchers found, was directly related to the expanded access to public healthcare care under the Affordable Care Act. Those with cancer who may not have been able to access timely treatment in the past were able to do so through Medicaid in the wake of the new law.
"In other words, cancer injustice is not a science problem, a technology problem, or a genetics problem," Dr. Zafar continued in his presentation, quoting the study's researchers. "It's a policy problem."
Science and genetics do play into U.S. race-based cancer disparities, too (clinical trials, for instance, don't enroll nearly enough minority participants, making it so that new drug developments are mostly based off of testing in white patients). But the researchers and Dr. Zafar make a good point; policies affect cancer care—a lot.
In general, black patients in America who are diagnosed with cancer experience worse outcomes than white patients diagnosed with cancer. Black women with breast cancer, for example, are diagnosed at the same rate as white women, yet they die at a rate 40 percent higher than white women. And black men diagnosed with prostate cancer are two-to-three times more likely to die of their cancer than white men.
If black patients had identical access to healthcare as white patients, it's hard to believe their cancer outcomes would be very different at all. Cancer disparities are intrinsically linked to healthcare access, and healthcare access, in turn, is intrinsically linked to policy.
The study that Dr. Zafar discussed was presented during a part of the ASCO conference called the "Plenary Session," where just four studies out of the thousands submitted to ASCO are highlighted as the most important developments in cancer care. In the past, these chosen studies have almost always focused on new drugs and new science. The fact that we're finally seeing the field choosing to include health disparities research in the Plenary Session—effectively setting it up to be a top priority in cancer research in the coming years—is good news.
Of course, much, much more needs to be done to eliminate race-based disparities in cancer treatment. With the Affordable Care Act in a tumultuous state, and healthcare set up to be one of the focal points of the 2020 election, we will likely see policy playing an even bigger role in cancer treatment going forward.
Here at SurvivorNet, we're paying close attention to this research. Because we recognize that cancer is a disease that affects everyone. It doesn't discriminate, and neither should timely access to its care.
Learn more about SurvivorNet's rigorous medical review process.
---