When Prostate Cancer Hits Close to Home
Aerial skier Winter Vinecki made her Olympic debut this year. Though she didn't perform as well as she had hoped, Vinecki knows she skied for a purpose much greater than her own athletic achievements: raising money and awareness for prostate cancer.
Vinecki's father died of an aggressive form of prostate cancer when she was just 10. She formed her own nonprofit, Team Winter, to raise funds for research after his diagnosis, and has been advocating for awareness ever since.
Prostate cancer is the most common cancer in men and symptoms of the disease are hard to pinpoint. Many prostate cancer diagnoses in the United States are caught with screening examinations called PSA tests, so it's important to talk to your doctor about screening options and your level of risk for the disease.
After losing a loved one to cancer, sadness is not always a negative thing. It can be used as a motivator or even a source of inspiration – like in Vinecki's case as she continues to raise awareness for prostate cancer.
The pressure is on in Beijing as world-class athletes compete against the best of the best. But for aerial skier Winter Vinecki, making it to the Olympics was about so much more than just trying to earn a medal – it was competing for her late father and raising awareness for prostate cancer.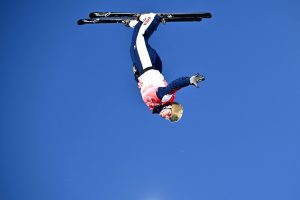 Vinecki, now 23, was just 9 years old when her father was diagnosed with an aggressive form of prostate cancer.
Read More
"The day he was diagnosed, I knew I wanted to do something to help him and all the men affected by prostate cancer,"
she said
.
That's when she started opening up a conversation about prostate cancer. She even formed her own nonprofit, Team Winter, to raise money for prostate cancer research.
And her goals kept growing after her father passed away when she was 10. She turned to running to break two world records by the time she was 15 years old by becoming the youngest person to run a marathon on seven continents and the youngest person ever to complete a marathon in Antarctica at 14. She was even a part of the first daughter-mother duo to do the marathons on the seven continents as her mom raced by her side.
"I immediately told my mom, 'I want this record.' I thought it would be so cool to be able to honor my dad in that way and be able to take his memory across the globe," she said of wanting to run the marathons on all seven continents. "From the moment we started doing the first one, there wasn't really a doubt in my mind that we weren't going to finish it."
RELATED: 'I Want Every Handshake to Be an Opportunity': 62-Year-Old Prostate Cancer Survivor Is Determined to Educate and Help Others With the Disease
Through all the runs, records and now ski events, Vinecki teamed up with the Prostate Cancer Foundation and raised money for her nonprofit to the tune of $500,000. Fast forward to today, and Vinecki is competing in her first Olympics, which is giving her a larger platform to raise awareness for prostate cancer.
View this post on Instagram
"It feels so much better when you cross that finish, that competition, knowing you aren't just doing it for yourself. That there's something else you're standing for and something bigger than just you," she said.
And though she didn't medal or perform as well as she would have hoped, Vinecki knows there's value in what she accomplished at Beijing.
View this post on Instagram
"As for me, this is just the beginning of Winter The Olympian," she wrote in a recent Instagram post. "I know I could have performed better. But I also know I am more than just those few second[s]. I have been able to bring worldwide attention to causes that are dear to me and encouraged others to do the same."
Understanding Prostate Cancer
Prostate cancer is the most common cancer in men. About one in eight men will be diagnosed with prostate cancer during his lifetime. The disease begins in the walnut-shaped prostate gland located between the rectum and bladder. This gland produces the fluid that nourishes sperm.
Symptoms of the disease are inconsistent and hard to pinpoint.
"Prostate cancer is a very odd disease in that it doesn't have a particular symptom," Dr. Edwin Posadas, director of translational oncology and the medical director of the Urologic Oncology Program at Cedars-Sinai, explained. But changes in urinary function like urinating more or less often or waking up at night to go more than usual could be a sign of the disease. However, it's important to note that these potential symptoms could also could be caused by a urinary tract infection or even an enlargement of the prostate gland (which is not cancer).
There's No One Definitive Symptom for Prostate Cancer, But There Are Clues
Doctors who have spoken with SurvivorNet shared a hopeful outlook when considering a prostate cancer diagnosis, because there are many treatment options, and there's been significant treatment progress over the past decade. Surgical and radiation options, for example, have made improvements in reducing side effects of treatment while still providing excellent cure rates. Even for men with an advanced-stage diagnosis, many new options exist to treat prostate cancer and help them maintain an excellent quality of life.
Prostate Cancer Screening
In the United States, many prostate cancer cases are caught with screening examinations. Screening guidelines depend on your risk for the disease. Age, race/ethnicity, geography, family history and gene changes are the main risk factors for prostate cancer. You should talk with your doctor regardless, but here are some things to consider when gauging your risk for the disease:
Men younger than 40 are less likely to get prostate cancer, but age-related risk quickly rises after age 50. Approximately six of ten cases of prostate cancer are found in men older than 65.
Prostate cancer develops more often in African-American men and in Caribbean men of African ancestry than in men of other races, and these men tend to develop the disease at a younger age.
Prostate cancer is most common in North America, northwestern Europe, Australia and on Caribbean islands. It is less common in Asia, Africa, Central America and South America. The reasons for this risk factor are unclear, but more intensive screening and lifestyle differences like diet might be contributing factors.
Most prostate cancers occur in men without a family history of the disease, but it's still important to look at your family history because prostate cancer does seem to run in some families. Having a father or brother with prostate cancer, for instance, more than doubles a man's risk of developing the disease with a higher risk for men with a brother with prostate cancer than those with a father who have it. The risk is also especially high if a man has several affected relatives that developed the cancer at a younger age.
Inherited gene changes, or mutations, like that of the BRCA1 or BRCA2 genes can also elevate risk, but this probably accounts for a small percentage of overall cases.
It's not clear if the benefits of prostate cancer screening outweigh the risks for most men. Nevertheless, screening can be life-saving, and it's important to at least discuss the pros and cons of screening and your risk factors for the disease with your doctor.
Prostate cancer screening methods look for possible signs of the disease, but they can't determine for sure if you have cancer. The only way to know for sure if the patient has prostate cancer is with a prostate biopsy – a procedure in which small samples of the prostate are removed and examined under a microscope. But generally speaking, screening for prostate cancer involves a PSA (prostate-specific antigen) test and a digital rectal exam to feel the prostate gland.
When Should I Get Tested for Prostate Cancer?
"It's slightly uncomfortable but painless, and takes less than 30 seconds," Dr. Posadas said of these methods. "The amount of information that is gained from that is tremendous, and it can be a life-and-death type decision that is made."
But it's important to note that the PSA test is not perfect. The prostate-specific antigen is a protein secreted by the prostate gland. Men have a small amount of PSA in their blood all the time, but large amounts can be a sign of cancer because when cancer cells grow, PSA spills into the blood.
An elevated PSA test, however, does not always mean you have prostate cancer. It can simply reflect that your prostate is enlarged – which is common – or it could signal an infection or inflammation. Because of this, the PSA test is controversial since high levels may lead to over-treatment in men who are more likely to die from something else. Regardless, our experts maintain that the PSA tests are helpful, and you should talk with your doctor about your own risks for the cancer and screening options.
Losing a Parent to Cancer
Grief is a complex emotion. It can come in waves and there's right or wrong way to process the event of losing a parent to cancer. Particularly when the loss comes at a younger age, the sadness can feel really linger. But that doesn't have to always be a bad thing. In a previous interview with SurvivorNet, Camila Legaspi explains how she lost her mother to breast cancer when she was in high school. She struggled for a long time but eventually was able to turn that immense sense of loss into inspiration.
Sadness Is Not Always A Bad Thing — Coping After Losing A Parent To Cancer
"I actually took this sadness and let it motivate me," Camila told SurvivorNet. "I learned that it's OK to be sad sometimes. It's OK to carry sadness with you… it's not always a bad thing. It makes you who you are and it gives you a story to tell and it helps you teach other people to cope with their sadness."
Like her mother, Camila is a very creative person. She turned to writing as an outlet for her emotions and used her mother's creativity as a motivator. When she went to Princeton, she got involved with the school's magazine and explored her feelings of loss as inpiration for poetry, fiction or whatever else she was inclined to write.
"I've learned to have it impact me in a positive way and have it not just be a sad story… instead, I'm using it for a better purpose," Camila said.
Learn more about SurvivorNet's rigorous medical review process.