Oprah Winfrey's Breast Cancer Scare
Beloved talk show host Oprah Winfrey revealed in 2012 that she had a breast cancer scare after feeling what she thought was a lump in her breast. Thankfully, she got checked and she didn't have cancer.
Winfrey said she's been getting mammograms since she was 40, which is the age the U.S. Preventive Services Task Force recommends Black women start screening, as they are more likely to die from breast cancer than white women.
Waiting for mammogram results can be stressful. Following the procedure, a radiologist looks over the mammogram results and checks for breast changes or unusual masses in the breast that may reveal cancer is present.
It's important to note that only 10% of women get a callback after a mammogram, and only 20% of them will need a biopsy. And then just 5% of those women will have cancer.
You may get a callback after a mammogram to take more images because the initial pictures aren't clear. For instance, dense breasts can make it hard to distinguish between fatty tissue and a tumor.
When beloved talk show host Oprah Winfrey, 69, found what felt like a lump in her breast and got it checked out, she experienced the same anxiety that so many women feel after getting screened for breast cancer.
However, thankfully, Winfrey didn't have cancer, and her story highlights the fact that only a small percentage of mammograms result in a cancer diagnosis.
Read More
The author and TV producer went public with her cancer scare story during O, The Oprah Magazine's annual conference in October 2012, according to the
New York Times.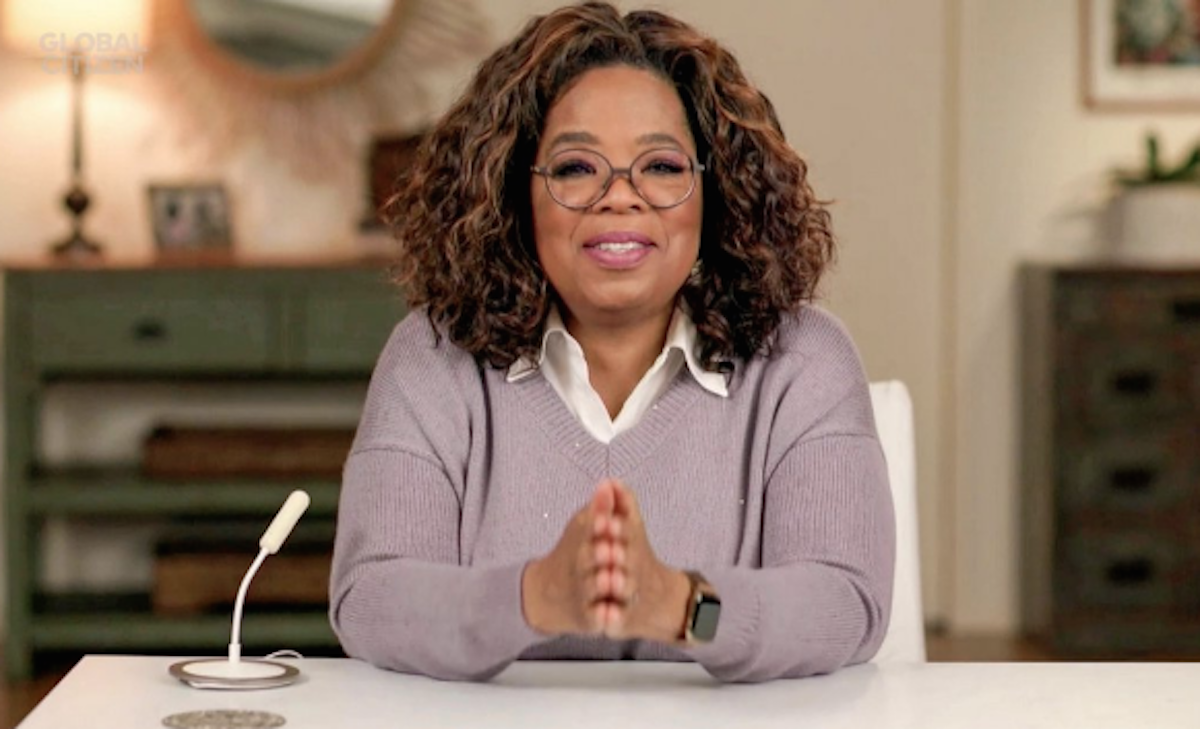 "I felt a lump in my breast," Winfrey said, recounting how she felt the lump after visiting with military families. "Let me just say, everything is fine." At the time Winfrey made the announcement, she was 58. However, she decided to keep her worries to herself and not inform her best friend and fellow TV personality Gayle King until she was able to talk to her in person at the conference and give her definitive details.
RELATED: Oprah's Blissful Reminder: 'Surround Yourself with Someone Who is as Happy for Your Happiness as You Are'
It was reported that Winfrey opened up about her cancer scare, which she had just one week prior to the conference, in front of the 5,000 fans in attendance, including Kingwho was upset when she heard the news.
Oprah On The Importance of Mammograms & Getting Older
Years after Winfrey's breast cancer scare, the creator of the TV network OWN (Oprah Winfrey Network) shared a personal message on breast cancer screenings.
"I know how important early detection is and I've been getting mammograms since I turned 40 years old. So that means 27 years later, I'm still getting them," Winfrey said in the 2021 footage.
"Despite all that we know about the breast cancer. Here's the truth, to pay attention to the death rate for black women from breast cancer is 40% higher than other women. I don't want to be in that stat."
Winfrey's push for mammograms came at a time during the COVID-19 pandemic.
"It's time to normalize asking one another, 'When's the last time you had a mammogram?'" she added. "Here's an idea. Schedule that appointment together, if that helps you follow through."
More recently, Winfrey spoke on Paramount Plus' "The Checkup With Dr. David Agus" about menopause and the stigma that surrounds women as they age.
Referring to when she had her symptoms of heart palpitations checked, Winfrey said, "When I went back to [my doctor] and said, 'You know this was menopause,' she said, 'Well, you're Oprah Winfrey. I wasn't gonna have you die on me," People reports.
Additionally, Winfrey opened up on her outlook on aging, saying, I think we all get better with age, the culture is set up to tell us, in our particular society, that it's the wrong thing."
She continued, "That you should be fighting it and resisting it with everything that you have, which is kind of ridiculous because in the end, aging is gonna win."
What Is a Mammogram?
Mammograms are used to detect cancer in breast tissue, according to the American Cancer Society. The procedure is done with two plates that flatten the breast and spread the breast tissue apart.
Following the procedure, a radiologist looks over the mammogram results and checks for breast changes such as little white spots called calcifications, and any unusual masses in the breast that may reveal cancer is present.
Doctors, who decipher mammograms through a breast Imaging Reporting and Data System (BI-RADS), usually call their patients after a mammogram is done to talk about the results, something that is common and shouldn't spark concern.
The following breast changes are typically found through mammograms:
Calcifications (calcium deposits within breast tissue)
Masses (a growth of tissue or lump that develops within the breast)
Asymmetries (when one breast differs in size or shape from the other)
Distortions (a distorted shape or pattern of breast tissue)
Less than one in 10 women who get a call back following their mammogram for more testing are shown to have cancer.
Typically, additional testing is done only to get a deeper look at any areas of concern. Getting called back is most common following a first mammogram due to there being no prior mammograms to compare it to.
Getting Called Back After a Mammogram
If you've undergone a mammogram and, instead of receiving an all-clear, you get a call asking for you to return for further evaluation, that may be a frightening scenario.
However, it doesn't need to be scary. More images, including MRI or ultrasound, may be required if the initial pictures aren't clear. For instance, dense breasts can make it hard to distinguish between fatty tissue and a tumor.
When Should I Get a Mammogram?
Prior to letting fear or panic take over, remember not to jump to any conclusions. A callback could mean a number of things, but usually, it just means that your doctor wants to investigate something further, to rule out anything serious.
Here are how the numbers on screenings break down, according to Dr. Connie Lehman, Chief of the Breast Imaging Clinic at Mass General Hospital in Boston, who previously spoke with SurvivorNet.
Of the approximately 10% of women who get called back, the vast majority will be absolutely fine after more imaging.
Only 20% of those will need a biopsy and in the end, just 5% of that group will be found to have cancer.
Survivors Encourage Women to Ask Their Doctors About Dense Breasts
Still, a period of waiting to hear more about something that could or could not be out of the ordinary is never easy.
Dr. Lehman says the goal is to resolve any uncertainties as quickly as possible. In the meantime, fill your time with healthy distractions until you receive the answers you're looking for. And rest assured that it most likely means nothing at all.
Meanwhile, there is a wide consensus that women should have annual mammograms between the ages of 45 and 54. And while leading organizations like the American Cancer Society say women should have the option to begin annual screenings between 40 and 45, there is some disagreement among doctors as to whether this is beneficial.
For instance, after saying for years that women shouldn't begin mammograms until 50, an independent panel of experts called the U.S. Preventive Services Task Force changed their guidelines this year to say that women of average risk should begin at 40. 
That includes Black women, who are, indeed, more likely to die from breast cancer than white women, according to the American Cancer Society.
Dr. Lehman says when you begin mammograms is a decision you should discuss with your doctor, as they can help you understand your specific circumstances and weigh the benefits and potential risks of earlier screening.
On the other hand, Dr. Lehman says, you should start yearly mammogram screening as early as age 30 if you fit into the high-risk category, meaning you have a first-degree relative who has had breast cancer, have the BRCA1 or BRCA2 gene mutation, or had radiation to the chest area when you were young.
If you're older than 55, you can choose to continue your annual mammograms or opt to have one every two years, she says. If you're post-menopausal, Dr. Lehman says you may be able to reduce the frequency of your mammograms to every other year.
Again, this is your choice and should be carefully considered with your doctor. Our medical reviewers inform us that mammograms are needed regardless of your family history due to most women with breast cancer having no family history or other identifiable risk factors.
Getting mammograms regularly at the recommended intervals can help spot early signs of anything that may be potentially harmful. This way, you and your doctor can address them right away.
Coping With a Diagnosis & Whether or Not To Tell Others About It
Receiving a cancer diagnosis is shocking for anyone. Experts recommend being kind to yourself after getting a diagnosis and avoiding any temptation to blame yourself for the disease.
Oncologists we've spoken to have also stressed the importance of learning about your disease and not being afraid to ask questions or seek out second opinions.
Dr. Heather Yeo, a colorectal cancer surgeon at Weill Cornell Medicine, previously opened up with SurvivorNet about the diagnosis conversation with patients.
"I think it's really important for them to be able to hear it multiple times, to take notes," Dr. Yeo said.
"Oftentimes, if a patient doesn't have a family member with them, I'll offer to call their family member afterward because you can hear something from your surgeon and not remember all the details."
Dr. Heather Yeo Explains What She Advises Patients After A Cancer Diagnosis
Dr. Yeo added, "I support second opinions. I actually think it's really important. I mean, if you think about it in life, how do you choose someone to cut your hair? You get an opinion, right?
"You usually don't just go in and sit down with the first person you see on the street and say, cut my hair. You ask around and you try … If a patient has any questions, I support second opinions 100%."
And not only can it be hard to receive a cancer diagnosis, but deciding whether to tell others about it can also be hard as well.
For many people, opening up about the news of their diagnosis is a way of dealing with disease and receiving additional support for a cancer journey. However, it's definitely a personal decision that should be undertaken on an individual basis.
Dealing With Grief Related to Health Problems
Some people may decide to keep their diagnosis to themselves or close loved ones, and that's just as respectable.
Many members of the SurvivorNet community have felt the burden of having to discuss their disease over and over again.
Of course, no one is to blame for asking about a survivor's condition, but it can honestly be really tiring to talk about an illness over and over again.
Some of the survivors featured here on our website, like breast cancer survivors Marquina Iliev-Piselli and Amy Grantham, have taken to blogging so that they could share their health updates with loved ones, without having to repeat them multiple times a day.
Some people might find the process of sharing the news to feel like a burden and opt for something a little more separated from telling people face to face, like sharing the news on a blog.
"Deciding when and who to tell became quite a burden," Marquina told SurvivorNet when discussing her decision to put health information in a blog.
"So, you have to relive your story over and over again. People on the other end are crying and you're like, 'I'll be OK.' And then you end up encouraging them and, it was tough. So I ended up creating what ended up being a private blog, and they could get updates there."
Contributing: SurvivorNet Staff
Learn more about SurvivorNet's rigorous medical review process.
---