Park So-dam's Thyroid Cancer
Park So-dam won critical acclaim for her role in Parasite, and the 30-year-old is now battling thyroid cancer.
She was diagnosed with papillary thyroid cancer following a routine check-up, and has had surgery to treat it.
Papillary thyroid cancer is the most common form of thyroid cancer. Experts tell SurvivorNet that it is predominantly seen in younger women, but can occur in men too.
Park So-dam, star of Oscar-winning film 
Parasite
, is battling thyroid cancer.  She was diagnosed with papillary thyroid cancer following a routine check-up, and has
had surgery to treat it
, CNN reports.
So-dam, 30, is a South Korean actress who rose to fame for her work in the 2015 film The Priests, and later gained global recognition for her work in Bong Joon-ho's 2019 breakout Korean film Gisaengchung (Parasite). In the film, she played an art therapist who gets a job working with the children of a wealthy family.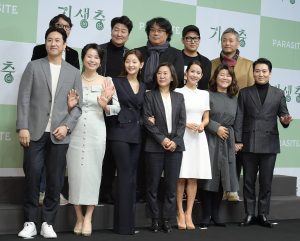 Read More
Papillary thyroid cancer is the most common form of thyroid cancer. Approximately 44,280 cases of thyroid cancer are diagnosed annually in the U.S. This disease affects more women than men, with 12,150 cases diagnosed in men and 32,130 in women. Papillary thyroid cancer is a relatively easy cancer to treat.
So-dam's agency released a statement on her condition, saying, "The company would like to once again thank all the people for showing support for 'Special Delivery' and actress Park So Dam, as well as the actors and crew of 'Special Delivery' overcoming this difficult time together. Actor Park So Dam will focus on her recovery so that she can see you all healthy in the future, and ArtistCompany will also do our best to help the actor recover her health," the company said.
Understanding Thyroid Cancer
Thyroid cancer is a disease that begins in the thyroid gland, which is at the base of the neck. The cancer will often present itself as a large bump (tumor) in the neck. It remains unclear what causes the disease. Some symptoms of thyroid cancer can be mistaken for a common cold.
Dr. Scott Strome, a head and neck cancer surgeon who is currently the dean of the University of Tennessee College of Medicine, and previously was chair of head and neck surgery at the University of Maryland School of Medicine, explained thyroid cancer in a previous interview with SurvivorNet.
"We're now able to detect thyroid disease, thyroid cancers, much earlier than we used to be able to," he says. "We tend to see it predominantly in younger women, but it can occur in both men and women.  In most cases, I tell my patients that, 'Your thyroid cancer is a barnacle on the ship of life.'"
Still, he suggests finding an experienced thyroid expert for treatment.
"Folks who have thyroid cancer, they need to go to a really experienced thyroid setting and have folks who really understand the disease.  Those are for the most indolent type of thyroid cancers, called papillary," he says. "Thyroid cancer is a pretty interesting disease, because papillary is a really indolent cancer.  On the other end of the spectrum, you have what's called anaplastic thyroid cancer, which may be one of (if not the) most aggressive cancers that we see. So it's a whole spectrum of disease."
Related: 26-Year-Old Australian Woman Thanks the Covid-19 Vaccine for Leading Her to a Thyroid Cancer Diagnosis
Treatments for thyroid cancer can include surgery, hormone therapy, radioactive iodine, radiation, and chemotherapy. Symptoms of thyroid cancer include the following:
Related: 7 Common Signs of Thyroid Cancer & How to Spot Them
A lump in the neck, sometimes growing quickly
Swelling in the neck
Pain in the front of the neck, sometimes going up to the ears
Hoarseness or other voice changes that do not go away
Trouble swallowing
Trouble breathing
A constant cough that is not due to a cold
The Non-binary TikTok Star Stuck In a Hospital Room "Radioactive," Isolated, & Fighting Cancer
Coping with a Cancer Diagnosis at a Young Age
For people like So-dam who are diagnosed with cancer at a relatively young age for an adult, a cancer diagnosis can feel life-shattering. Many people experience feelings of grief and anxiety after learning that they have cancer. Some might even experience clinical depression. It's important to face any cancer-related mental health issues head-on, and seek help when you need it.
Related: Dealing With Grief After a Cancer Diagnosis
Dr. Scott Irwin, the director of Supportive Care Services at Cedars-Sinai, explains in an earlier interview how it's important to treat depression as it can negatively impact cancer treatment. He says, "Depression is a really interesting topic, because a lot of people assume that, oh, they have cancer. They must be depressed. That's actually not true. 85% of patients do not get what would be considered a clinical depression. 15% do."
"In treating the depression, we're actually impacting the cancer care outcomes." – Dr. Scott Iriwn
Dr. Iriwn says, "For prescribing medications for depression in the context of cancer, I often try to choose medications with the lowest side effect profile. If patients are getting hormonal therapy, there's particular antidepressants that we can't use, because they may lower the effectiveness of that hormonal therapy," he explains. "And so we choose antidepressants that don't impact the cancer care. Depression and stress make it harder to treat cancer, make it harder to tolerate the treatments."
"Actually," says Dr. Iriwn, "there's data that if you have extra stress or depression that you may not recover or you have a higher risk of recurrence so that in treating the depression, we're actually impacting the cancer care outcomes."
Treating Depression After a Cancer Diagnosis
Learn more about SurvivorNet's rigorous medical review process.