Fans of waterproof mascara may want to open their eyes to new research that found cancer-linked toxins present in more than 80 percent of the brands examined. Experts tell SurvivorNet the results are concerning because the toxins are absorbed into the body directly via the skin.
"The concerning thing about cosmetics is that these are products that you're applying to your skin and face every day, so there's the skin absorption route that's of concern, but also incidental ingestion of cosmetics is also a concern as well," explained co-author Tom Bruton, PhD, senior scientist at the Green Science Policy Institute.
Read More
The study, published this week in
Environmental Science & Technology Letters
, looked at 231 products sold in the US and Canada and discovered that more than half of the beauty products had elevated levels of fluorine compounds. That strongly suggests that per- and polyfluoroalkyl substances (PFAS) are present in the products, according to the researchers.
Those fluorine compounds were also found in 56 percent of the foundations and eye products, 48 percent of lip products and 62 percent of "long-lasting" lip products.
RELATED: ARE THE TOXINS IN OUR ENVIRONMENT MAKING US SICK?
PFAS are referred to as "forever chemicals" because of its carbon-fluorine bond, which does not breakdown under normal environmental conditions. These water-, heat- and oil-resistant properties of PFAS are appealing to many manufacturers, despite the fact that they are pollutants. The presence of fluorine in the PFAS bond is also why the researchers were able to deduce that the toxin was present if levels were elevated.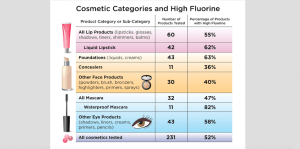 The Centers for Disease Control and Agency for Toxic Substances and Disease Registry have both linked PFAS to decreased vaccine response in children, increased risk of high blood pressure or pre-eclampsia in pregnant women, decreases in infant birth weights and increased risk of kidney or testicular cancer.
The researchers sent the 29 makeup offerings with the highest fluorine levels to a lab for further testing and identified the presence of at least four and as many as 13 separate PFAS in each of those beauty products. In total, 53 PFAS chemicals were found among those 29 products.
Some of the products tested do include PFAS on their ingredient list but not many according to the researchers, who report that 88 percent of the products that contained PFAS made no mention of that fact on their label.
"Lipstick wearers may inadvertently eat several pounds of lipstick in their lifetimes," said senior author Graham Peaslee, echoing Bruton's comment. The professor of physics at the University of Notre Dame added: "But unlike food, chemicals in lipstick and other makeup and personal care products are almost entirely unregulated in the U.S. and Canada. As a result, millions of people are unknowingly wearing PFAS and other harmful chemicals on their faces and bodies daily."
And while some government agencies such as the CDC and National Cancer Institute have been vocal about warning the public about these PFAS, the Food and Drug Administration is keeping quiet on the subject. The agency did not respond to a request for comment.
"This should be a wake-up call for the cosmetics industry," said David Andrews, Ph.D., a senior scientist at the Environmental Working Group. "Some PFAS chemicals are highly toxic at very low doses, so no PFAS should be used in personal care products. More needs to be done to ensure that PFAS are not ending up in products unintentionally because these are products applied each and every day by millions of Americans. It is critical that we end all non-essential uses of PFAS."
The study does not reveal which brands used PFAS in their products but did list the brands that were tested for the elevated levels of fluorine. It was a mix of industry titans such as L'Oréal, Estee Lauder, MAC, and Clinique; pricier powder producers including Huda Beauty, Perricone, Anastasia Beverly Hills, and NARS; and the eponymous offerings of Jefree Star, Josie Maran, Kat Von D, Laura Gellar, Marc Jacobs and Robyn Rihanna Fenty.
This is the first time a test like this had been conducted focusing on beauty brands in the US, though previous studies in both Europe and Asia also found brands were selling products that contained PFAS but not listing the toxin as an ingredient on their product labels. And this time the response may be swift, because just a few hours after the release of this study a bill was introduced that could have a big impact on the use of PFAS in products.
In what appears to be a complete coincidence, prominent members of Congress introduced a bill that same day that aims to eliminate PFAS from cosmetics. If passed, the bill would force companies to lose the toxins, or take a major financial hit. Once signed, this bill would make it illegal to sell any beauty product that uses PFAS as an ingredient.
RELATED: SOME HAND SANITIZERS FOUND TO CONTAIN CANCER-CAUSING COMPOUND
"These chemicals can bioaccumulate in bodies over time and have been linked to cancer, thyroid disease, liver damage, decreased fertility, and hormone disruption," said Sen. Susan Collins (R – Maine) in a statement obtained by Survivor Net.
Rep. Debbie Dingell (D – Michigan) echoed Collins' sentiment when she introduced the bill – which received bi-partisan support in both chambers – in the House on Tuesday.
"These chemicals are in products that we use every single day and most people don't even know the danger they face daily," said Rep. Dingel.
There is just one problem with the "No PFAS in Cosmetics Act" – it only targets beauty brands that are intentionally adding PFAS to their products. That would mean those 88 percent of beauty brands who did not list PFAS on their ingredient list in the study could go undetected for some time.
Cancer Survivor and Stylist Shares Tips for Getting Glam After Treatment
Appearance and self esteem is something some cancer patients struggle with while in treatment or following treatment. A flattering outfit can actually have a profound effect on how you feel about your body, so Ann Caruso, a stylist to the stars who also happens to be a cancer survivor, says to dress up.
In a previous interview, Caruso told SurvivorNet that after going through 12 surgeries related to her breast cancer diagnosis, she felt she had changed both physically and mentally. But finding the right outfits, she said, helped build her confidence.
"It was very hard for me to look at myself every day," Caruso said. "It was like I was a totally different person and I didn't fit into any of my clothes. … You need a few things that you feel good in because when you feel good in the clothes that you're wearing it gives you confidence. Femininity is a state of mind, and I think that's something that we need to remind ourselves."
Learn more about SurvivorNet's rigorous medical review process.
---