Pink Paid tribute to her Dad Last Month
Jim Moore, the father of singer Pink, passed away last month after battling prostate cancer.
Pink was by her father's side and first revealed the news of his diagnosis in July 2020.
There have been incredible breakthroughs in the treatment of late-stage prostate cancer in the past few years including the approval of the PARP inhibitor Lynparza.
It has been one month since Pink lost her father, Jim Moore, to
prostate cancer
.
Pink was by her father's side through his battle, noting his positive attitude and sense of humor as he battled the disease.
Read More
The singer revealed her dad was fighting cancer in July 2020,
posting a photo
of him before he went into surgery.
"This is my dear Dad this morning headed in for surgery. He just finished his second round of chemo for prostate cancer, fell off a ladder and fractured his back, lost function in his legs until my battered, and bruised husband shared his brilliant doctor," wrote Pink.
She went on to say her father was not nervous and instead had the opposite reaction.
"Smiling. Cracking jokes. Making everyone else feel better," wrote Pink. "He's already back to his old tricks ten hours later, talking about napalm and snipers and viruses and blood puddles."
She then added: "Oh Dad. How amazing it is to watch you whistle through Hell."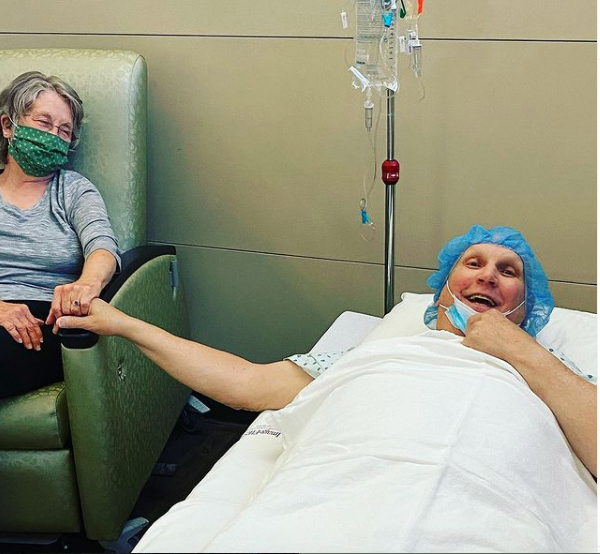 Related: You Can't Outrun Your Genetics' Says Philanthropist Who Had His Prostate Removed To Prevent Cancer
The surgery was a success, Pink later revealed, noting that it had taken 10 hours.
That was part of a challenging year for Pink, who just months before had contracted coronavirus along with her son Jameson.
Her father passed away in August, 13 months after Pink posted that image.
Pink shared two images of the pair dancing as a tribute to dad. One image shows her as a young girl and a picture from the father-daughter dance at her wedding.
She captioned the photos by writing: "Til forever."
Related: Devastated Father-of-Five, 48, Learns He Never Had Cancer After Doctors Surgically Remove His Prostate
Advancements in Late Stage Prostate Cancer Treatment
There have been several advancements in the treatment of late-stage prostate cancer in just the past few years. And even more, exciting news emerged this week when AstraZeneca revealed the effectiveness of one of its PARP inhibitors to extend life and slow disease progression when combined with hormone therapy.
These are a few of the significant developments.
PARP Inhibitor
In August, the Food and Drug Administration approved Olaparib (brand name LYNPARZA) for individuals not responding to therapy with hormones and had been diagnosed with metastatic castration-resistant prostate cancer.
Lynparza is a PARP inhibitor, a class of drugs that can target and kill poly ADP ribose polymerase (PARP). That is the enzyme that is responsible for repairing DNA damage. When blocked, it causes cell death in cancer cells.
In addition to prostate cancer, it is approved for ovarian cancer, advanced breast and pancreatic cancer.
Metastatic castration-resistant prostate cancer patients got even more good news this week when the results from a Phase 3 trial showed that Lynparza in combination with abiraterone significantly delayed disease progression.
"These exciting results demonstrate the potential for Lynparza with abiraterone to become a new 1st-line option for patients regardless of their biomarker status and reach a broad population of patients living with this aggressive disease," said Susan Galbraith, Executive Vice President, Oncology R&D in a statement shared with SurvivorNet. "We look forward to discussing the results with global health authorities as soon as possible."
Genetic Testing
Even in late-stage prostate cancer, genetic testing can provide crucial clues for fighting and treating the disease.
One example is next-generation sequencing, a DNA sequencing technology. This allows for the sequencing of an entire human genome in a single day and gives crucial clues as to the genetic tendency of the cancer to behave in a certain way.
"There is a lot of refined genetic information that we get from these next-generation sequencing tests that tell us more refined information about the DNA of a person's tumor," explains Dr. Heather McArthur, clinical director, breast oncology at UTSouthwestern. "And sometimes there are changes in that DNA, which we can exploit to our advantage because drugs have been successfully developed for that target."
Discovering if the cancer is genetic is also a way to save the lives of other family members who may be at high risk.
Understanding the Genetic Makeup of Your Tumor
Immunotherapy
Provenge (also known as Sipuleucel-T) is the only immunotherapy vaccine to receive FDA approval to treat late-stage prostate cancer.
This is a class of drugs that utilizes a patient's immune system to attack cancer cells. It is most often used to treat men who have early metastasis but are not responding to androgen deprivation therapy.
"They take those white blood cells out, put them in a petri dish, expose them to proteins made by the tumor, some other proteins in there to stimulate the immune cells to grow, and about three days later, they put those white blood cells, those immune cells, back into you," explains Dr. Stephen Freedland, director of the Center for Integrated Research in Cancer and Lifestyle at Cedars-Sinai Medical Center.
"So, this is done three times, and the idea is to train your immune cells to fight the tumor. And as they get into your body, they will go and fight the tumor. And we know men who get this vaccine will live longer than men who don't."
How Can Prostate Cancer Patients Boost Their Immune System?
Learn more about SurvivorNet's rigorous medical review process.
---