The way running back James Conner looks on the field with the Pittsburgh Steelers, you would never know that he was diagnosed with cancer just three years ago. Conner has rushed more than 900 yards and scored 12 touchdowns this season, the second most in the NFL.
The Steelers running back was first diagnosed with Hodgkin's lymphoma on Thanksgiving weekend 2015 when he was playing for the Panthers at the University of Pittsburgh. Conner announced his cancer diagnosis in a press conference shortly thereafter and began chemotherapy.
Read More
Hodgkin's lymphoma
is a cancer of the lymphatic system
, a part of the immune system that helps fight infections and disease. The lymphatic system is made up of a type of white blood cell called lymphocytes – and lymphomas are cancers that begin in the lymphocytes. Both Hodgkin's lymphoma and non-Hodgkin's lymphoma are relatively rare – though Hodgkin's is the more rare of the two. There are only about 8,000 new cases diagnosed each year in the United States, according to Dana Farber Cancer Institute.
E.J. Borghetti, executive associate athletic director at the University of Pittsburgh and a close friend of Conner's, told The New York Post that Conner took on cancer treatment as just another hurdle on the way to his dream of playing in the NFL. He didn't even let the 12 chemotherapy treatments he received get in the way of his training regiment.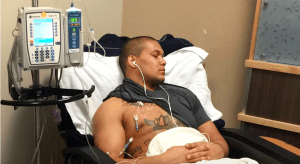 "I think the image that anybody who was a part of that program at that time will always remember is during the team's winter conditioning sessions, he's going through chemo, but he refused to not be a part of that," Borghetti said. "He would be running around our indoor facility doing drills, catching passes with a surgical mask on."
In May of 2016, Conner was declared cancer free. He took to Twitter to announce the good news. "God is AMAZING!" Conner wrote. "Just got the call that my body is clean of cancer!! Been a long road but God had my back. Thanks everyone who said prayers!"
And that long road eventually led to the NFL – and to Conner playing for his hometown team. "It's Hollywood, man," Borghetti told the Post. "Unheralded recruit becomes a first-team All-American, eclipses some records set by the great Tony Dorsett [a University of Pittsburgh legend], comes across major health challenges, beats that, and then goes on the play for the hometown Pittsburgh Steelers."
When it comes to his cancer battle, Conner feels the same way a lot of survivors feel, he's happy to put it behind him. Obviously he's happy he beat the disease, but now he wants to be known for what he does on the field.
Learn more about SurvivorNet's rigorous medical review process.
---