Imagine having your leg amputated because of cancer at age three. Now imagine that you want to play for your high school's varsity basketball team. That's Amanda Merrill, who refuses to let her physical differences define her. With 70% of children with Ewing Sarcoma that hasn't yet spread surviving the disease, there's not enough focus on how they go about their lives after the illness.
Years after her cancer-related leg amputation, Ewing Sarcoma survivor Amanda Merrill has become a varsity basketball player and an inspiration to her friends and teammates. "Who cares if you're different?" she told CBS. "You can still do stuff that anyone else can do and you shouldn't let one thing determine who you are."
Read More
By the time she was three years old, Amanda had had 14 rounds of chemotherapy. Her doctors had to amputate her leg at the knee to save her life, after which she was fitted for a prosthetic leg. "I told her they're going to take away your sick leg and you'll get a new leg," Amanda's father, John Merrell, told
the Washington Post
. "You never know how they're going to react because she's so young. I told her you're going to run like your sisters, and she just lit up. She was so happy," he said.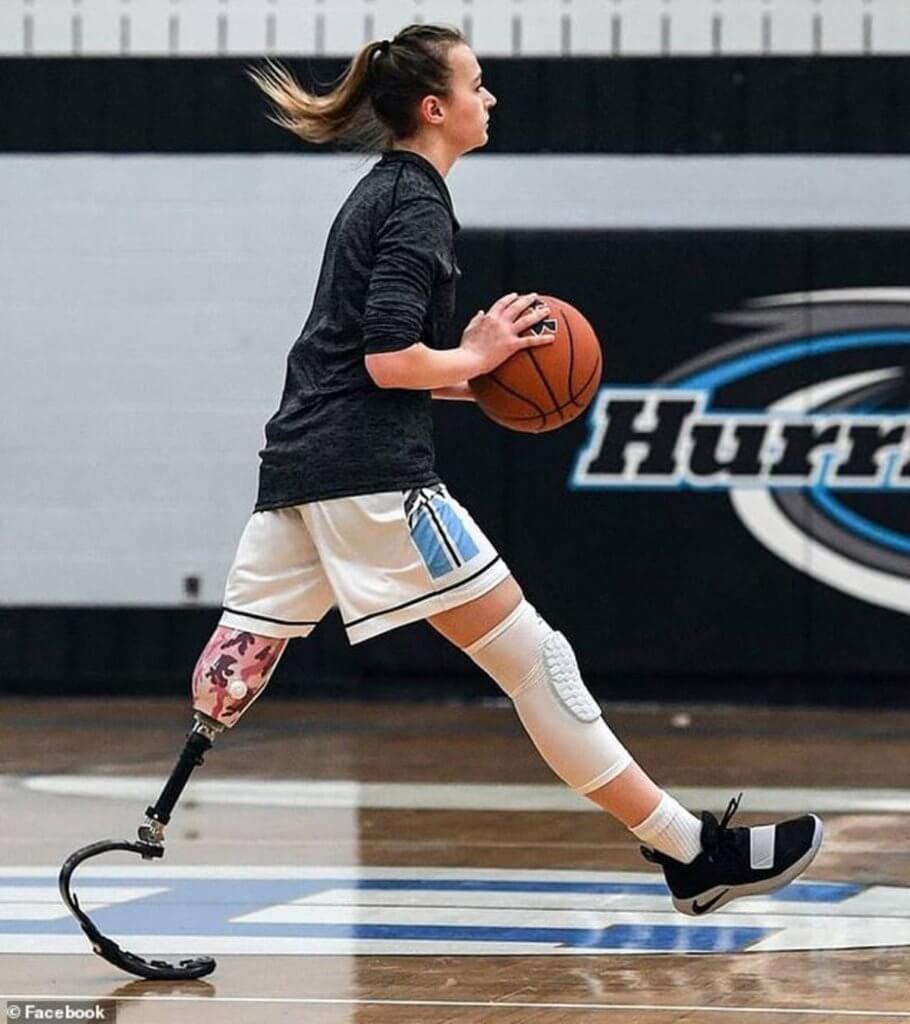 Amanda running on the basketball court with a prosthetic leg. She plays with her school's varsity team.
The gym fell silent during her first game of the season, The Washington Post reports, when she fell multiple times while running up and down the court, and members of the opposing team helped her up. But when she then sank a series of jump shots, they quickly learned not to pity her. "When I shoot, like normally people will bend both of their knees. For me I kind of just step out and shoot. For running since I can't really bend my leg I kind of swing it to the side but for basketball i'm normally the first one down the court," she told CBS.
"Even though something like a life trial gets you down, you just got to push through it," Merrell told the Washington Post. "Even though anything cuts you down, you just got to rise up and overcome anyone or anything that tells you different."
"I don't really think like, oh I would do better if I had two legs. I just have this and I try to do the best I can," Amanda said to CBS.
"I watched her game and never even noticed it," St Mary's Coach Chuck Miller said of Amanda's prosthetic leg after a recent game against Huntington. "It takes guts to go out there and be out there. And that little girl who I've never met, to me, shows incredible fortitude."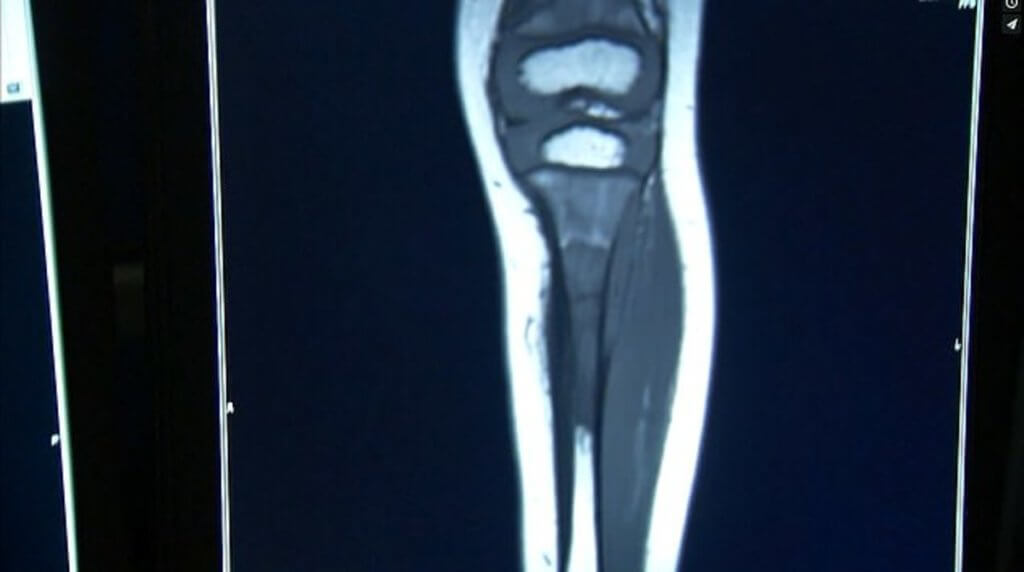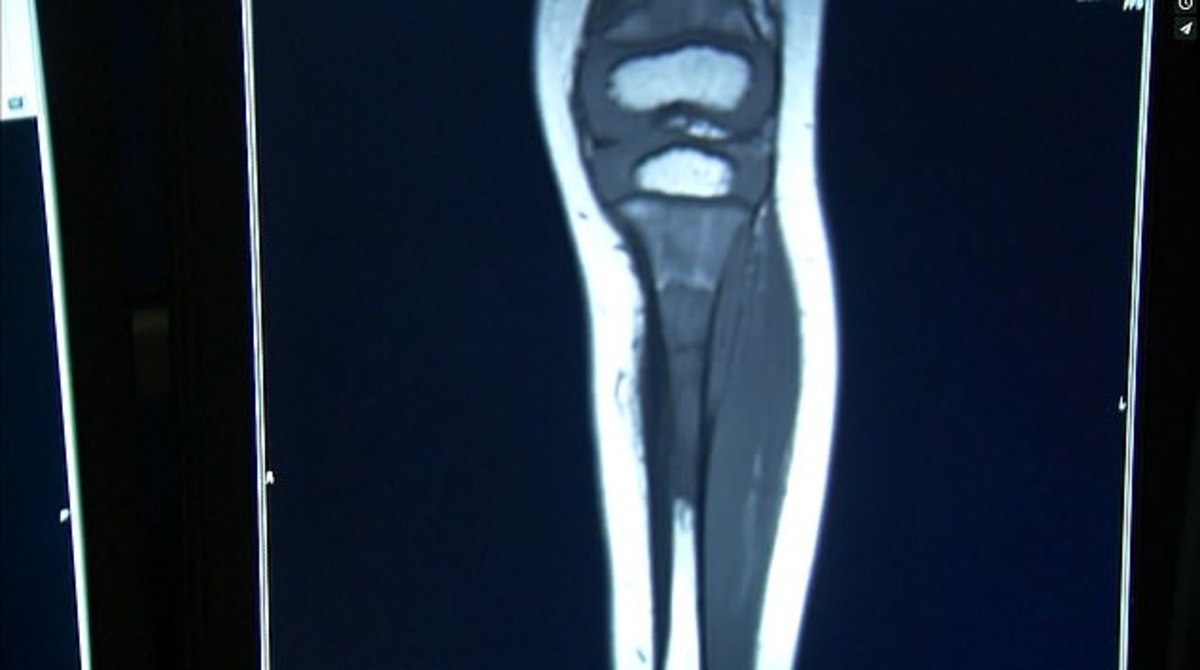 The X-Ray that showed the unexpected Ewing's Sarcoma in Amanda's left leg.
Ewing sarcoma is a type of tumor that forms from a certain kind of cell in bone or soft tissue. Ewing sarcoma may be found in the bones of the legs, arms, feet, hands, chest, pelvis, spine, or skull, and it's most prevalent in children and young adults. It's the second most common type of bone cancer in children — about 200 children and young adults are found to have Ewing Sarcoma per year.
About 70% of children with Ewing Sarcoma are cured, while teens who get Ewing Sarcoma between 15 and 19 have a survival rate of 56%. Children whose diagnosis is found after the cancer has spread have a 30% survival rate, and larger tumors or tumors located in the pelvis, ribs or spine are less likely to be cured, according to St. Jude's Hospital.
Learn more about SurvivorNet's rigorous medical review process.