Facing Lung Cancer
TV host Jonnie Irwin, 49, recently shared that he's battling lung cancer that has spread to his brain. His first warning sign of the disease came in 2020 when his vision went blurry while driving.
Irwin shares his experience with his diagnosis on social media, recounting a 'torrid night in pain.'
Lung cancer is the second most common type of cancer and it can develop in both smokers and non-smokers, but people who smoke cigarettes are 15 to 30 times more likely to get lung cancer or die from lung cancer than people who don't smoke.
The ups and downs for people in the throes of cancer are extraordinary. TV host Jonnie Irwin, 49, is keeping his followers updated on all that is happening to him as he navigates a devastating lung cancer diagnosis.
"After a torrid night in pain I dosed up on PK's [pain killers] and was able to enjoy the beautiful Lakes via E-mtb [electric mountain bike]. I'll probably pay for it later but grateful for the window, the company and the weather," said Irwin in an Instagram post.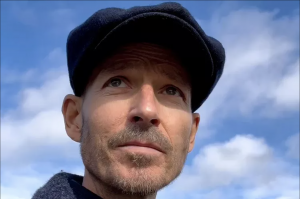 Read More
Irwin, host of
BBC's
"Escape to the Country," recently shared that he has lung cancer that has spread, or metastasized to his brain. His first warning sign came when his vision went blurry while driving in August 2020 during a filming trip. "Within a week of flying back from filming, I was being given six months to live," he
previously
said. "I had to go home and tell my wife, who was looking after our babies, that she was on her own pretty much. That was devastating. All I could do was apologize to her. I felt so responsible."
Irwin's Future
His wife Jessica is 40 years old, and the couple shares their 3-year-old son Rex and 2-year-old twins Rafa and Cormac. And though drugs have been prolonging his life, Irwin's future remains uncertain. He's trying his best to spend precious time with his family and not let his disease ruin whatever time he has with them.
"I don't know how long I have left, but I try to stay positive and my attitude is that I'm living with cancer, not dying from it," he said. "I set little markers – things I want to be around for. I got into the habit of saying: 'Don't plan ahead because I might not be well enough.' But now I want to make plans.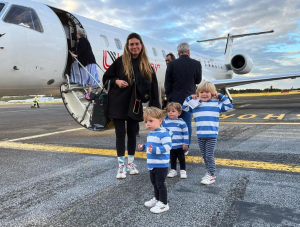 "I want to make memories and capture these moments with my family because the reality is, my boys are going to grow up not knowing their dad and that breaks my heart."
Regardless of the harrowing path ahead, Irwin is determined to put up a fight.
"One day, this is going to catch up with me," he said. "But I'm doing everything I can to hold that day off for as long as possible. I owe that to Jess and our boys. Some people in my position have bucket lists, but I just want us to do as much as we can as a family."
Palliative Care
The National Cancer Institute (NCI) defines palliative care as "an approach to care that addresses the person as a whole, not just their disease." It's a type of care that's meant to address the symptoms and side effects that your cancer or its treatment may cause, ranging from psychological experiences like stress and fear to physical experiences like pain and discomfort.
However, it is important to know that palliative care isn't just for patients at the end of life. It is a term that refers to numerous supportive services. Seeing a palliative care team from the very beginning of your cancer journey can improve both quality of life and overall survival time. Studies have shown that palliative care can not only make a big difference in symptom management and quality of life, but can actually extend survival, too.
Related: It's Time We Cleared Up Some Misconceptions About Palliative Care
Dr. Elizabeth Kvale, the director of the Supportive Care and Survivorship Program and medical director of the cancer treatment program at LIVESTRONG Cancer Institutes at UT Health Austin, expanded on this topic with SurvivorNet.
"People who get palliative care actually live longer than people who don't get palliative care when they have advanced cancer," Dr. Kvale said. "The survival advantage that people get with cancer is about three months if they get early palliative care."
Related: Palliative Cancer Care is Different for Everyone
How often a patient meets with their palliative care team will vary depending on their unique needs. Some patients might meet with a palliative care specialist every week to manage side effects. Others might meet every month or every couple of months, continuing even after treatment has ended.
Palliative care teams can help to address not only their physical side effects, but also the emotional and financial impacts of a cancer diagnosis. "The sooner patients with serious cancer get palliative care, the better," Dr. Kvale expressed.
With Palliative Cancer Care, The Sooner the Better
Understanding Lung Cancer
What Happens When You've Been Newly Diagnosed With Lung Cancer
An initial symptom of lung cancer, for example, could be as serious as a seizure if the lung cancer has already spread to the brain. But other symptoms can include increased coughing, chest pain, unexplained weight loss, shortness of breath, wheezing, losing your voice or persistent infections like bronchitis or pneumonia.
The two main types of lung cancer are non-small cell, which makes up 85 percent of cases, and small-cell. These types act differently and, accordingly, require different types of treatment.
Dr. Patrick Forde, a thoracic oncologist at Johns Hopkins Medicine, tells SurvivorNet about how distinguishing between the two types – and their subtypes – can be very beneficial.
Immunotherapy and Targeted Therapy for Lung Cancer: What Is It?
"Within that non-small cell category, there's a subtype called non-squamous adenocarcinoma, and that's the group of patients for whom genetic testing is very important on the tumor," he explains. "Genetic testing is looking for mutations in the DNA, in the tumor, which are not present in your normal DNA."
Declining smoking rates have lead to an improved outlook for lung cancer. This is because cigarette smoking is the number one risk factor for the disease and people who smoke cigarettes are 15 to 30 times more likely to get lung cancer or die from the disease than people who don't smoke. In fact, the Centers for Disease Control & Prevention states that cigarette smoking is linked to about 80 to 90 percent of lung cancer deaths.
It's important to remember, however, that even people who've never smoked before can still get lung cancer. The CDC reports that, in the United States, about 10 to 20 percent of lung cancers, or 20,000 to 40,000 lung cancers each year, happen in people who've never smoked.
RELATED: 87% of Eligible People Skipped Lung Cancer Screening, Analysis Finds; Knowing the Importance of Lung Cancer Screenings
Cannabis For Pain
A somewhat new pain treatment option is cannabis. Cancer patients all around the world talk about how beneficial cannabis is as an option for their treatment. Many of our doctors recognize the potential benefits of cannabis as a part of integrative therapy, but it's important to note, not as a cure in itself.
"Integrative therapy is when patients come to see me when they want to add alternative or complementary therapies to their conventional treatments," says Dr. Junella Chin, an integrative cannabis specialist.
Marijuana can be a helpful tool in combating the negative side effects of both cancer and chemotherapy. It can help with nausea, loss of appetite, pain and depressed mood or anxiety.
"Medical cannabis, if you think about it, it's the only botanical medicine that can help nausea, increase appetite, decrease pain, and elevate mood," Dr. Chin told SurvivorNet, in a previous interview. She noted that a lot of people who are undergoing chemotherapy as part of their cancer treatment live in a state where medical marijuana is available and are using it for relief.
Some doctors will prescribe a generic version of marijuana, called Marinol, to treat these side effects. But Dr. Chin would rather use the real thing to help her patients. "That is much more effective in increasing appetite and decreasing pain for my cancer patients," she said.
Advocating for Your Health
It is unfortunate, but the results of the recent poll is not all that surprising. We've heard many women talk about how their health concerns were not taken seriously prior to a very serious diagnosis.
In a previous interview with SurvivorNet, April Knowles explained how she became a breast cancer advocate after her doctor dismissed the lump in her breast as a side effect of her menstrual period. Unfortunately, that dismissal was a mistake.
Knowles was diagnosed with metastatic breast cancer at age 39. She said the experience taught her the importance of listening to her body and speaking up when something doesn't feel right.
I Wanted My Doctor To Like Me, Then He Missed My Breast Cancer
"I wanted my doctor to like me," she said. "I think women, especially young women, are really used to being dismissed by their doctors."
Jenny Saldana is another woman who's spoken up about advocating for yourself. She says she was told "you can't keep coming back here taking up resources for women that really need them" when she was trying to get her breast cancer diagnosis.
"The squeaky wheel gets the oil," she said as advice for others.
Advocating For Yourself While Navigating the Medical World
Evelyn Reyes-Beato feels similarly. As a Latina – like Saldana – and a colon cancer survivor, she urges people to "get knowledge" so they won't feel intimated by their doctors. She wants to remind others that they have a right to ask questions and make physicians "earn that copay."
Contributor: SurvivorNet Staff
Learn more about SurvivorNet's rigorous medical review process.
---