Positive Mental Health Through Cancer
Throat cancer survivor Val Kilmer, known for his role as Lieutenant Tom "Iceman" Kazansky in "Top Gun," took to Instagram this week to offer fans advice on how to cheer themselves up.
Kilmer was diagnosed with throat cancer in 2015; he had a tracheotomy and also underwent chemotherapy to treat his disease.
The actor lost his voice to the disease, but has remained optimistic following his cancer battle, continuing to inspire all who admire him.
"A positive attitude is really important," Dr. Zuri Murrell, a colorectal surgeon at Cedars-Sinai Medical Center in Los Angeles, previously told SurvivorNet. "My patients who thrive, even with stage 4 cancer, from the time that they, about a month after they're diagnosed, I kind of am pretty good at seeing who is going to be OK."
"Top Gun" star Val Kilmer, 63, is sharing words of optimism to encourage his fans to helps themselves by helping others.  And as a throat cancer survivor, Kilmer certainly knows a thing or two about positivity, perseverance, and resilience.
"I'd like to share this bit of wisdom from Mark Twain," Kilmer wrote in his most recent Instagram post, quoting the  late writer and humorist, "'The best way to cheer yourself up is to try to cheer somebody else up.'"
Read More
He concluded, "With that, I hope I've helped make your day and little brighter and that you'll take that feeling and pass it along to another. "Stay safe and stay strong. Your Huckleberry."
View this post on Instagram
Kilmer, a talent artist and actor known for his roles in hit films like "Top Gun," was showered with praise from fans in response to his uplifting post.
One fan wrote, "You encouraged me with this post! Once upon a time you were my theatre crush, then I became observant and aware of your intellect and ability. Your theatrical interpretations astounded me.
"Mark Twain/Samuels Clemens, someone I admire and have collected a library full of his writings over my lifetime – when you took on his persona for a one-man show – that demonstrated a skill and artistry far beyond 'Hollywood.'
"In the face of adversity, you carry on, and create art. You cheer us up. I like to pray for your health and contentment in all life's phases. Thank you for being…you. Blessed to have you on this earth and sharing on platforms like this. Grateful"
Another one of his followers commented, "You are the only positive thing online right now. Kudos."
"So true. When I'm at my lowest-I go out and do random acts of kindness," wrote another Kilmer fan. "It gets me out of my own head. Being so consumed by misery (for me it's health/finance) keeps me in an unproductive loop.
"We need a break from our own reality or we'll never hear the answers trying to get through. Love your post and big love to you."
Val Kilmer's Battle With Throat Cancer
Val Kilmer discovered he had throat cancer in 2015 but chose not to speak publicly about his diagnosis until 2017.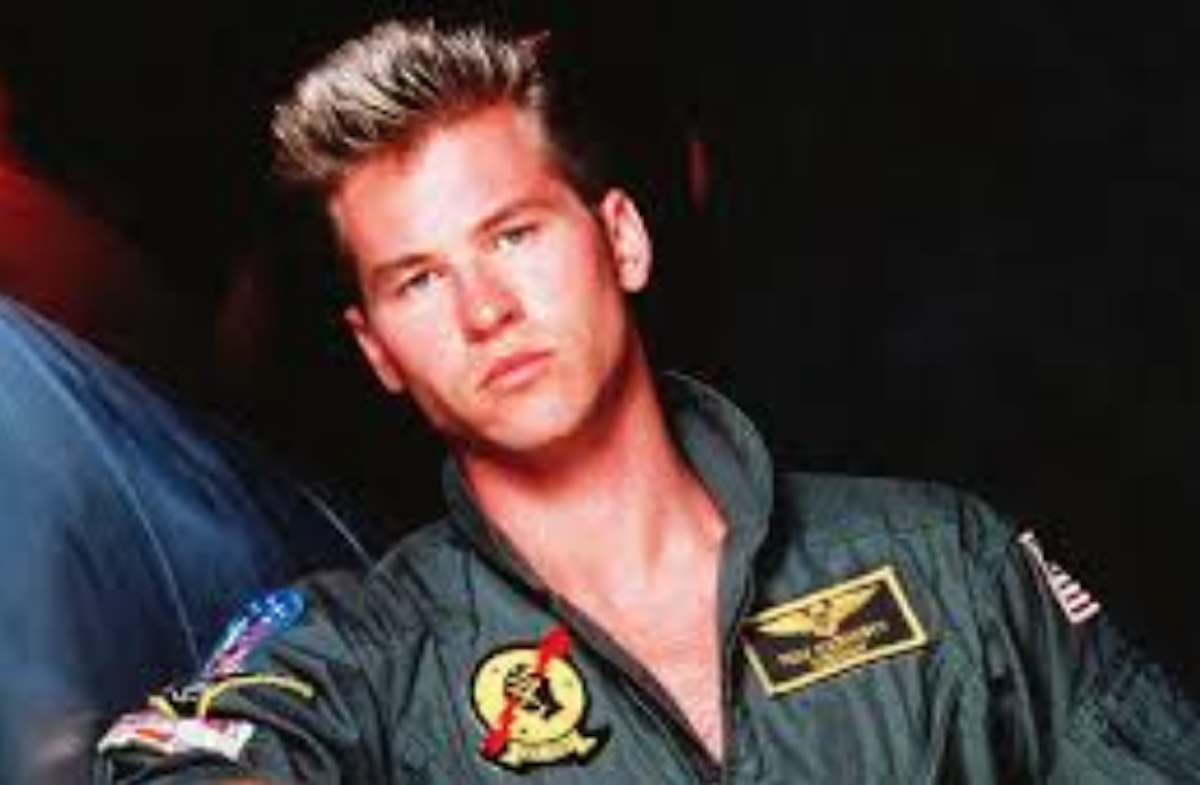 The actor wasn't considering conventional treatment at first, thinking his Christian Science faith would heal the tumors. But he ultimately agreed to undergo chemotherapy for the sake of his children, Mercedes, 31, and Jack, 28, whom he had with his ex-wife, English actress Joanne Whalley, 62.
Kilmer also underwent a tracheotomy, a surgical procedure that connects the windpipe to a hole in the front of the neck, which greatly impacted his speaking voice.
Thankfully, Kilmer continued acting as "Top Gun: Maverick" filmmakers were able to help give Iceman a voice again thanks to artificial intelligence technology that used samples of him speaking to recreate his signature speech patterns.
And though he originally kept his cancer battle out of the public eye, Kilmer eventually shared more about his journey through interviews, his autobiography "I'm Your Huckleberry," and his documentary, "Val."
RELATED: Watch this Inspiring Film About the Impact Art & Music Can Have on the Cancer Journey
"I have been healed of cancer for over four years now, and there has never been any recurrence," he wrote. "I am so grateful."
The Power of Positivity and Good Mental Health
As a throat cancer survivor, it's no secret why Kilmer has amassed a strong fan base through his encouraging artwork, positivity and encouragement. In some cases, SurvivorNet experts say, a positive attitude may improve your prognosis.
WATCH: What Kind of Patients Will Maintain a Positive Attitude Following a Cancer Diagnosis?
"A positive attitude is really important," Dr. Zuri Murrell, a colorectal surgeon at Cedars-Sinai Medical Center in Los Angeles, previously told SurvivorNet.
"My patients who thrive, even with stage 4 cancer, from the time that they, about a month after they're diagnosed, I kind of am pretty good at seeing who is going to be OK. Now doesn't that mean I'm good at saying that the cancer won't grow," he said.
"But I'm pretty good at telling what kind of patients are going to still have this attitude and probably going to live the longest, even with a bad, bad disease. And those are patients who, they have gratitude in life."
If you have just been diagnosed with cancer, negative feelings are normal, and remember, men and women react differently. Anger, shame, fear, anxiety. It's to be expected.
WATCH: Maintaining a Healthy Lifestyle
Experienced doctors will tell you that people who find a way to work through their emotions and stay positive do end up doing better.
Dr. Charmain Jackman is a licensed psychologist and founder of InnoPsych. She echoes SurvivorNet experts on the benefits of positive mental health while facing a health diagnosis.
"In the face of a life-threatening diagnosis, fear, hopelessness, and despair can quickly take space in your mind," Dr. Jackman said.
RELATED: "Laughter's Always Been The Best Medicine" After Cancer Treatment, Shannen Doherty Laughs Her Way Through Recovery
"However, your mindset is a superpower and can be a potent antidote to illness. Practicing gratitude, cultivating joy, and connecting to the community are practical ways to develop a resilient mindset."
The Augusta Oncology Multispecialty Clinic shares some tips for cancer warriors to stay positive.
Surround Yourself with Positive People which includes your support group.
Eliminate toxic relationships meaning reduce contact with people who bring you down.
Keep a gratitude journal to remind you of everything in your life that brings you happiness and joy.
Practice cognitive reframing by celebrating small victories as well as large ones.
Develop a self-affirmation mantra that transforms negative thoughts into empowering ones.
Focus on your passions that make you happy and give you a sense of purpose.
SurvivorNetTV Presents: 'Resilient' Never Sell Yourself Short, You're Stronger Than You Know
Meanwhile, Dr. Dana Chase, a Gynecologic Oncologist at UCLA Health, also says it's important to try to focus on the good, stay positive, and do things that bring you joy to the degree you're able to do so amid battling a disease like cancer.
"We know, actually from good studies, that emotional health, quality of life is associated with survival, meaning better quality of life is associated with better survival, better outcomes," Dr. Chase said in an earlier interview.
SurvivorNetTV Presents: Maintaining a Positive Headspace
Prioritizing Your Mental Health During and After Cancer
If you're facing cancer, it's essential that you reach out for help if you're experiencing symptoms of anxiety and depression. Many people diagnosed with cancer understandably find themselves mentally overwhelmed and scared. Some may even experience the five stages of grief.
"The feelings that come up after a breast cancer diagnosis can sometimes mimic the five stages of grief," Dr. Marianna Strongin, a licensed clinical psychologist and founder of Strong In Therapy Psychology, told SurvivorNet. (Dr. Strongin is also a SurvivorNet contributor.) "Patients may experience, in any order, denial, anger, bargaining, sadness, depression and, finally, acceptance."
But, she added, "as patients move through these stages, it's especially important to offer them support and a safe space to experience these stages fully so that they don't just sit in one stage such as depression."
Treating Depression After a Cancer Diagnosis
If you're having feelings of depression or you're overwhelmed after your cancer diagnosis, get connected with a mental health professional as soon as possible. There's support available to you, and the better you feel mentally, the more ready you will be for treatment.
"Psychoeducation about the typical emotions and stages is extremely helpful for patients as it can help them feel less alone and also give them an understanding that all emotions are temporary and manageable with proper treatment," Dr. Strongin said.
"Ultimately, this can improve their mental health symptoms which has been shown to have a positive impact on the outcome of breast cancer treatment."
Mental health issues like clinical depression can negatively impact cancer treatment. This makes it all the more vital to seek immediate support or to ask your loved ones to help you get support if you're too overwhelmed to do it on your own.
"It's Only Temporary": Dealing With the Side Effects of Cancer Treatment
Meanwhile, Memorial Sloan Kettering's Dr. William S. Breitbart, an amazing voice on the psychological aspects of cancer, tells SurvivorNet that learning to forgive yourself is one of the great lessons, and sometimes the last great lesson, you can ever learn in life.
Dr. Breitbart explains, "One gets angry because one hasn't quite achieved the tasks that they've set out for their lives.
"Ultimately, Viktor Frankl said, 'the task of the last part of your life is relieving your existential guilt,' and the last resort of relieving existential guilt is being able to forgive yourself for just being a human being."
WATCH: Forgive Yourself for Being Human: The Psychological Toll of Cancer
Contributing: SurvivorNet Staff
Learn more about SurvivorNet's rigorous medical review process.
---