Actor Val Kilmer, known for roles like Iceman in "Top Gun" and Bruce Wayne in "Batman Forever," has been seen in public recently with a breathing device on his neck that seems to be a tracheostomy, which has led to an outpouring of support as well as questions about the device and what might be next for his treatment.
The 59-year-old actor was spotted out in New York City earlier this month with what seemed to be a trachea breathing device on his neck. In past public appearances, Kilmer has hid the device beneath scarves. However, he seems to have relaxed a bit on keeping issues with his health a secret.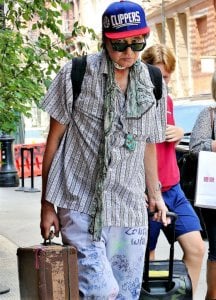 Read More
The NYC spotting of Kilmer came just days after the actor delivered a speech during the NOVUS Summit at the United Nations headquarters in the city. Kilmer was being honored for his work with his charity, the TwainMania Foundation, which educates children about writer Mark Twain's legacy. During his speaking engagement, Kilmer acknowledged that the tracheostomy device hinders his ability to speak.
He began his speech by saying, "I won't speak long because I can't speak long" — which received lighthearted laughs from both the audience and Kilmer himself. It's encouraging to see Kilmer bravely speaking about cancer, and the side effects that can come with it, especially since he denied having any health issues until the 2017 interview. When he did go public, he told The Hollywood Reporter that he'd had surgery on his trachea, which affected his breathing and left his voice raspy. He did not explicitly say at the time, nor since, whether he had officially been declared cancer-free.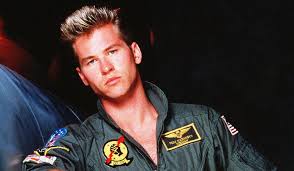 What is a tracheostomy?
A tracheostomy (or tracheotomy) may be needed when a person needs to have part or all of either their larynx (voice box) or pharynx (throat) removed. The procedure connects the trachea (windpipe) to a hole (stoma) in the front of the neck. This allows a person to breathe by letting air in and out of the lungs through the stoma, according to the American Cancer Society.
In some instances, a short-term tracheostomy may be needed as a person recovers from one of the above surgeries. In these instances, a small tube called a trach tube is put into the trachea, and removed after a healing period. The tube is removed when the person no longer needs it to breathe. A permanent tracheostomy may be needed in the case of a total laryngectomy (when the entire larynx is removed). In these cases, the opening in the trachea is attached to a hole in the skin of a person's neck — and a stoma cover may be needed to keep the hole open.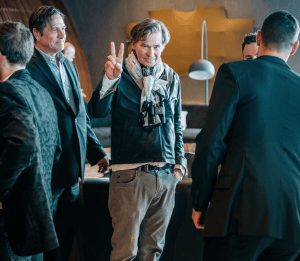 Kilmer was not clear about the stage of his cancer — or what type of throat surgery he underwent. He also did not disclose if he will need additional treatment. Though he did say in the 2017 interview that he also underwent chemotherapy.
The actor also told The Hollywood Reporter that he was relying heavily on his Christian faith during his cancer battle (Kilmer is a Christian Scientist). Many members of the SurvivorNet community have told us that faith played a major role in their cancer journeys as well. Breast cancer survivor Sharon Spencer said that even on her toughest days, she put her faith in God as she took on the ultimate challenge. Colon cancer survivor Jovannie Lorenzo shared a similar message, saying that no matter what religion a survivor practices, having faith and really believing in it can make a world of difference during the battle.
In Kilmer's case, he said the experience with cancer has made him a lot less light-hearted. He's been taking to social media lately to promote his first big role since his health issues began — the "Top Gun" sequel, "Top Gun: Maverick," which will hit theaters next summer. And he even took to Facebook recently to poke fun at some rumors about his health.
"I guess there's some rumor I've passed on but I'm alive and well friends," Kilmer wrote on his official Facebook page earlier this month.
Learn more about SurvivorNet's rigorous medical review process.