Shannen Doherty, 48, best known for her role playing Brenda Walsh in the original TV series, "Beverly Hills, 90210" and the current series reboot, "BH90210," in which she plays a version of her real-life self, is smiling and laughing after a long journey with cancer.
RELATED: Actress Shannen Doherty Says Cancer Strengthened Her Marriage, But Many Survivors Worry Their Partner Will Leave Them
Read More
In the years since the original show, Doherty has been through a lot — including, most recently, breast cancer. She's said in the past that she doesn't really think anyone is ever on the other side of cancer, and that one of the most difficult parts of recovering from the disease is how dramatically her body has changed. But in a recent Instagram post, Doherty uploaded a photo of herself reclining in a sun chair with her legs up, laughing really hard and seeming totally confident.
RELATED: "I Felt More Feminine And Vulnerable Than I've Felt In My Entire Life"– Actress Shannen Doherty And Growing After Breast Cancer
"Laughter…. it's always been the best medicine. Photo @kurtiswarienko," she wrote alongside the photo.
Supporters of Doherty's were happy to see just how much joy she's feeling these days, and felt inspired by her message. "Most beautiful woman ever, such an inspiration," wrote one commenter.
"Wow. This is truly an amazing moment captured," wrote another.
"So wonderful to see you laughing like that! It looks even more beautiful @theshando!"
RELATED: 'We Got This Kiddo' — Shannen Doherty's '90210' Family Continues to Shower Her with Love After Cancer Diagnosis
Trying to Remain Positive During Cancer Diagnosis
Doherty may have found herself in a tough situation with her health, but it's also clear that she's keeping a really positive attitude. Laughing and smiling and enjoying the sunlight, she's a huge inspiration for people dealing with the illness.
If you have just been diagnosed with cancer, negative feelings are normal. Totally normal. Anger, shame, fear, anxiety — it's all to be expected. A lot of people tell us that finding positivity during cancer has a lot to do with finding things to be grateful for.
Dr. Zuri Murrell, Colorectal Surgeon at Cedars-Sinai Medical Center, on living in gratitude during cancer
If you are feeling overwhelmed and unable to go on, seek help. And talk to your physician. Your physician can recommend support groups or other professionals that can help make your journey easier.
Shannen Doherty's Cancer Journey
Actress Shannen Doherty is opening up about her breast cancer, and about the fears that she, like so many breast cancer patients, has had to overcome.
RELATED: Shannen Doherty's Sisterhood Rallies Around Her Following Stage 4 Breast Cancer Diagnosis
"There was a lump, and I had a mammogram and then a biopsy. When I got the results, I was in the car with my mom and I just knew," Doherty tells Health. "The longer I sat, the more it started sinking in. Then I started crying. I called my husband and told him. And from there, I just put together a team—including L.A.-based surgeons Dr. Armando Giuliano and Dr. Jay Orringer and oncologist Dr. Lawrence Piro."
When asked why she is talking openly about it, she said she wanted to be honest. "It was just about being as honest as possible. And then it became very important to me that I was there for people who were going through it," she says. "I would never give medical advice because I'm not a doctor, but I would always say, 'Advocate for yourself.' And also, I get a little less trolls and haters on social media now, so that's good. I think because cancer stripped me of my defense mechanisms, it allowed people to see all sides of me."
When asked about the hardest parts of her journey with cancer, Doherty replied that it was hard to lose her hair. "I remember I got in the shower to wash my hair, and it just started coming out in clumps. I started screaming for my mom. I think that was harder than the surgeries. It was like, 'Oh my God, this is real.' Right away, I made the decision to shave my head," she says. "My friend came over, and she shaved it. We laughed, and we cried. She shaved it in stages, so it was like a pageboy, then punk rock, shaved on the sides. It was a fun experience, considering that I was devastated."
She also talked about a really important moment she shared with her husband Kurt during her cancer journey. "A pivotal moment for me was when I was deathly ill from the chemo. They were worried about my organs shutting down because I couldn't keep anything in. One time, I couldn't lift my head, I couldn't suck on an ice cube, I was done" she says. "And Kurt was crying, saying, 'Please don't leave me.' I looked at him and thought, 'I can't do this to him.' So I dug deep, gathered everything up, and charged forward again. Kurt and I got through one of the worst things a couple can go through, and we came out stronger."
Shannen Doherty on Body Image After Cancer
The star says she's been cancer-free since 2017, but in a new interview with People, she shared that surviving cancer permanently changed her body, and that she's still learning to accept those changes.
RELATED: 'Bring It On' — Shannen Doherty Whips up Vegan Tacos and Says She's Motivated Again after Difficult Breast Cancer Announcement
"The funny thing with cancer is that once you're no longer on chemo or radiation, people think you're fine, that you bounce back," Doherty said. "But what they don't realize is that your body has been through something so incredibly difficult that [it] never fully bounces back."

It was 2015 when Doherty first received her diagnosis: an advanced form of breast cancer, which had spread to her lymph nodes. The actress underwent a challenging treatment regimen, which included hormone therapy, chemotherapy, radiation, and a mastectomy. The treatment continued for two years until Doherty was finally declared cancer-free in 2017. Her cancer, she said, has been in remission ever since, but the disease still weighs on her, both mentally and physically.
RELATED: Femininity is a State of Mind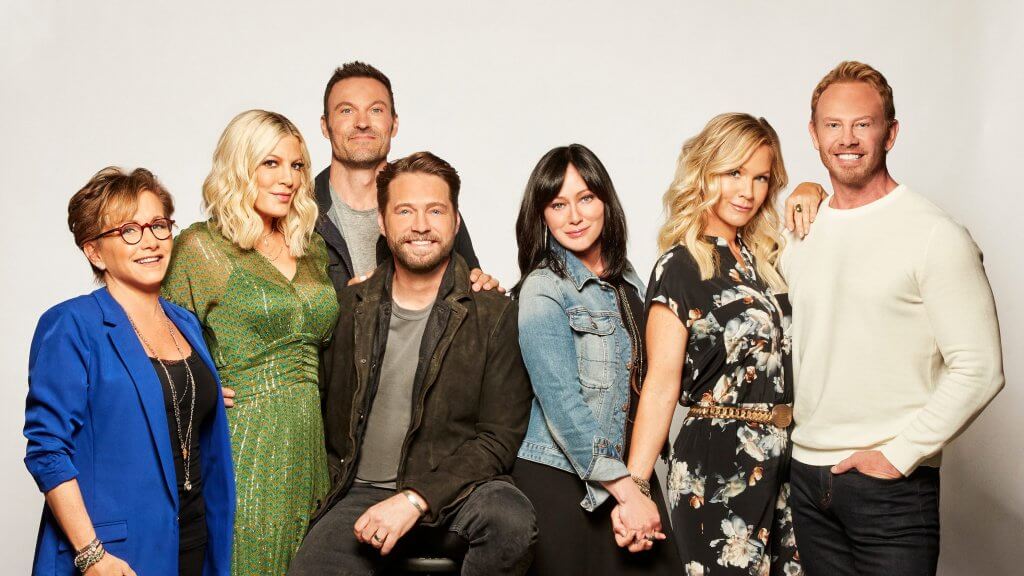 Doherty is still adjusting to the ways that cancer changed her body. The star had a surgery to reconstruct her breasts in 2018, called a "DIEP flap," in which surgeons take tissue from another part of the body (usually the lower abdomen) and use it to reconstruct a breast.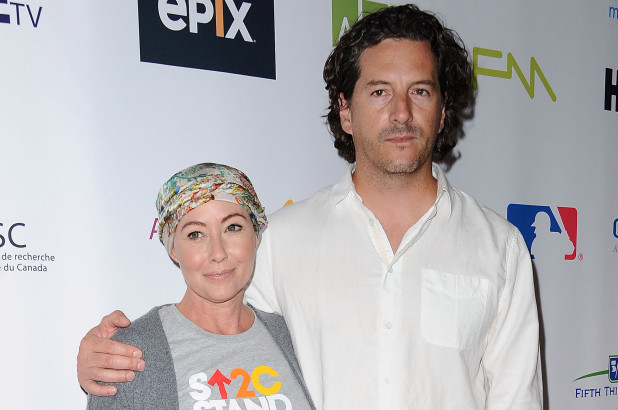 Dr. Andrea Pusic, Chief of Plastic and Reconstructive Surgery at Brigham and Women's Hospital, explained the procedure in a previous conversation with SurvivorNet about breast reconstruction options after cancer surgery. "Effectively, it looks very much like a tummy tuck operation," Dr. Pusic said. "But it's more complicated than that, because we're taking the tissue off and hooking it up to blood vessels that are just under the ribs in the chest area… to make a breast."
After recovering from the surgery and returning to work on the "BH90210" set, Doherty said she's trying her best to take care of her body.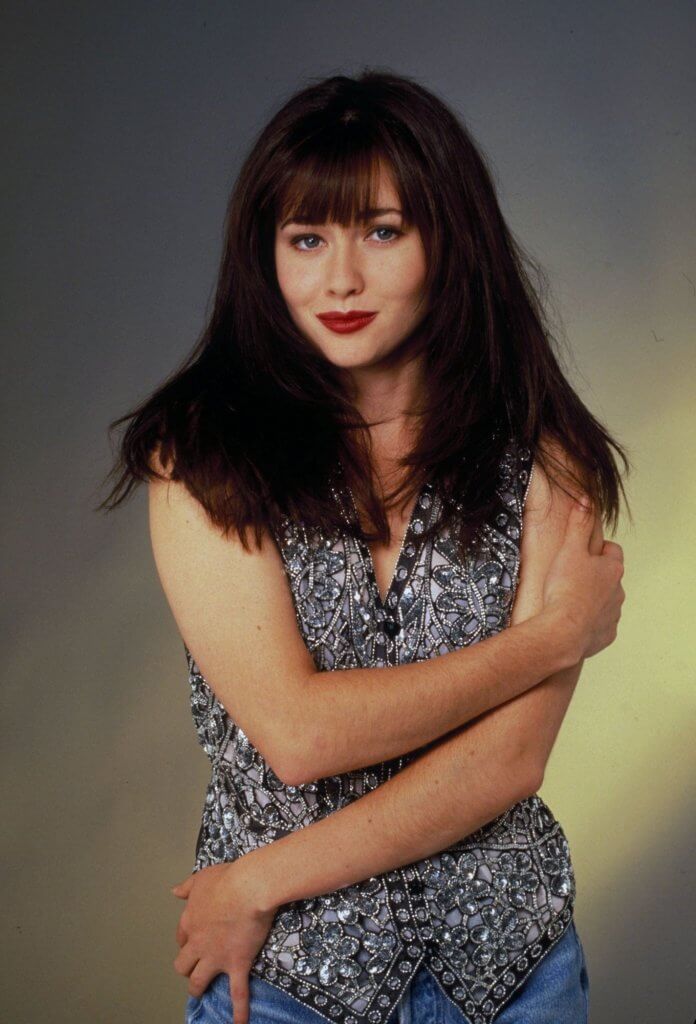 "I came out of [cancer treatment] in as good of a condition I think somebody [in my situation] could be in," she said. "[But] I'm exhausted. And I'm really terrible with self-care. When I'm at work, I have a tunnel vision mentality."
Doherty said she's been critical of herself and her body.
"I'm never going to be the size I used to be," she said. "Some of my meds that I'm on keep zapping the collagen out of me, so I'm never going to have a wrinkle-free face. I'm critical of myself. But there are some things you can't fight."
Learn more about SurvivorNet's rigorous medical review process.