Prince William's Christmas Wish
In anticipation of the holiday season, Prince William gave an interview with the radio station of the Royal Marsden Hospital.
The Prince answered questions from young people battling cancer about his favorite holiday traditions, and what he's most looking forward to about celebrating with his family.
But when he was asked what Christmas would look like if he were in charge, Prince William revealed a bigger wish: a Christmas without cancer or COVID.
Prince William is getting into the holiday spirit.
When asked by a cancer patient what Christmas would be like if he were in charge for the day, Prince William replied, "I would bring everyone together to have a big party. There would definitely be no Covid, and there certainly wouldn't be any cancer in the world."
Read More
Prince William, Duke of Cambridge, was speaking with cancer patients at the Royal Marsden Hospital in London about his favorite holiday traditions, and what he hopes for in the new year.
Prince William has been president of the Royal Marsden Hospital since 2007. His concern for cancer patients and for promoting cancer treatment is personal–his grandfather, Prince Phillip, privately battled prostate cancer in 2008. Prince Phillip beat the disease, and just passed away this year.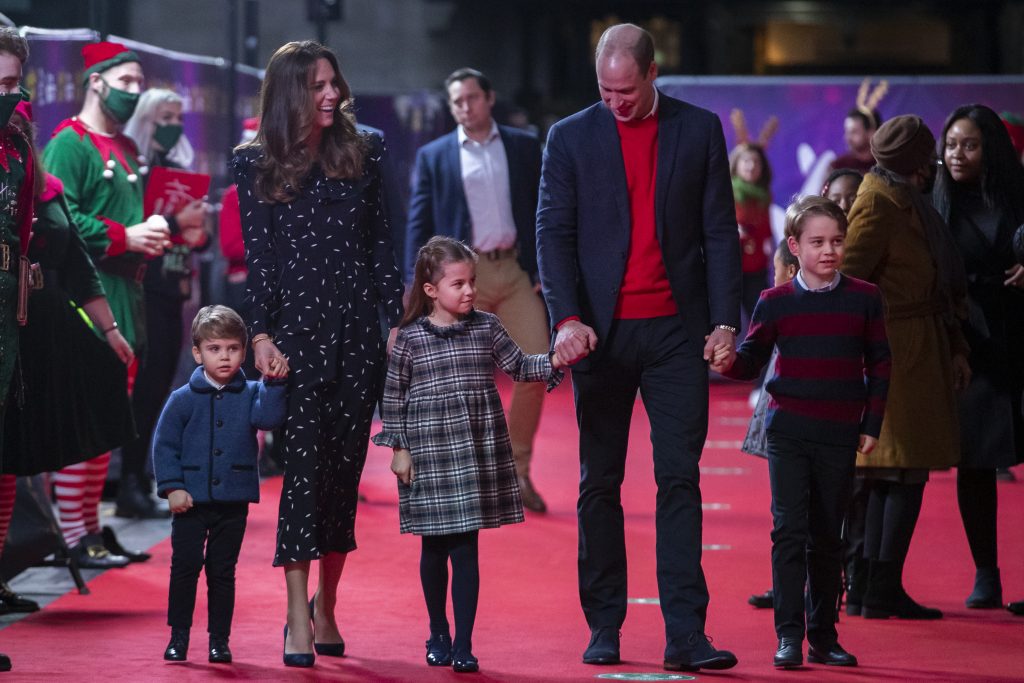 The Prince dished out more details on his ideal Christmas celebration. "Food is quite important to me at Christmas," he said. "I do tend to eat a lot at Christmas. There's always a tiny little bit of space left in my stomach somewhere for a bit more turkey or sausage or, you know, a bit of wine."
The young cancer patients asked about his favorite Christmas song (Feliz Navidad), and his favorite Christmas movie (Elf). One child got right to the point and asked Prince William if he had a Lamborghini. "I would love to have a Lamborghini – a big, bright yellow Lamborghini," he said. "But no, unfortunately, I don't have a Lamborghini. I'm going to have to save up for one of those when I get older."
In terms of activities, Prince William looks forward to playing board games like Monopoly and Risk with his children – Prince George, 8, Princess Charlotte, 6, and Prince Louis, 3. And even though he hasn't mastered the technique, he loves ice skating. "I look like a deer on ice," he said.
Prince William praised the patients and staff of the Royal Marsden Hospital. "I've always been amazed by the positivity, the energy and the hope and the love that goes with the Royal Marsden," he said. Even though the recent surge in COVID cases has means that Christmas might look different for people in the hospital this year, Prince William promised that the hospital staff would do everything they could to make the holiday season "jolly."
Survivors tell us this all the time a little positivity goes a long way. Thats especially true during the holidays.
Managing Cancer During the Holidays
Fighting cancer is difficult at any time, but it can be especially challenging during the holidays when your loved ones want to ask about your disease. It can also be difficult keeping a positive attitude when everyone around you is celebrating.
Here at SurvivorNet, we understand what this feels like. And we're here to help, providing you with tips on how to navigate the holiday season when you have cancer.
We recently sat down with Dr. Marianna Strongin, a licensed clinical psychologist and founder of Strong In Therapy Psychology, who gave us her expert thoughts.
If Your Loved Ones Want to Discuss Your Cancer
Whether you're the one with cancer, or your loved one has cancer, there's a valuable lesson to be learned here when navigating the holiday season. As a cancer patient, how do you navigate when your loved one wants to talk about your cancer? And as a loved one, how do you know when the person with cancer wants to, or doesn't want to talk about it?
"When talking to loved ones about your preferences and discussing your cancer journey during the holidays, it's important that you be your authentic self," Dr. Strongin says. "So rather than telling people exactly what you want, it's important to share why you want that."
"When we are our most authentic self and disclose our true feelings, the people around us feel us. So if you aren't feeling comfortable talking about your cancer and you don't want it to be a part of the holiday season, tell them why that is. Tell them why talking about it would be so distressing for you."
The holiday season is in full swing. Fighting cancer is hard at any time, but it can be especially hard during the holidays.
If someone in your family has cancer and makes it clear they don't want to talk about it, then you need to respect that. Everyone deals with having this disease in a different way — some people want to talk about it, while others don't. And that's totally OK.
Keeping a Positive Attitude During the Holiday Season
The holiday season has a way of marking the time in our lives, Dr. Strongin says. It tends to be more intense than other times of the year. So what if you're having a hard time remaining positive during this season that's supposed to be filled with so much joy?
"For patients who are going through a difficult moment, it becomes a real lens into what's happening for them because they can remember the holidays the year before or even the year before that," Dr. Strongin says. "And it becomes a sense of reality when they know that this is going to be the year that's marked by this (a cancer battle or diagnosis)."
If you find that you identify with what Dr. Strongin is saying, she tells us that she has a challenge for you this holiday season: "I really challenged (cancer patients) to kind of take this holiday as it is, to find the joy in it, to find ways to accept the reality of where they are in this time and space."
Contributing: SurvivorNet staff
Learn more about SurvivorNet's rigorous medical review process.
---