From Rock Star to Soccer Dad
Rod Stewart and his wife helped coach their son's soccer practice
Stewart was diagnosed with prostate cancer in 2017, and in 2019 was given the "all clear" from his doctors
During COVID-19, Stewart has been spending time working out and enjoying time with his family
Rod Stewart has traded his microphone and tiger blazer in for cleats and a sweatshirt, and he can rock either look. After beating prostate cancer, the famed performer isn't letting one moment with his family go to waste.
Stewart, 75, and his wife Penny Lancaster, 49, hit the soccer field in Hertfordshire, United Kingdom to help coach and support their 9-year-old son Aiden's soccer team in a recent practice. A long time soccer fan, Stewart showed his appreciation for the sport by representing his favorite team, Glasgow's Celtic FC, along with a pair of black jogging pants. Clearly, he's embracing full soccer-dad mode.
Read More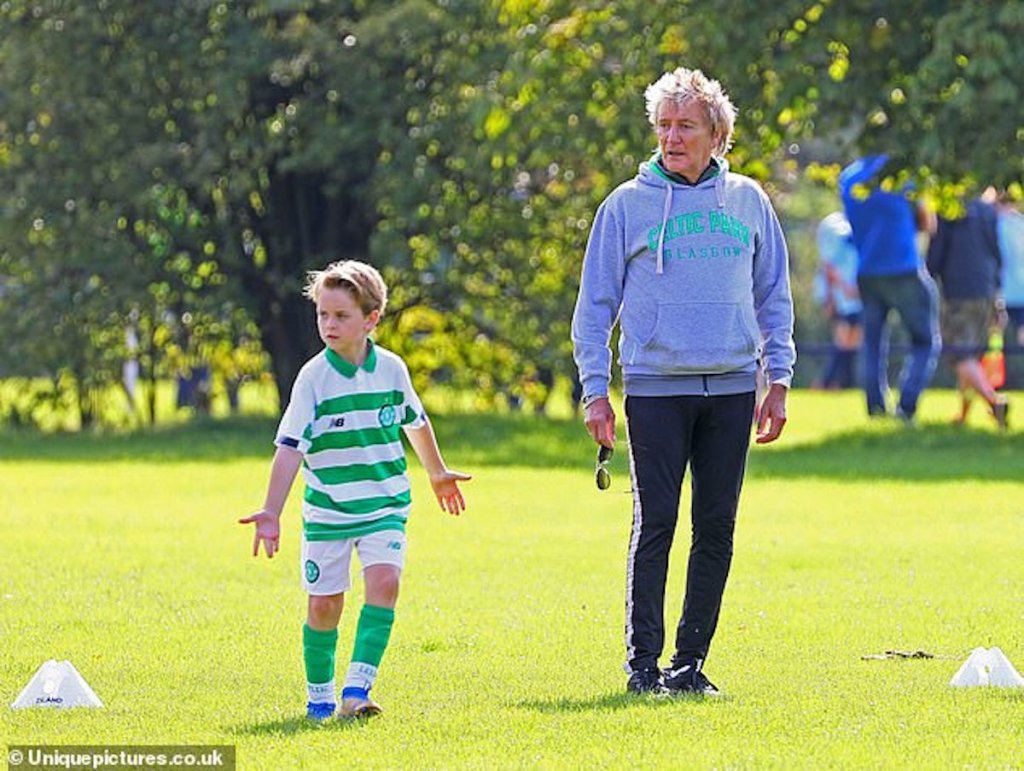 Stewart has been enjoying every minute with his family since the COVID-19 outbreak, and he's said family-time has become even more sacred since his cancer treatment. Stewart was diagnosed with prostate cancer in 2016 during a routine check up, and told fans that he'd gotten the "all clear" from his doctors in 2019 after successful treatment. Plus, while giving a health update, he says that he's been working out to make sure he's healthy — and it's paying off.
Related: "Finger Up The Bum, No Harm Done," Says Rocker Rod Stewart, As He Reveals Successful Prostate Cancer Treatment And Urges Men To Get Tested
"I'm 75 and I've just got over cancer," Stewart told BBC. "[But] I'll tell you what, I'm fit. I work out three or four times a week. I've very fortunate because down where we live I have an indoor pool and a wonderful gym…I don't think I've ever been as fit as I am now, because I've got nothing else to do."
Prostate Cancer Screening
Stewart's cancer journey has made him an advocate for encouraging more men to get screened for the disease, since the rock star knows it can be life-saving.
Related: Ben Stiller Says a PSA Test Saved His Life- Beating Prostate Cancer And Now Nominated For An Emmy As a Director
While screening for prostate cancer, doctors test for a prostate-specific antigen (PSA) blood test and a digital rectal exam to feel the prostate gland. Men have a small amount of PSA in their blood all the time, but large amounts may indicate that something is. When cancer cells grow, PSA spills into the blood, and by screening your doctor can catch it early. The process is simple enough, and just takes about 30 seconds.
Experts explain the PSA blood test for blood cancer screening
However, no screening process is perfect all the time, and the PSA test is no exception. Elevated levels of PSA doesn't always mean that you have cancer, sometimes it just points to an enlarged prostate or inflammation/infection, which can be common among men. In most cases of elevated PSA, there's a 20-40% chance it could be cancer. Because of this, the blood test has received some criticism from other physicians because of the level of panic and false positives it can cause. However, it's important to be better safe than sorry.
Related: Should You Have More Sex to Reduce Your Risk for Prostate Cancer?
"In almost any other cancer that you may encounter, lung cancer, breast cancer, everyone's looking for a blood that helps them monitor the disease with some degree of precision," Dr. Edwin Posadas, a medical oncologist at Cedars-Sinai Medical Center, tells SurvivorNet. "So I consider myself, as an oncologist, fortunate to have a test like prostate specific engine, the PSA test."
Experts explain the pros and cons to the PSA test
Learn more about SurvivorNet's rigorous medical review process.