A Young Girl's Battle With Rhabdomyosarcoma
Londyn Hoffman, a six-year-old who has just started Kindergarten amid chemotherapy, was diagnosed with rhabdomyosarcoma last year after her family noticed her right eye was protruding.
Childhood rhabdomyosarcoma is a disease in which malignant (cancerous) cells form in muscle tissue.
Possible symptoms of the disease include a lump or swelling that keeps getting bigger or does not go away, crossed eyes or bulging of the eye, and headache.
Londyn Hoffman's battle with a rare and aggressive form of childhood cancer began when her family noticed her right eye was protruding.
The brave six-year-old, who resides in Westfield, Indiana with her parents Adam and Jenna Hoffman, is now fighting rhabdomyosarcoma for the second time.
Read More
In addition to battling cancer, which she was first diagnosed with last year, Londyn was born with an unnamed rare genetic condition and has experienced a neurological condition called Guillain-Barre syndrome.
"Essentially, there was a tumor behind her eye that was making her eye protrude, and that's how we first caught it. It's a fast-growing type of cancer, but lucky we caught it right away," Londyn's mom Jenna told NBC affiliate WTHR. Her daughter was diagnosed with childhood rhabdomyosarcoma, a disease in which malignant (cancerous) cells form in muscle tissue.
Related: Boy, 4, With Swollen Groin, Strange Cough Is Told By Doctors He Had A 'Viral Infection And A Cyst' And Was Prescribed Antibiotics: It Was Cancer
After completing 40 weeks of chemotherapy, Londyn was diagnosed with Guillain-Barre syndrome before traveling to Cincinnati hospital for radiation. The rare syndrome, a condition in which the body's immune system mistakenly attacks the nerves, brought Londyn into the ICU for six weeks. Despite her setback, Londyn stayed strong and her cancer went into remission by November 2021.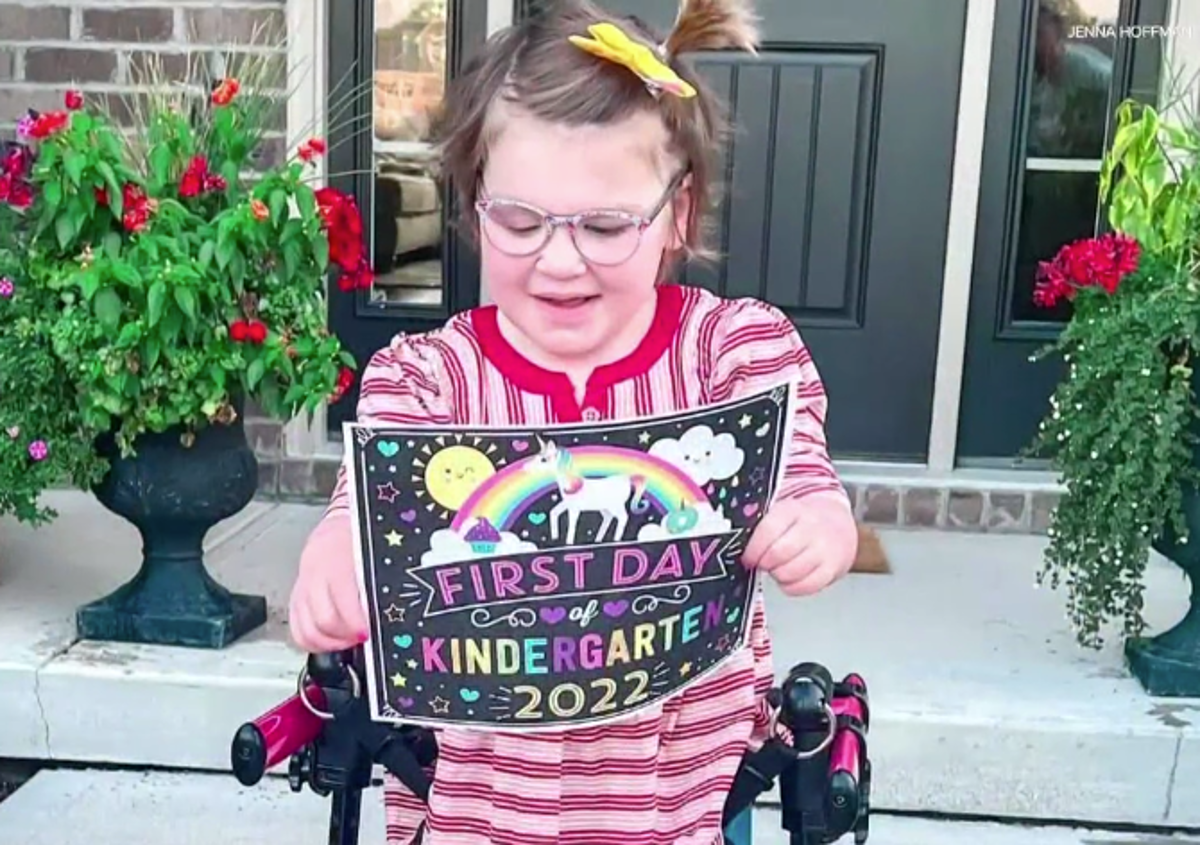 Although the tumor was "essentially dead" when Londyn was in remission, the cancer ended up returning in July 2020. Jenna said she "immediately knew something wasn't right" when she noticed her daughter's eye protruding once again.
"When we found out it was a relapse, it was really hard and it all happened so quickly," Jenna told WTHR. "It's a lot harder the second time when your child has a relapse. The first time it's like, 'Here is this playbook, we are going to put you on this protocol.' This time, there is no playbook. You don't know what to do next. You just know there is a handful of chemotherapy treatments out there that we can try."
On Thursday, Londyn underwent her sixth week of chemotherapy at Riley Hospital for Children in Indianapolis, Indiana.
Londyn's parents are now hoping their daughter's cancer journey will inspire others to support pediatric cancer research, which according to Dr. Michael Ferguson, medical director of the Pediatric Cancer Precision Genomics Program, is at a "deficit compared to adult cancer research."
Speaking to Riley's Children's Health last year, Jenna urged other parents in a similar situation to "be your own child's advocate."
Jenna explained, "You can't be afraid to ask questions or give suggestions. You know your child best. Sometimes you feel like you're speaking out of turn because everyone is moving so fast in these situations, but I found that the more we spoke up, some of our ideas were considered."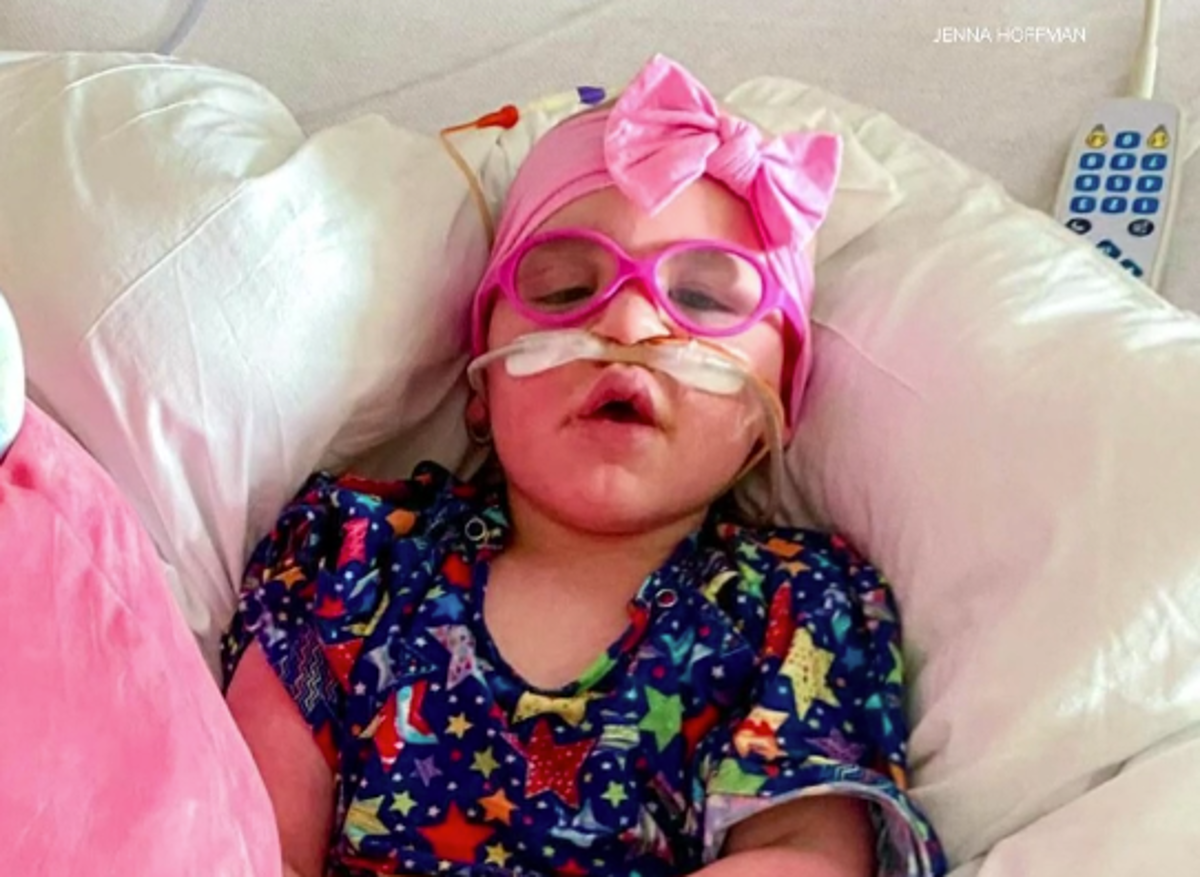 What Is Childhood Rhabdomyosarcoma?
Childhood rhabdomyosarcoma is a disease in which malignant (cancerous) cells form in muscle tissue. Symptoms of the disease can vary, but it's always important to bring your child to the doctor if any changes to their health occur. Possible signs of childhood rhabdomyosarcoma can include:
A lump or swelling that keeps getting bigger or does not go away. It may be painful.
Crossed eyes or bulging of the eye.
Headache.
Trouble urinating or having bowel movements.
Blood in the urine.
Bleeding in the nose, throat, vagina, or rectum.
Understanding Childhood Cancer
Treatment advances in recent decades have led to 85 percent of children with cancer now surviving five years or more, according to the American Cancer Society. This is up from 58 percent from the mid-1970s.
Related: Mom, 29, Thought 'Cloudiness' In Her Toddler Daughter's Eye Was 'Ice From A Snowball Fight:' It Turned Out To Be Cancer
But according to the National Pediatric Cancer Foundation, more than 95 percent of childhood cancer survivors have significant health-related issues because of the current treatment options, and only four percent of the billions of dollars spent each year on cancer research and treatments are directed toward treating childhood cancer in the United States. Since 1980, fewer than 10 drugs have been developed for use in children with cancer while hundreds of drugs have been created exclusively for adults.
Dr. Elizabeth Raetz, director of pediatric hematology and oncology at NYU Langone's Perlmutter Cancer Center, reminded us in a previous interview that there is still reason for hope.
"There are also targeted treatments and different immunotherapies that have been studied in adults and have now moved into clinical trials for children and there has been a great deal of excitement in the community about that," Dr. Raetz told SurvivorNet.
Caring for a Child with Cancer
Still, navigating a child's cancer diagnosis can be incredibly tricky – something Jayne Wexler knows all too well. She had to fill the roles of parent and cancer caregiver when her son, Justice, was diagnosed with acute lymphoblastic leukemia. Thankfully, he has since recovered.
"I Try To Stay Strong, But Sometimes You Need To Cry:" Playing The Role of Cancer Caregiver and Mom
In a previous interview with SurvivorNet, Wexler explained how she managed to be a mother and a caregiver all at once.
"Being a caregiver is a huge job," Wexler said. "Fortunately, my husband and family were very supportive … it's really hard to see your child go through this. If it could be me, I would take it in a second. You just go on auto-pilot and you just do what you have to do."
But that doesn't mean it was always easy. Wexler admitted that as a parent caring for a child with the disease, you don't have a lot of time to sit down and deal with your own emotions.
Related: Ten-Year-Old Girl's Abnormal Bleeding Was Dismissed By Doctors As 'Her Period:' It Turned Out To Be Cancer
"You don't have that much time for yourself," Wexler said. "I try to stay strong, but then sometimes you just want to go and cry, and you need to cry… it's good to cry."
The survival rate for children with cancer has improved over the past few decades, but pediatric cancer is still an incredibly hard thing for a family to go through. In her own caregiving experience, Wexler found therapy to be a great way to process everything happening to her family. Regardless of whether it's therapy or participating in your favorite activities or something entirely different, it's important to find ways to also take care of yourself as you're taking care of your child.
Pushing for a Correct Diagnosis
It is so critical to listen to your gut when it comes to matters of health for you or your loved ones. Keep pushing for answers if you're unable to get a conclusive, correct diagnosis.
In an earlier interview, Dr. Zuri Murrell of Cedars-Sinai advises patients to lead each doctor's appointment with a plan and to "be pushy," if needed. He says you are your own best advocate.
Be Pushy, Be Your Own Advocate… Don't Settle
Contributing: Abigail Seaberg
Learn more about SurvivorNet's rigorous medical review process.
---