The savvy entrepreneurs and fashionistas of The Real Housewives franchise are always fierce and individualistic, even in the most intense situations. And one challenge that unifies them, despite the occasional feud? Their cancer journeys.
In recent years, several of these plucky "Housewives" and their loved ones have battled cancer with the same fire that has made them such inspiring television fixtures. Their stories of survival reflect their unique perspectives, but are also applicable to all of those who are fighting.
Read More
The most recent housewife to confront cancer head-on is NeNe Leakes, the outspoken actress, fashion designer, and 
The Real Housewives of Atlanta 
star whose husband, real estate entrepreneur Gregg Leakes, has been battling Stage 3 colon cancer. NeNe and Gregg are no strangers to hardship in their marriage, but the strain of this diagnosis pushed them to the edge,
as SurvivorNet has reported over the last month
. Yet even as NeNe and Gregg fight to save their relationship and Gregg continues to battle for his health, the two continue to use their struggle to remind their fans to receive colonoscopies and other screenings–selflessness amid their continued struggle. And their far from the only members of the "Housewives" extended family to embark on cancer journeys.
Now, SurvivorNet looks over other housewives and their families who have dealt with cancer and looks at some of the methods they have used and the advice they have given to others.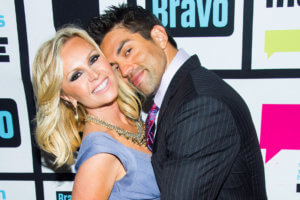 Tamra Judge, 51, from The Real Housewives of Orange County. is a survivor of melanoma, a pigment-based skin cancer. Judge, a health guru who runs CUT Fitness with her third husband, businessman Eddie Judge, 46, discovered the illness while on a trip to Iceland, according to an interview with Bravo's The Daily Dish. "We were in Iceland last year filming and I was getting a massage. And the girl that was giving a massage said,'You know, you might need to have that checked.'" Judge returned home, visited her dermatologist, received a biopsy, and found that she had Stage 1 melanoma. Thankfully, the cancer–like most forms of melanoma caught early–was immediately treatable, and Judge is now cancer-free and continuing to grow her fabulous business and raise her four children.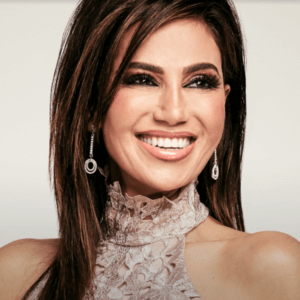 Judge's former The Real Housewives of Orange County co-star Peggy Sulahian, 45, is also a recent cancer survivor. Sulahian, whose partner Diko is a custom wheel mogul, was diagnosed with breast cancer after her doctor discovered a lump in 2017. Sulahian, who was simultaneously dealing with the death of her father, stayed quiet about her diagnosis to protect her family and underwent a preventive double mastectomy to ensure that the cancer did not spread. Like Judge, she caught the disease early, and has gone back to focusing on raising her three kids and continuing her thrilling lifestyle in the OC's Crystal Cove. She left RHOC in 2018, but is still making waves on Instagram and developing her popular TEASE hairspray line.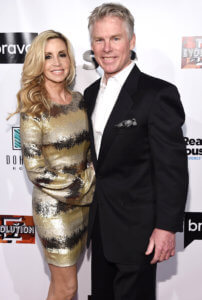 Another former housewife from The Real Housewives of Beverly Hills, Camille Grammer, 50, is a two-time cancer survivor. The dancer, actress and former wife of "Frasier" star Kelsey Grammer, who married super-attorney David C. Meyer, 56, last October and is mom to two teens, was first diagnosed with Stage 2 uterine cancer while still on the show in 2013. She celebrated a year cancer-free after undergoing a hysterectomy, and quickly became a vocal advocate on social media for receiving regular check-ups. In 2017, Grammer was diagnosed with squamous cell carcinoma, another form of skin cancer, which is usually found on areas of the skin that are damaged by UV rays. After a successful removal of the cancer cells, Grammer took to Instagram to continue her drive for awareness, writing: "Ladies listen to your bodies. If something doesn't seem right go for a checkup. Don't put it off. Annual check ups are important."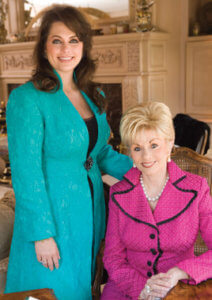 As Gregg Leake's struggle shows, the wives themselves aren't the only members of the larger Real Housewives family who have battled cancer. Dee Simmons, the larger-than-life mother of 50 year old Real Housewives of Dallas star D'Andra Simmons–and a breakout sensation on the show in her own right–has devoted much of her adult life to helping those with breast cancer after surviving the disease herself in 1987. Her company, Ultimate Living, a line of natural health supplements and skin products that are completely organic, grew out of her desire to lead a cleaner life after her cancer battle. D'Andra, whose husband is photojournalist Jeremy Lock, now runs a large portion of her mother's company. Meanwhile, Dee isn't slowing down in her quest to help bring relief to cancer survivors. According to the Dallas Observer, she is currently serving as a patient advocate for over 400 people who are battling cancer and other illnesses. "I have a vision, a mission and a passion to help those with health-related issues. I'm just as good at this as I was with the clothing lines, as I have been with my nutrition company and now in this role," Dee told The Observer last December.
Clearly, these unstoppable housewives and their families have survived cancer with a sense of renewed purpose and to make sure that those who are at risk get tested and get the help that they need during all parts of their treatments and recoveries.
Learn more about SurvivorNet's rigorous medical review process.
Learn more about SurvivorNet's rigorous medical review process.