An Incredible Life
Shirley Temple was "America's Darling" in the mid-'30s, and hands down the most popular star in the country at the time. She would have turned 93 today.
Temple retired from acting in her early 20s, then went on to a career in politics, but her most important role was being one of the first public figures to openly speak about her breast cancer diagnosis in 1972 at age 44.
Breast cancer survivor Christine Handy tells SurvivorNet how her battle with the disease made her want to live a life of service helping others.
The late entertainer Shirley Temple Black would have turned 93 today.
The child star, who died in 2014 at age 85 of COPD (a chronic lung disease), lived a very full life with much to celebrate, but her most important role? She was one of the first women to advocate for breast cancer awareness.
Read More
Shirley Temple was "America's Darling" in the mid-'30s, and hands down the most popular star in the country at the time. It was the Depression era, and the adorable actress, singer and dancer with the perfect ringlets of curls proved to be the sunshine that everyone so desperately needed.
"People in the Depression wanted something to cheer them up, and they fell in love with a dog, Rin Tin Tin, and a little girl," Temple often said. Rin Tin Tin, a German shepherd, was an international film star and as famous as Temple.
View this post on Instagram
Temple's parents, George Francis Temple and Gertrude Amelia Krieger married in 1910 and went on to have three children. Shirley was their only girl. Her mother decided to enroll her in a dance class at 3, which is where she was discovered. Later, Temple said that her mother would coil her hair into 56 perfectly-placed pin curls while her father would read her the Oz books. Her bedtime stories were her scripts that she had to learn.
Temple was a full blown entertainer by 5-years-old, and reigned in Hollywood from age 7 to 11. She performed in eight movies in 1934 alone, which thrust the tiny Santa Monica-born star into the spotlight, dominating the box office in films  such as Heidi and The Little Princess. The little girl would always have a song to sing, such as On the Good Ship Lollipop, which was her signature tune that she first sang in 1934's Bright Eyes.
View this post on Instagram
Shirley Temple dolls were the decade's best-selling dolls. They go for around $500 today. The young talent even inspired a "Shirley Temple" drink that is still used today as a mocktail, or non-alcoholic drink option. A ginger-ale or lemon-lime soda with a splash of grenadine served with a cherry on top.
View this post on Instagram
Unlike some child stars, Temple did not seem negatively affected by early fame. After retiring from films in 1950 in her early 20s, Temple resurfaced as a candidate for Congress and as a U.S. diplomat. She helped the Republican party with lavish fundraisers. Her even-keeled demeanor fit in perfectly with politics.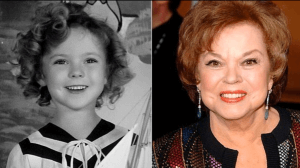 Her husband, the late Charles Alden Black, a businessman she married at 21 years old after divorcing her first husband John Agar, said that she had one solid personality at all times, no ups and downs or any sort of emotional trauma.
"Over 38 years I have participated in her life 24 hours a day through thick and thin, traumatic situations, exultant situations, and I feel she has only one personality," he told a reporter in 1988, according to The New York Times. "She would be catastrophic for the psychiatric profession. You can wake her up in the middle of the night and she has the same personality everybody knows. What everybody has seen for 60 years is the bedrock."
Black and Temple were married for 55 years up until his death in 2005. They had two children. Actor Charles Alden Black Jr., 68, and musician Lori Black, now 67. Temple also had one child with her first husband, Linda Susan Agar, 73, who has kept a low profile throughout her life.
An Advocate for Breast Cancer Awareness
Temple was diagnosed with breast cancer at age 44 in 1972. There was very little public awareness about the disease at the time. She underwent a modified radical mastectomy in her left breast (where the entire breast is removed along with the lymph nodes under the arms) and beat the disease. She became one of the first public figures to openly talk about her breasts and the disease. In fact, she held a press conference from her bedside and talked openly about her cancer with reporters.
Shockingly, in the early 1970s, doctors would tell a patient they were doing a breast biopsy, but then proceed with a mastectomy.  Temple made waves against this horrifying decision-making by doctors. "The doctor makes the incision, but I make the decision," she told McCall's magazine. Challenging the system, which sounds archaic, Black helped pave the way for women to be more empowered with their breast cancer decisions.
"Nobody can really help you," said Temple about her breast cancer. "It's between God and you and your doctor and your spouse. It's something you have to manage yourself and it's not difficult, if you consider the alternative."
Overall, she made it known that she really did not have regrets and had an enjoyable life.
"I've been so blessed," she said in her memoir, Child Star. "If someone asked me whom I would choose to be if I could come back in another life, I would have to say Shirley Temple Black. I cannot think of a more interesting life to ask for."
Breast Cancer Transformed Christine Handy From Model & Housewife to Philanthropist & Mentor
Breast cancer survivor Christine Handy is one of those modern day fighters and philanthropists that Shirley Temple paved the way for. She opens up about turning her battle into something positive to help others.
"When somebody tells you that you have an x-percentile chance of living, you can either take it one of two ways. You can quit, or you can really fight," she tells SurvivorNet. "And I in the beginning felt like quitting, but I ended up fighting."
The author, motivational speaker, humanitarian, mentor, model, and mother was diagnosed in 2012 with a very aggressive breast cancer. She sat in the chemo chair every week for nearly a year.
"My friends said to me when we're done getting you healthy, once you're back and standing on your own two feet, now it's your job," she says. "That will be your job to then go out and help other people. So I basically devoted my life since 2013 to helping and serving other people."
Handy mentors individuals, and she's on the board of two different charities. "I am on the board of a charity called EBeauty, which is a wig exchange program. I was fortunate enough to be able to afford a wig, but a lot of people can't. We've given out 55,000 wigs to individuals that need it."
She went from being very "self-involved" prior to my health issues, to serving other people.
"And it became not about myself. I became about others."
Getting to Know Your Breasts with Self-Exams
Learn more about SurvivorNet's rigorous medical review process.