Highlighting Advancements In Prostate Cancer
When comedian Dom DeLuise passed away in May 2009 his cause of death was not disclosed. However, he said previously that he had been battling prostate cancer.
The prostate is a walnut-shaped gland in men located between the rectum and the bladder and produces the fluid that nourishes the sperm.
Prostate cancer is the most common cancer in men.
New treatment options are giving hope to patients diagnosed with late-stage prostate cancer; PARP inhibitors, a type of targeted cancer drug and androgen deprivation drugs, or hormone therapy, are making more options available.
Comedian Dom DeLuise was known for his jolly personality and roles in Mel Brooks films such as, 
Blazing Saddles

 and 

Silent Movie
. While DeLuise's cause of death in 2009 wasn't disclosed, he announced his battle with
prostate cancer
 just months before his passing. We fondly remember him and his big personality for his contribution to the comedy world and take this opportunity to share some of the latest advances in late-stage prostate cancer.
The comedian, who passed away at age 75, was likely most known for playing "a flamboyant musical director who led dancers" in a number called "The French Mistake" in the 1974 film Blazing Saddles, according to reporting from CNN. DeLuise was also in films Brooks directed including, The Twelve Chairs, Spaceballs, and Robin Hood: Men in Tights.
Read More
DeLuise also co-starred alongside Burt Reynolds in the films 
Smokey and the Bandit II
and
The Cannonball Run,
which is described by IMDB as "a wide variety of eccentric competitors participate in a wild and illegal cross-country road race. However, the eccentric entrants will do anything to win the road race, including low-down, dirty tricks."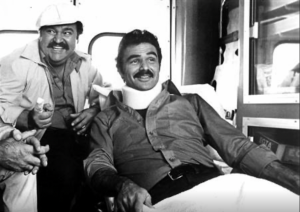 Dom DeLuise Comedic Career
He reportedly passed away in his sleep in May 2009, according to his family members. Just several months earlier, in December 2008, the actor told ET he was battling prostate cancer.
"I'm still here. I'm 75 and here. I feel very blessed," he told ET, according to reporting by Reuters. ET said a family member told the show DeLuise died as a result of a variety of health problems.
In the 1980s and 1990s DeLuise worked on TV shows such as Beverly Hills 90210 and 3rd Rock from the Sun. His voice was also featured in animated programs like All Dogs Go to Heaven: The Series.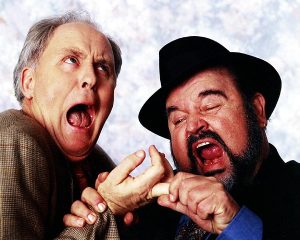 You can also add cookbook writer to the list of DeLuise's talents. He wrote cookbooks Eat This and Eat This Too!
DeLuise was married to wife, Carol Arthur, and the pair had three sons, Peter, David, and Michael. Arthur, who was also an actor, passed away in 2020 at the age of 85 after a long battle with Alzheimers disease.
Understanding Prostate Cancer
The disease begins in the walnut-shaped prostate gland located between the rectum and bladder. This gland produces the fluid that nourishes sperm. Symptoms of the disease are inconsistent and hard to pinpoint.
"Prostate cancer is a very odd disease in that it doesn't have a particular symptom," Dr. Edwin Posadas, director of translational oncology and the medical director of the Urologic Oncology Program at Cedars-Sinai, explained.
A few signs of the disease, however, can be changes in urinary function like urinating more or less often or waking up at night to go more than usual, said Dr. Posadas. However, it's important to note that these potential symptoms could also be caused by a urinary tract infection or even an enlargement of the prostate gland (which is not cancer).
There's No One Definitive Symptom for Prostate Cancer, But There Are Clues
Doctors that have spoken with SurvivorNet shared a hopeful outlook when considering a prostate cancer diagnosis because there are many treatment options, and there's been significant treatment progress over the past decade. Surgical and radiation options, for example, have made improvements in reducing side effects of treatment while still providing excellent cure rates. Even for men with an advanced-stage diagnosis, many new options exist to treat prostate cancer and help them maintain an excellent quality of life.
Prostate Cancer Screening
In the United States, many prostate cancer cases are caught with screening examinations. Screening guidelines depend on your risk for the disease. Age, race/ethnicity, geography, family history and gene changes are the main risk factors for prostate cancer. You should talk with your doctor regardless, but here are some things to consider when gauging your risk for the disease:
Men younger than 40 are less likely to get prostate cancer, but age-related risk quickly rises after age 50. Approximately six of ten cases of prostate cancer are found in men older than 65.
Prostate cancer develops more often in African-American men and in Caribbean men of African ancestry than in men of other races, and these men tend to develop the disease at a younger age.
Prostate cancer is most common in North America, northwestern Europe, Australia and on Caribbean islands. It is less common in Asia, Africa, Central America and South America. The reasons for this risk factor are unclear, but more intensive screening and lifestyle differences like diet might be contributing factors.
Most prostate cancers occur in men without a family history of the disease, but it's still important to look at your family history because prostate cancer does seem to run in some families. Having a father or brother who had prostate cancer, for instance, more than doubles a man's risk of developing the disease (with a higher risk for men with a brother with prostate cancer than those with a father who have it). The risk is also especially high if a man has several affected relatives that developed the cancer at a younger age.
Inherited gene changes, or mutations, like that of the BRCA1 or BRCA2 genes can also elevate risk, but this probably accounts for a small percentage of overall cases.
It's not clear if the benefits of prostate cancer screening outweigh the risks for most men. Nevertheless, screening can be life-saving, and it's important to at least discuss the pros and cons of screening and your risk factors for the disease with your doctor.
Prostate cancer screening methods look for possible signs of the disease, but they can't determine for sure if you have cancer. The only way to know for sure if the patient has prostate cancer is with a prostate biopsy — a procedure in which small samples of the prostate are removed and examined under a microscope. But generally speaking, screening for prostate cancer involves a PSA (prostate-specific antigen) test and a digital rectal exam to feel the prostate gland.
When Should I Get Tested for Prostate Cancer?
Advancements for Late-Stage Prostate Cancer
There is good news for men with late-stage prostate cancer, also known as metastatic or stage IV, as new treatment options have become available. There are a number of new advancements such as PARP inhibitors and new androgen deprivation drugs. Of course, it is important to note, the way you are treated will depend on your current health status and how aggressive the cancer appears.
According to Dr. Jeff Tosoian, a urologic oncologist at Vanderbilt University Medical Center, there are two primary situations in which you may be diagnosed with late-stage prostate cancer. First, there are those who have been treated for local prostate cancer and it recurs and spreads to other areas. "Or there are folks who never knew they had a localized prostate cancer and present with cancer, both in the prostate and in other places in the body," he says.
Targeted Therapy
Targeted therapy is a developing treatment option for prostate cancer. Unlike cytotoxic chemotherapy, which damages healthy cells, targeted therapies interfere with specific molecular pathways. These drugs can target and destroy specific cancer cells with fewer side effects than traditional chemotherapy.
Targeted therapy has three major mechanisms of action:
Blocking the growth factor that encourages tumor cells to grow
Interfering with the synthesis or function of DNA
Disrupting cell signaling pathways essential for the survival and growth of cancer cells
PARP Inhibitors
PARP inhibitors work to stop the activity of poly (ADP-ribose) polymerase, a protein involved in DNA repair. In normal cells, PARP quickly repairs damaged DNA. In cancer cells, defective DNA cannot be repaired effectively when a patient is undergoing treatment without a PARP inhibitor. Without PARP to fix them, these breaks accumulate and cause cell death.  Without PARP to fix breaks in DNA, DNA damage accumulates within cancer cells and causes cell death.
According to Dr. Mary K. O'Keeffe, a medical‌ ‌oncologist‌ ‌specializing‌ ‌in‌ ‌genitourinary oncology at‌ ‌NYU Langone Health's Perlmutter‌ ‌Cancer‌ ‌Center – Long Island, two PARP inhibitors are currently FDA-approved to treat metastatic castration-resistant prostate cancer include:
Lynparza (olaparib): A twice-daily oral pill given in combination with a gonadotropin-releasing hormone (GnRH)—unless a bilateral orchiectomy (surgery to remove both testicles) has been done. The most common side effects include nausea, vomiting, fatigue, headaches, low white blood cell count, low red blood cell count (anemia), dizziness, and diarrhea.
Rubraca (rucaparib): A twice-daily oral pill taken with or without food. Like Lynparza, Rubraca is given in combination with a gonadotropin-releasing hormone (GnRH) — unless a bilateral orchiectomy (surgery to remove both testicles) has been done.  Some of the most common side effects include nausea, vomiting, fatigue, low red blood cell count (anemia), abdominal pain, changes in bowel habits, and low platelets.
A 2021 study showed a positive result using combination therapy involving Lynparza (Olaparib) and an immunotherapy drug, Keytruda (pembrolizumab). While this is not an approved treatment at this time, it is a good example of new treatment options being developed.
Keytruda (pembrolizumab) and Lynparza (olaparib) combination therapy: Current trials investigating this drug combination for metastatic castration-resistant prostate cancer (mCRPC) show promising results, including a 58.6% reduction in target lesion size. Common side effects include anemia, nausea, fatigue, and loss of appetite.
Hormone Therapy
Hormone therapy is used when patients are unable to have cancer surgically removed because it has spread to other parts of the body. Although hormone therapies do not cure stage IV prostate cancer, they may help keep it from growing and spreading further. "The traditional standard of care for metastatic prostate cancer is androgen deprivation therapy, or hormone therapy," explains Dr. Tosoian. 

Androgen deprivation therapy is a type of hormone therapy that works by inhibiting androgen production, including testosterone, or blocking androgen receptors which can slow down tumor growth.
"Prostate cancer feeds off testosterone," explains Dr. O'Keeffe. "When you lower testosterone with androgen deprivation therapy, it's no longer feeding the cancer."
As metastatic prostate cancer progresses, the cancer cells can adapt and become resistant to therapy. According to Dr. O'Keeffe, this is true for most cancer treatments. "You have some men that are on it for many years and some men can progress in less than a year if they have a more aggressive type of cancer."
Two newer androgen deprivation therapies for late-stage prostate cancer include:
Xtandi (enzalutamide): FDA-approved to treat non-metastatic (nmCRPC) and metastatic castration-resistant prostate cancer (mCRPC) and metastatic castration-sensitive prostate cancer (mCSPC); It's a once-daily oral pill that can be taken with or without food. The most common side effects include fatigue, weakness, hot flashes, back pain, joint pain, changes in bowel habits, high blood pressure (hypertension), and decreased appetite.
Erleada (apalutamide): FDA-approved to treat metastatic castrate-sensitive prostate cancer (mCRPC); It's a once-daily pill taken by mouth. The most common side effects include rash, hot flashes, high blood pressure, itching, and joint pain.
Bone Therapy
Metastatic cancer can destroy bone tissue and release substances that cause additional bone damage. Doctors often manage bone loss with treatment to stop or slow bone destruction (such as bisphosphonate drugs), reduce pain, and prevent fractures.
New drugs available to prevent bone loss and fractures in those whose cancer has already spread to the bones include:
Xgeva (denosumab): FDA-approved for preventing skeletal complications in men with advanced prostate cancer who are at high risk for fracture. It's an injection given under the skin every four weeks. The most common side effects include shortness of breath, fatigue, nausea, and low phosphate levels in your blood.
With assistance from Abigail Seaberg and Lindsay Modglin
Learn more about SurvivorNet's rigorous medical review process.
---