The 'Singing Cowboy'
Gene Autry, the beloved "singing cowboy," died of lymphoma 23 years ago on October 2, 1998.
Autry, best known for his crooning vocals and Western movies, was a cowboy through and through. He was also a savvy businessman who achieved great success dipping his toes in various industries like mining, radio, television, hospitality and much more.
Lymphoma is a type of blood cancer. Early symptoms of the disease can be tricky to notice as they may include swollen lymph nodes, fatigue or unexplained weight loss.
Gene Autry, the beloved "singing cowboy," died of lymphoma 23 years ago today. A captivating entertainer and savvy businessman, Autry gracefully made his way from railroad worker to iconic American star.
Autry died on October 2, 1998, due to complications from lymphoma, but his 91 years of life were well spent. He began to climb to fame with his recording of That Silver-Haired Daddy of Mine in late October 1931 as a duet with Jimmy Long. In the summer of 1934, Autry made a guest appearance in the western movie In Old Santa Fe, and the rest was history. He had his own series of films the following year, and he was voted "the #1 box-office attraction in westerns" by 1937 exhibitors.
Read More
From there, his movie star fame propelled his music career to greater heights with songs like
Back in the Saddle Again
,
Tumbling Tumbleweeds
and
Be Honest with Me
becoming instant hits. He was
inducted into the country music hall of fame in 1969
.
And there should be no qualms with his cowboy persona because it was, in fact, real. He was a skilled horseback rider who even did his own traveling rodeo show with his co-star Champion. The well-trained Tennessee walking horse was Autry's sidekick in most of his movies.
Autry's also known for his Christmas tunes. His biggest hit is still his recording of Rudolph the Red-Nosed Reindeer, which he completed in a single take. And his songwriting ability should be noted as well. He ended up crafting around 300 tunes including the Christmas classic Here Comes Santa Claus.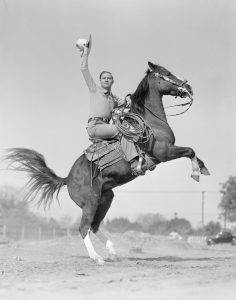 But Autry's talents did not end at entertainment. Capitalizing on his movie star success, Autry began franchising his name and face for sweatshirts, jeans, belts, suspenders, gloves, lassos and souvenirs. By 1940, The New York Times reported that Gene Autry cap pistols dominated the toy gun industry.
Then, in 1948, Autry purchased a radio station in Phoenix and, from there, he expanded. He eventually had 10 radio stations, a Los Angeles television station, a flying school, a music-publishing company, a 20,000-acre cattle ranch in Arizona, control over multiple hotels including the Gene Autry Hotel in Palm Springs, Calif, a partnership in many oil well operations and ownership of the California Angels baseball team. Seemingly, Autry's success seems to emulate the saying 'don't put all your eggs in one basket.'
Beloved by Many
Gene Autry's success still lingers today. If you celebrate Christmas, it's probably hard to imagine the holiday without Autry's crooning Rudolph, The Red-Nosed Reindeer or Up on the Housetop filling a room. And his lulling Western tune Home On the Range still remains a classic. Needless to say, Autry was – and is still – loved by many.
Iconic country musicians have looked up to Autry over the years as well – including the one and only Johnny Cash. In Public Cowboy No. 1, a biography on Autry, author Holly George-Warren said Cash looked up to Autry as his hero – someone who served "as a road map out of rural poverty for Cash."
George-Warren sat down with Terry Gross in 2011 to talk with NPR about Autry. In the episode of Fresh Air, she even discussed meeting the star in March 1997 before writing a feature story on him for The New York Times. Autry was 89 years old at the time.
"He still had that charisma. You know, even though he was an elderly guy," George-Warren said. "He was funny. He was charming. He definitely liked the ladies."
Having a predilection for Western fashion herself, George-Warren showed up to her interview with Autry in her "fanciest cowgirl outfit and [her] fanciest boots."
"He was quite taken by my outfit and even said, 'Honey, did you bring a Kodak with you so we can get some pictures?' And gave me tips on how to keep my boots all shiny," she said. "I could see why so many people loved the guy."
Understanding Lymphoma
Lymphoma – like leukemia, myeloma and myelodysplastic syndromes (MDS) – is a type of blood cancer. Blood cancers can affect the bone marrow, blood cells, lymph nodes and other parts of the lymphatic system. The Leukemia & Lymphoma Society reports that every 3 minutes, one person in the U.S. is diagnosed with a blood cancer.
More specifically, lymphoma is a cancer of the immune system that begins in the white blood cells called lymphocytes. Lymphoma begins when lymphocytes develop a genetic mutation that makes them multiply much faster than normal. This mutation also forces older cells that would normally die to stay alive. From there, the quickly multiplying lymphocytes collect and build up in your lymph nodes, the small glands in your neck, armpits, and other parts of your body.
What Kind of Lymphoma Do You Have? Why Your Type Matters
There are more than 40 different types of the disease, but Hodgkin lymphoma and non-Hodgkin lymphoma are the main two sub-categories with the latter being more common. According to the Leukemia & Lymphoma Society, about 90,390 people in the United States are expected to be diagnosed with lymphoma in 2021 – 8,830 cases of Hodgkin lymphoma and 81,560 cases of Non-Hodgkin lymphoma. The type of white blood cells linked to the disease determines the distinction. If doctors are unable to detect the Reed-Sternberg cell – a giant cell derived from B lymphocytes – then it is categorized as Non-Hodgkin lymphoma.
You might be at a higher risk for lymphoma if you:
Have been infected with the HIV or Epstein-Barr virus
Had an organ transplant
Have a family history of lymphoma
Have been treated with radiation or chemotherapy drugs for cancer in the past
Have an autoimmune disease
Symptoms of Lymphoma
One thing to note about lymphomas is that this type of cancer often creeps in quietly, without symptoms. And even when symptoms do show up, they don't necessarily point directly to cancer. In a previous interview, Dr. Elise Chong, a medical oncologist at Penn Medicine, explained that lymphoma symptoms could be difficult to detect.
Sneaky Lymphoma Symptoms Often Lead to a Late Diagnosis
"The symptoms of lymphoma, especially if you have a low-grade lymphoma, often are no symptoms," Dr. Chong explained. "People say, but I feel completely fine, and that's very normal."
People with lymphoma do not always have symptoms, but common ones are:
Swollen glands in your neck, armpit or groin
Fever
Chills
Night sweats
Unexplained weight loss
Feeling tired
Swelling in your stomach
No matter what, it's important to communicate anything usual happening to your body with your doctor. Even if there's nothing to worry about, it's good to rule out the possibility of more serious issues.
Treatment for Lymphoma
Lymphoma treatment, in general, depends greatly on the nature of your specific diagnosis. For non-Hodgkin lymphoma patients, their cancer is more likely to spread in a random fashion and be found in different groups of lymph nodes in the body. Hodgkin lymphoma cancers, on the other hand, are more likely to grow in a uniform way from one group of lymph nodes directly to another. And even if you're not diagnosed until a later stage, Dr. Chong assured SurvivorNet that "unlike other cancers, where advanced stage is a death sentence, that's certainly not the case for lymphoma."
"We have many treatments with which people can either be cured with advanced stage lymphoma or have very good remissions," Dr. Chong said. "So it doesn't change how treatable someone is, even when they do have advanced stage lymphoma."
Some lymphomas, called indolent lymphomas, might not even need to be treated right away because they're slow-growing. In this case, careful monitoring – including imaging scans such as PET/CT – is used to track the progress of your cancer and gauge whether it needs treatment yet.
"Where I use PET/CT in my practice quite a bit is if I'm observing a patient … and there is some new symptom or situation which makes me concerned that the patient may be changing from an indolent lymphoma to a more aggressive lymphoma," Dr. Jakub Svoboda, a medical oncologist at Penn Medicine, previously told SurvivorNet. "We refer to it as transformation."
Learn more about SurvivorNet's rigorous medical review process.
---