Remembering a Lymphoma Warrior
Michael Crichton died 13 years ago today after a private battle with lymphoma.
Crichton,  best known for writing the Jurassic Park novel and creating the ER TV series, was king of the science thriller genre.
Lymphoma is a type of blood cancer. Early symptoms of the disease can be tricky to notice as they may include swollen lymph nodes, fatigue or unexplained weight loss.
Michael Crichton passed 13 years ago today after a private battle with lymphoma. But he left a lot to be remembered by as he became perhaps the most masterful writer, director and producer of the scientific thriller genre.
Crichton's death on Nov. 4, 2008, at 66 years old was shocking to both his fans and his closest circle. In an interview with the New York Post, Crichton's brother, Douglas, explained that his loved ones were confident he'd beat the disease after his diagnosis in the spring of 2008. Even when chemotherapy left his brother barely able to speak two weeks before his death, Douglas still was not anticipating that the disease would overcome his brother.
Read More
"This is a shock to a lot of people, even his physicians," Douglas said shortly after his brother's death. "Everyone thought he was fine."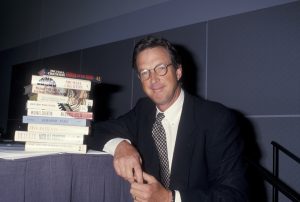 Crichton, best known for his 1990 novel Jurassic Park, was the man behind many a successful science thriller. He rose to prominence in 1969 after the popularity of the first book he wrote under his own name, The Andromeda Strain, but then the hits just kept coming. With over 200 million books sold and 13 of his novels becoming films, Crichton became one of the most popular writers in the world.
But his storytelling was not limited to print. He also directed seven films and became the first person to employ computer-generated special effects for his 1973 feature film Westworld – later reincarnated as an HBO hit. He even created video games and the long-running TV show, ER. In 1995, he was the nation's number one best-selling author with The Lost World, the author behind the number one movie with the film adaptation of his book, Congo, and the creator of the number one TV show with ER. He even repeated this trifecta in 1996 with his novel, Airframe, the film Twister, which he was the screenwriter for, and his series ER again.
But how did the 6-foot-9 man reach such heights in the sci-fi world?
"Michael Crichton was supposed to become a doctor, but somewhere along the line he left science behind in favor of science fiction," NPR's Lynn Neary said. "While still a medical student, Crichton began writing paperback novels under pseudonyms in order to earn extra money."
Crichton's Harvard Medical School education was first being supported by his extra income, but it quickly became the reason for it.
"Instead of writing thrillers to pay for my train bills, I was actually now going to medical school in order to have something to write about," Crichton told NPR. "We would all be standing around a patient with our instructor, and everybody would be making notes about the patient, and I would be making notes about the doctors."
Most of Crichton's work circles around the idea of science gone wrong. But when asked about his ideation process, he said his stories came together while he was writing them down.
"I wish I knew. They just seem to come from nowhere," he said of his story ideas. "But often I think people put too much emphasis on the 'idea' behind a story, anyway. First of all, there isn't just one idea in a story, there are lots of ideas. And second, an idea by itself isn't worth much until you do the work necessary to get it down on paper. And in the course of doing the writing, the idea often changes. It's similar to the difference between having an idea for a building, and actually constructing the building. The building often turns out differently from the original plan or intention."
But regardless of his process, Crichton's talents were undeniable. Actor George Clooney, who's grateful to him for creating the character for his breakout role in ER, spoke very highly of Crichton.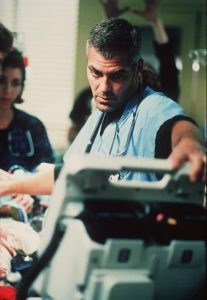 "Michael was always referred to as a Renaissance man," Clooney said. "That's because he was so good at so many things. Doctor. Writer. Director. And he was a stunning six-foot-nine figure. He would walk in the room and all the rest of us mortals felt somewhat inadequate. It was something you had to see. He could reduce giant stars and brilliant directors to little kids looking up to this gentle giant."
Understanding Lymphoma
Lymphoma – like leukemia, myeloma and myelodysplastic syndromes (MDS) – is a type of blood cancer. Blood cancers can affect the bone marrow, blood cells, lymph nodes and other parts of the lymphatic system. The Leukemia & Lymphoma Society reports that every 3 minutes, one person in the U.S. is diagnosed with a blood cancer.
More specifically, lymphoma is a cancer of the immune system that begins in the white blood cells called lymphocytes. Lymphoma begins when lymphocytes develop a genetic mutation that makes them multiply much faster than normal. This mutation also forces older cells that would normally die to stay alive. From there, the quickly multiplying lymphocytes collect and build up in your lymph nodes, the small glands in your neck, armpits, and other parts of your body.
What Kind of Lymphoma Do You Have? Why Your Type Matters
There are more than 40 different types of the disease, but Hodgkin lymphoma and non-Hodgkin lymphoma are the main two sub-categories with the latter being more common. According to the Leukemia & Lymphoma Society, about 90,390 people in the United States are expected to be diagnosed with lymphoma in 2021 – 8,830 cases of Hodgkin lymphoma and 81,560 cases of Non-Hodgkin lymphoma. The type of white blood cells linked to the disease determines the distinction. If doctors are unable to detect the Reed-Sternberg cell – a giant cell derived from B lymphocytes – then it is categorized as Non-Hodgkin lymphoma.
You might be at a higher risk for lymphoma if you:
Have been infected with the HIV or Epstein-Barr virus
Had an organ transplant
Have a family history of lymphoma
Have been treated with radiation or chemotherapy drugs for cancer in the past
Have an autoimmune disease
Symptoms of Lymphoma
One thing to note about lymphomas is that this type of cancer often creeps in quietly, without symptoms. And even when symptoms do show up, they don't necessarily point directly to cancer. In a previous interview, Dr. Elise Chong, a medical oncologist at Penn Medicine, explained that lymphoma symptoms could be difficult to detect.
Sneaky Lymphoma Symptoms Often Lead to a Late Diagnosis
"The symptoms of lymphoma, especially if you have a low-grade lymphoma, often are no symptoms," Dr. Chong explained. "People say, but I feel completely fine, and that's very normal."
People with lymphoma do not always have symptoms, but common ones are:
Swollen glands in your neck, armpit or groin
Fever
Chills
Night sweats
Unexplained weight loss
Feeling tired
Swelling in your stomach
No matter what, it's important to communicate anything usual happening to your body with your doctor. Even if there's nothing to worry about, it's good to rule out the possibility of more serious issues.
Treatment for Lymphoma
Lymphoma treatment, in general, depends greatly on the nature of your specific diagnosis. For non-Hodgkin lymphoma patients, their cancer is more likely to spread in a random fashion and be found in different groups of lymph nodes in the body. Hodgkin lymphoma cancers, on the other hand, are more likely to grow in a uniform way from one group of lymph nodes directly to another. And even if you're not diagnosed until a later stage, Dr. Chong assured SurvivorNet that "unlike other cancers, where advanced stage is a death sentence, that's certainly not the case for lymphoma."
"We have many treatments with which people can either be cured with advanced stage lymphoma or have very good remissions," Dr. Chong said. "So it doesn't change how treatable someone is, even when they do have advanced stage lymphoma."
Some lymphomas, called indolent lymphomas, might not even need to be treated right away because they're slow-growing. In this case, careful monitoring – including imaging scans such as PET/CT – is used to track the progress of your cancer and gauge whether it needs treatment yet.
"Where I use PET/CT in my practice quite a bit is if I'm observing a patient … and there is some new symptom or situation which makes me concerned that the patient may be changing from an indolent lymphoma to a more aggressive lymphoma," Dr. Jakub Svoboda, a medical oncologist at Penn Medicine, previously told SurvivorNet. "We refer to it as transformation."
Learn more about SurvivorNet's rigorous medical review process.
---