A Bright Light
Apple co-founder Steve Jobs transformed modern technology and culture, and died from a rare form of cancer in the pancreas, pancreatic neuroendocrine tumors (pNETs), at the young age of 56.
The first Apple computer, the Apple 1, came out 25 years ago, and Jobs went on to create the Apple II, Macintosh, iMac, iPod, iPhone and iPad.
 There is a difference between pancreatic cancer and pancreatic neuroendocrine tumors (pNETs), which form from different types of cells.
Apple founder Steve Jobs transformed modern technology and culture, and died of a rare form of cancer at the young age of 56.
The first Apple computer came out 25 years ago in April, and we have Jobs to thank for the convenience and accessibility our devices provide. And for those 10-hour screen time warnings? Yes, we have him to thank for that too.
Read More
"We are deeply saddened to announce that Steve Jobs passed away today," Apple said after his death from pancreatic neuroendocrine tumors (pNETs) in March 2014. "Steve's brilliance, passion and energy were the source of countless innovations that enrich and improve all of our lives. The world is immeasurably better because of Steve."
Related: Steve Jobs Died Nearly 10 Years Ago From Pancreatic Neuroendocrine Tumors (pNETs); Treatment Advances Since Have Been Significant
Designed by co-founder Steve Wozniak and sold by Jobs, the Apple 1 computer creation is something they developed after dropping out of college, although Jobs made sure to tell kids that he eventually incorporated the skills he learned in college into his tech designs. Jobs was also behind the Apple II, Macintosh, iMac, iPod, iPhone and iPad.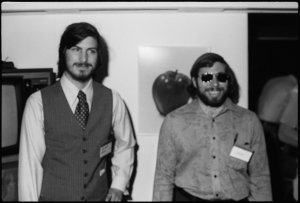 Jobs was born in San Francisco to a Syrian immigrant father and mother who met at University of Wisconsin. The couple put Jobs up for adoption, and he was then adopted by Paul and Clara Jobs, a blue-collar family.
As a pre-teen, Jobs boldly dialed up William Hewlett, one of the Hewlett-Packard Co. founders, to ask him about a device he was building, then he wound up working a summer job in an assembly line for the company. He went on to work technician jobs for companies like Atari.
He later left Apple to launch Pixar Animation Studios (Toy Story, A Bug's Life), which changed the face of moviemaking. 
Jobs was a go-getter from the start and never let his family back story affect his goals. He died a billionaire.
Jobs Was a Romantic
When Steve met his long-lost sister Mona Simpson, 63, who was also abandoned by their father, they just clicked. Simpson wrote a eulogy for her brother in an Op-Ed in The New York Times, sharing a more personal side to the Steve that she thankfully was able to form a bond with so many years later.
Apparently, he loved love as much as he loved computers.
"Steve was like a girl in the amount of time he spent talking about love," said the former magazine editor, now a professor at UCLA and author. "Love was his supreme virtue, his god of gods. He tracked and worried about the romantic lives of the people working with him."
Related: SurvivorNetTV Presents: Lovebox — A Love Story for the Ages 
Whenever he saw a man that looked like a catch for women, he would say, "'Hey are you single? Do you wanna come to dinner with my sister,'" she said.
Jobs was a romantic. And he always picked his sister up from the airport. In jeans. "Even as a young millionaire," she said.
On the day he met his wife, Laurene Powell, now 57, he called his sis and said '"There's this beautiful woman and she's really smart and she has this dog and I'm going to marry her.' His abiding love for Laurene sustained him," Simpson said. "He believed that love happened all the time, everywhere. In that most important way, Steve was never ironic, never cynical, never pessimistic. I try to learn from that, still."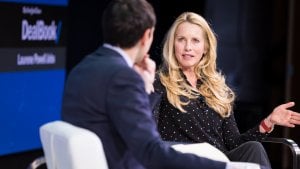 According to Simpson, Jobs was a hands-on dad with his and Laurene's kids: Erin Sienna, 29, Reed, 29, and Eve, 22. However, his firstborn Lisa Brennan-Jobs, 42, his daughter from relationship with his high school sweetheart, had a tougher time gaining acceptance. Jobs refused to believe she was his child at first. There was a lot of turmoil with that relationship, but the father and daughter reconciled before his death, and she was left several million dollars as part of her inheritance.
A Rare Form of Cancer in the Pancreas
When jobs was diagnosed with cancer around eight years before his death, it was found after a CT scan of his kidneys (the pancreas is near the left kidney). Jobs said in his biography that his urologist wanted him to get the scan due to a prior issue with kidney stones.
Jobs didn't have a typical form of pancreatic cancer. His was called a neuroendocrine tumor, a rare form of the disease. These tumors occur in the pancreas but can also occur elsewhere in the body. Neuroendocrine tumors and typical pancreatic cancers come from different types of cells, are treated differently and have different symptoms.
Related: Singer Aretha Franklin's Legacy– So Much Soul & Now a Serious Gift To Support Pancreatic Cancer Research
With pancreatic neuroendocrine tumors, even if they've spread outside the pancreas, people can live somewhat longer than the clinical form of pancreatic cancer, which is why Jobs survived for a reasonably long time at eight years.
Dr. Renuka Iyer of Roswell Park Comprehensive Cancer Center says NETs are brain and hormone-related cancers.
"That's one thing that's different about this disease, is the fact that it can produce hormones," Dr. Iyer said. "Some [NETs] produce hormones like insulin." Because of their hormone production NETs can be found anywhere in the body, but most commonly in the GI tract.
Within the past ten years, a new tool has been developed to detect these cancers – a NET spot scan. This specialized scan has advanced the ability to detect NETs, and created a better method for finding them. "With better ways to find them and measure them, it is helping to move the field along," Dr. Iyer said.
Jobs refused potentially life-saving surgery and opted for alternative treatments instead. A believer in technology, he didn't follow traditional science, though he believed he was going to a better place. He did wind up having a liver transplant in 2009.
Related: 'The Ghost of Steve Jobs Is Taking Over My Pancreas!': Ashton Kutcher on His Cancer Scare
When Jobs was nearing death, he sketched device designs on a notepad. He was thankful for his life and worked to the end.
His last words, according to his sister, as he gazed off past his wife and children were: "Oh wow. Oh wow. Oh wow."
Challenges to Screening for Pancreatic Cancer
Learn more about SurvivorNet's rigorous medical review process.