Pink Power
Actress and singer Rita Wilson is breast cancer survivor; she was diagnosed in 2015 and underwent a mastectomy and reconstructive surgery.
Wilson, Dolly Parton, and Jordin Sparks sing on a star-studded collaboration, "Pink," for breast cancer awareness.
Breast cancer treatment may involve a mastectomy, as it did for Wilson.
Breast cancer survivor, 
Rita Wilson
, has a new song with the one and only, Ms. Dolly Parton, about living through this disease. Their new song, "Pink," offers an inspiring message for people battling 
breast cancer
.
Related: Actress Survivor Rita Wilson Is Celebrating The Beauty Of Life On Her Five Year Anniversary Of Being Cancer Free
Read More
The song debuted recently at the Grand Ole Opry, and Wilson was bursting with excitement at sharing the news. In
an Instagram post
, she wrote: "@opry goes Pink! For breast cancer awareness. My new song PINK, with Dolly Parton, Monica, Jordin Sparks, Sara Evans…"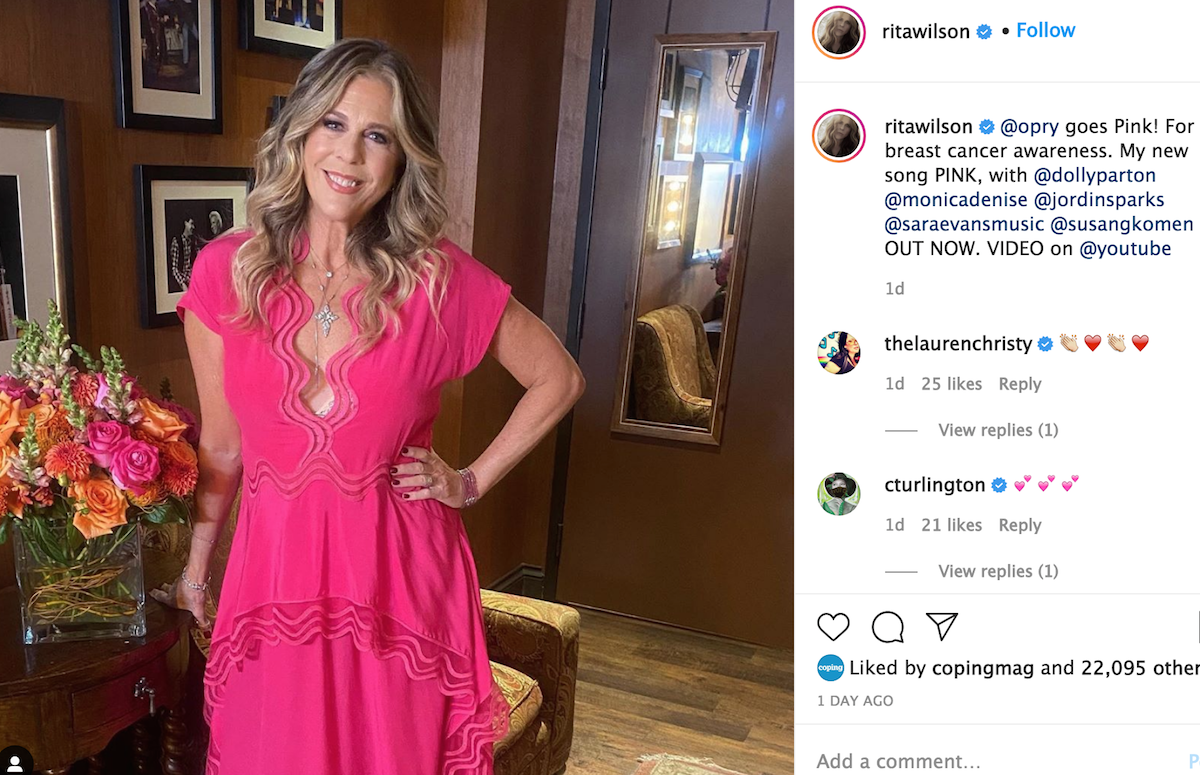 The "Pink" Debut
Even the Grand Ole Opry was in on all the buzz around the star-studded song. The iconic Nashville venue shared their support for the song on Twitter, congratulating all involved, writing: "Couldn't ask for a more beautiful song tonight on the Opry stage than "Pink" from @RitaWilson, @victoriashaw and Erin Kinsey! Thanks for being here, ladies!"
Couldn't ask for a more beautiful song tonight on the Opry stage than "Pink" from @RitaWilson, @victoriashaw and Erin Kinsey!

Thanks for being here, ladies! 💕 #OpryGoesPink pic.twitter.com/RU1eWSUxLB

— Grand Ole Opry (@opry) October 25, 2020
In the moving music video for the uplifting song, Parton plays the piano as she's joined by other singers like Wilson, Monica, Jordin Sparks, and Sara Evans. They sing "keep going" and "keep breathing" they sing for those fighting this disease. The women croon out powerful lyrics, singing motivating lines such as, "When you face a day that feels like you're gonna break…Lean on the ones that love you…The guardian angels above you" Support from loved ones is especially important when fighting cancer .
Related: Rita Wilson Soundtracks Her Life With Ten Songs, One Of Which Helped Her Cope With Cancer Diagnosis
Reconstruction Isn't the Only Option
Wilson was diagnosed with cancer in 2015. For treatment, she underwent a mastectomy, followed by reconstruction surgery. The actress and singer's diagnosis was invasive lobular carcinoma.
Breast Reconstruction: Regaining Your Sense of Self
Following a mastectomy, some women may opt for reconstructive surgery, like Wilson did. This process involves reconstructing a new breast after your original one was removed during the mastectomy.
Dr. Andrea Pusic, the Chief of Plastic and Reconstructive Surgery at Brigham and Women's Hospital, spoke with SurvivorNet about this decision that may breast cancer patients face. She noted the benefits of this type of surgery, saying, "Breast reconstruction is a restoration of a woman's form and her sense of self. And I think that's a very rewarding part of it. Going back to the idea that even if you didn't have reconstruction – you had nothing – you will look fine in your clothes. But you won't feel fine in your clothes."
Related: Implant Reconstruction After a Mastectomy: The Options
Some women, however, don't go the reconstruction surgery route, and they are vocal about being happy with their choice. Dr. Pusic says, "A lot of breast reconstruction is trying to erase the trauma of the mastectomy surgery, putting the cancer behind a patient, saying this is in the rear view mirror, and putting her back on track."
Related: 'I'll Swim Topless': Comedian Tig Notaro On Owning Her New Body After Double Mastectomy
When choosing how to move forward after a mastectomy, only you can know what's right for you and your body to get back on track. Facing any trauma experienced during a mastectomy can be done via many methods like therapy, support groups, as well as reconstructive surgeries.
Pink Power
During October, it seems that pink is everywhere, in honor of breast cancer awareness. Dubbed "pinkwashing," this effect – which is pervasive and seen on everything from potato chips to headband – is unmissable.
Related: Would You Buy These Potato Chips Because They're Pink? The Breast Cancer "Pinkwashing" Effect, Explained
And while many have turned a critical lens on the pinkwashing effect, the fact that it has raised awareness and conversations about breast cancer screening and treatment has been beneficial for the cause. We are grateful that survivors like Rita Wilson are sending uplifting pink messaging this month to empower all those who are living with breast cancer.
Learn more about SurvivorNet's rigorous medical review process.