Soap, shampoo, razors, socks, nail polish, t-shirts, Tic Tacs, cereal boxes, potato chips—walk down the aisle of any drug store or grocery store this time of year, and you'll notice a lot of the products have something in common. They're all pink.
Breast Cancer Awareness Month begins in October, and the pink branding and pink ribbon logos that crop up this time of year go hand-in-hand.
Read More
New "pink products" on the market this year include
a new lip color from Bobbi Brown
, "Powerful Pinks Luxe Matte Lip Color Duo." 50% of the lipstick purchase price goes to the Breast Cancer Research Fund. And
a pink velvet headband
from Lele Sadoughi will put 50% of the purchase price of the accessory will be donated to the
Breast Cancer Research Foundation
.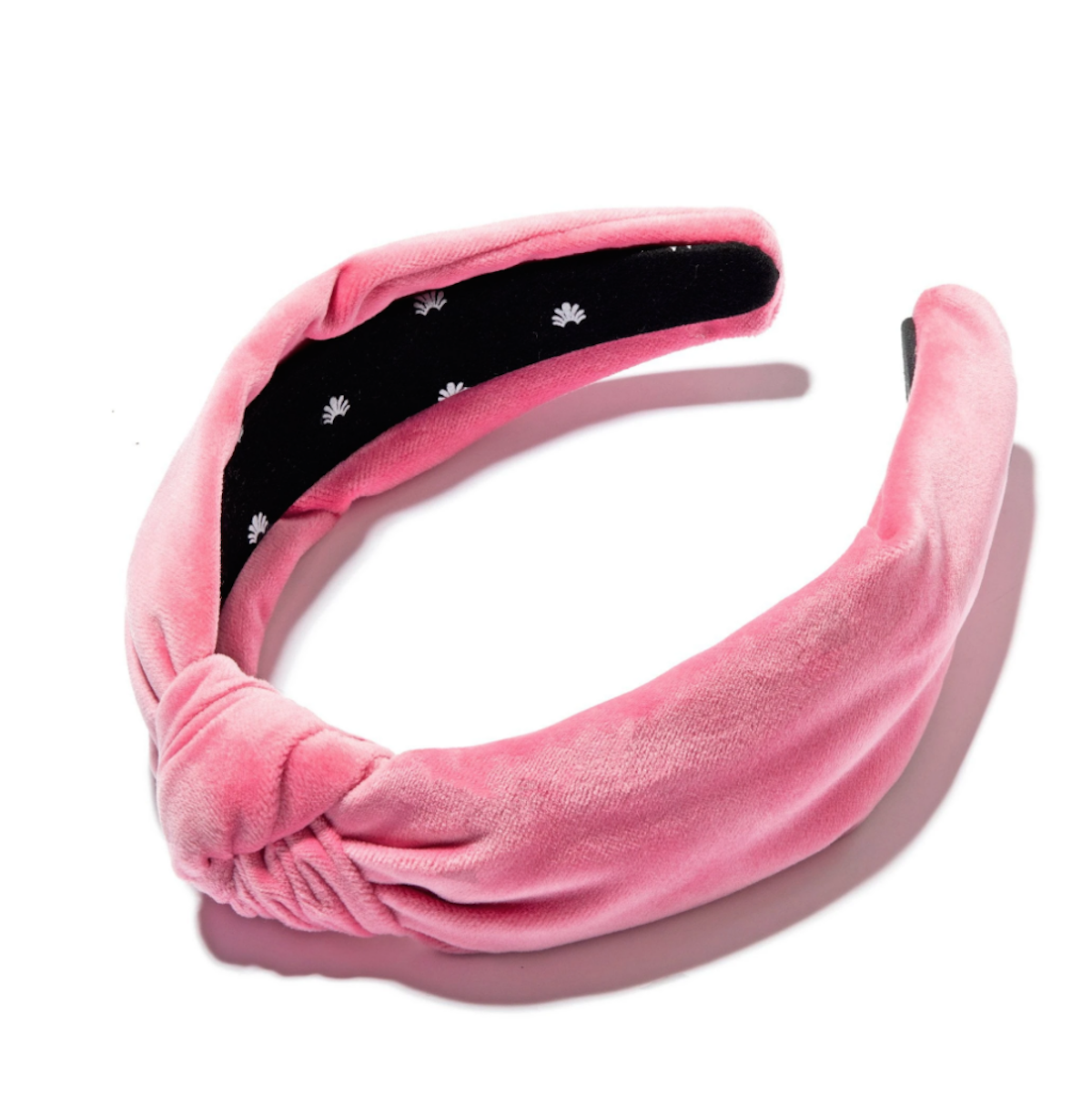 Generally speaking, the pink packaging is meant to signal to the consumer that the brand behind the product cares about breast cancer, and is using its product to support the cause.
Related: Chelsea Handler, Who Lost Mom to Breast Cancer, Ditches Her Bra to Raise Awareness for the Disease
How, exactly, the products are "supporting the cause" varies. Some brands might donate a portion of their proceeds to a specific cancer center, foundation, or advocacy organization, while others might use the color to promote awareness more broadly while stopping short of pledging a donation.
Regardless of how the companies go about the support, the pink branding is good for business: according to a national study conducted by M Booth's Mtelligence practice, seventy-seven percent of consumers and 84 percent of breast cancer patients and survivors say they are likely to buy products with pink ribbons on them during Breast Cancer Awareness Month.
Breast Cancer Surgeon Explicitly Lays Out Ways We Can Close the Gap in Racial Disparity: "Access to Care is Key!"
For its part, the popular potato chip brand Cape Cod Potato Chips has pledged a five percent donation (12 cents) from every sale of its limited edition "Pink Himalayan Salt & Red Wine Vinegar Chips" to the Dana-Farber Cancer Institute, a comprehensive cancer center with a steadfast commitment to research.
But potato chips—even potato chips with pink Himalayan salt—don't exactly line up with the notion of supporting cancer research and prevention. Potato chips are potatoes fried in oil; they're pretty empty in terms of nutrients, and the body processes them as they do most carbohydrates: as simple sugars.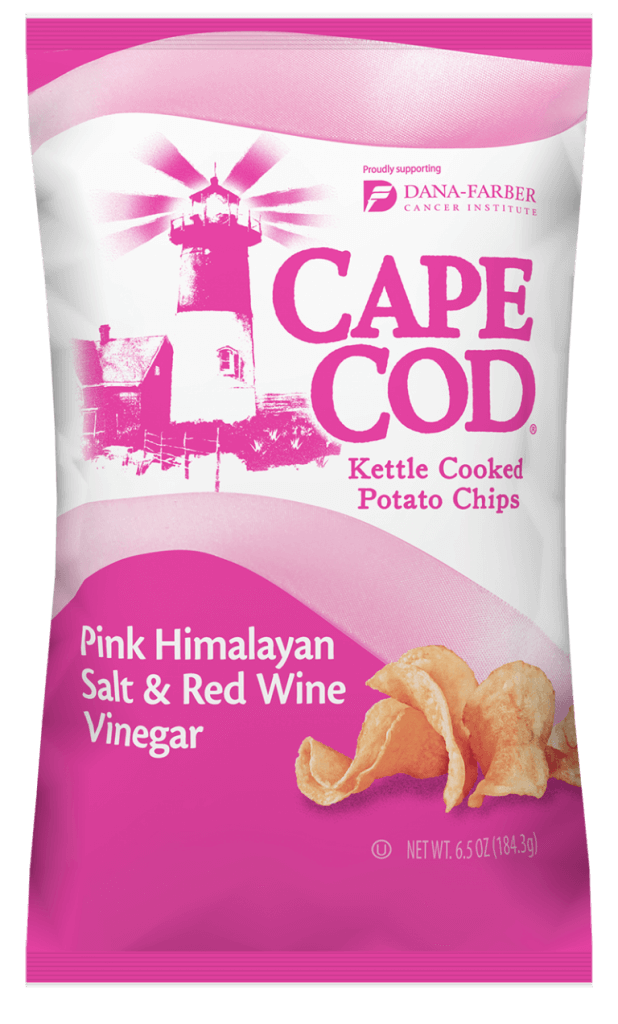 Nutritionists and oncologists alike agree that, when eaten in excess, simple carbs can lead to obesity. And as Dr. Elizabeth Comen, a breast cancer oncologist at the Memorial Sloan Kettering Cancer Center told SurvivorNet in a previous interview, obesity has been linked to a heightened breast cancer risk. "We know that when women are overweight, they can have a state of inflammation in their bodies," Dr. Comen said. "Some of those fat cells can make estrogen, and we know that being exposed to too much estrogen over a woman's lifetime can significantly increase her risk of breast cancer."
Related: Does Breast Cancer Awareness Month Trivialize The Disease?
There is also evidence that potato chips contain a chemical called acrylamide that is considered a "probable carcinogen," meaning it may cause cancer (although the actual cancer-causing effects have not been proven in humans).
RELATED: The Cancer Warning Sign On This Bag of Potato Chips, Explained
In recent years, similar instances of this apparent dissonance — that is, companies supporting breast cancer research through a product that could be linked to breast cancer — have received backlash. That's where the term "pinkwashing" comes into play. The word, as many in the breast cancer community have come to understand it, refers to the hypocrisy of marketing unhealthy or potentially cancer-causing products with pretty pink ribbons, signaling a commitment to breast cancer awareness to mask the harmful nature of the product.
RELATED: Put a Pink Ribbon on it – And Then Do More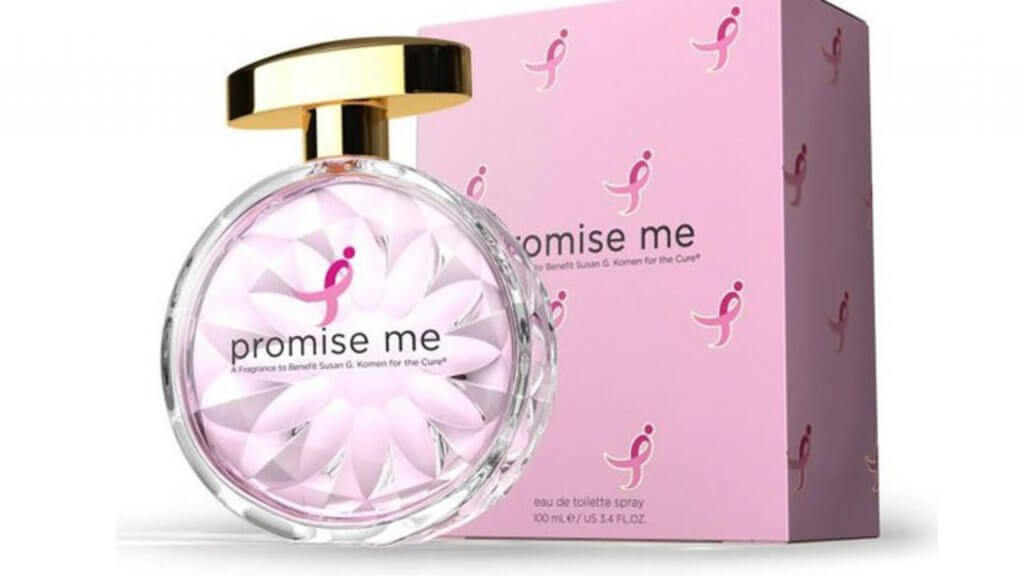 Historically, several prominent examples of pinkwashing have garnered attention. In 2011, for example, the Susan G. Komen foundation marketed a perfume called "Promise Me" on the Home Shopping Network that, according to the group Breast Cancer Action, which sent the perfume out for testing, contained coumarin, oxybenzone, toluene, and galazolide—chemicals that were known as "potentially carcinogenic." The Komen foundation denied the link, but agreed to reformulate the perfume.
Then in 2014, the oil industry company Baker Hughes made a $100,000 donation to the Komen Foundation and produced 1,000 bright pink oil drill bits, cleverly marketed with the tagline "Doing our Bit for the Cure." The backlash to the campaign was almost immediate, as survivors and advocates argued that hydraulic fracking—which the drills would be used for—releases potentially carcinogenic chemicals into the ground, which can end up in drinking water.
There was also Kentucky Friend Chicken's 2010 "Buckets for the Cure" campaign that didn't go over too well after some people astutely pointed out that fast food—including fried chicken—contributes to obesity, which is linked to breast cancer risk.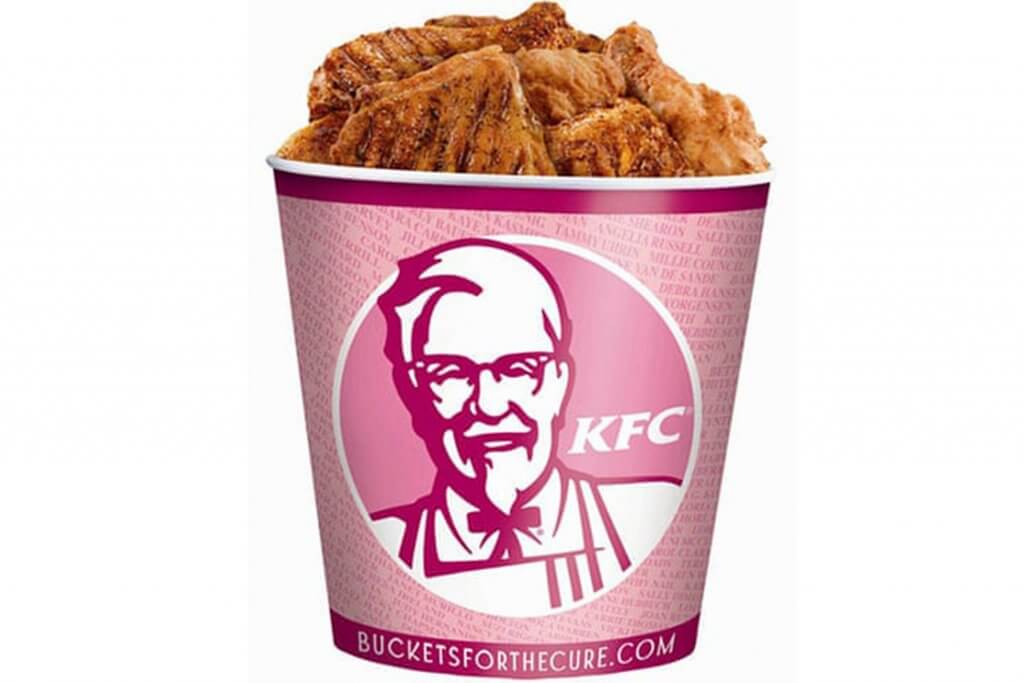 "Every Month is Pinktober When You Have Breast Cancer"
Poet and breast cancer survivor Anne Boyer published a raw and deeply personal book titled, "The Undying," in which she opens one chapter, "Every month is Pinktober when you have breast cancer, and every actual October is a season in hell. The world is blood pink… the pink ribbon cop cars and pink handcuffs and pink spirit-wear and pink ping-pong balls and pink plastic water bottles and pink revolvers should not be mistaken for a progress that the dying women somehow disappoint. Pink ribbons adorn the objects and processes that kill people."
The Pink Ribbon's Disputed History
Boyer goes on to chronicle a brief history of the pink ribbon in breast cancer world: in 1990, she writes, an activist named Charlotte Haley (whose grandmother, sister, and daughter) all had breast cancer, began handing out the pink ribbons in an effort to urge the government to dedicate more than the five percent of National Cancer Institute (NCI) funds they were putting toward cancer prevention.
RELATED: Speak Up if You Think Something is Wrong — An Important Message for #BreastCancerAwarenessMonth
Shortly thereafter, the story goes, Self Magazine and the makeup company Estee Lauder pitched a marketing partnership to Haley, who turned it down because she felt it too commercial. But the company moved forward with the pink ribbon anyway (changing the pink hue, Boyer writes, from the peachy pink of Haley's ribbons to a more classic pink, for legal purposes).
By 1993, Boyer writes, "Avon, Estee Lauder, and the Susan G. Komen breast cancer charity were all selling pink ribbon products. By 1996, breast cancer was declared, as a corporate charity recipient, 'hot.'"
It's worth noting that the story does not match up with the pink ribbon origin story as told by the Susan G. Komen Foundation, which claims to have used the pink ribbon since the 1980s, when the first Race for the Cure logo incorporated the ribbon.
Where, Exactly, Does the Money Go?
The pink ribbon's history, however, is not quite so important as the way the symbol is used today—and the responsibility that falls on all consumers to do their research before blindly believing that anything pink is going to save lives.
Related: Singer Normani, 24, Says Mom Battling Second Breast Cancer Diagnosis Is "The Strongest Woman That I Know"
A lot of pink products do a good job of sharing exactly how much they plan to donate to breast cancer research, and where those funds will go. The pink Cape Cod potato chips, for instance (potato chips' health effects notwithstanding), clearly lay out the amount and destination for its contributions on the back of the package.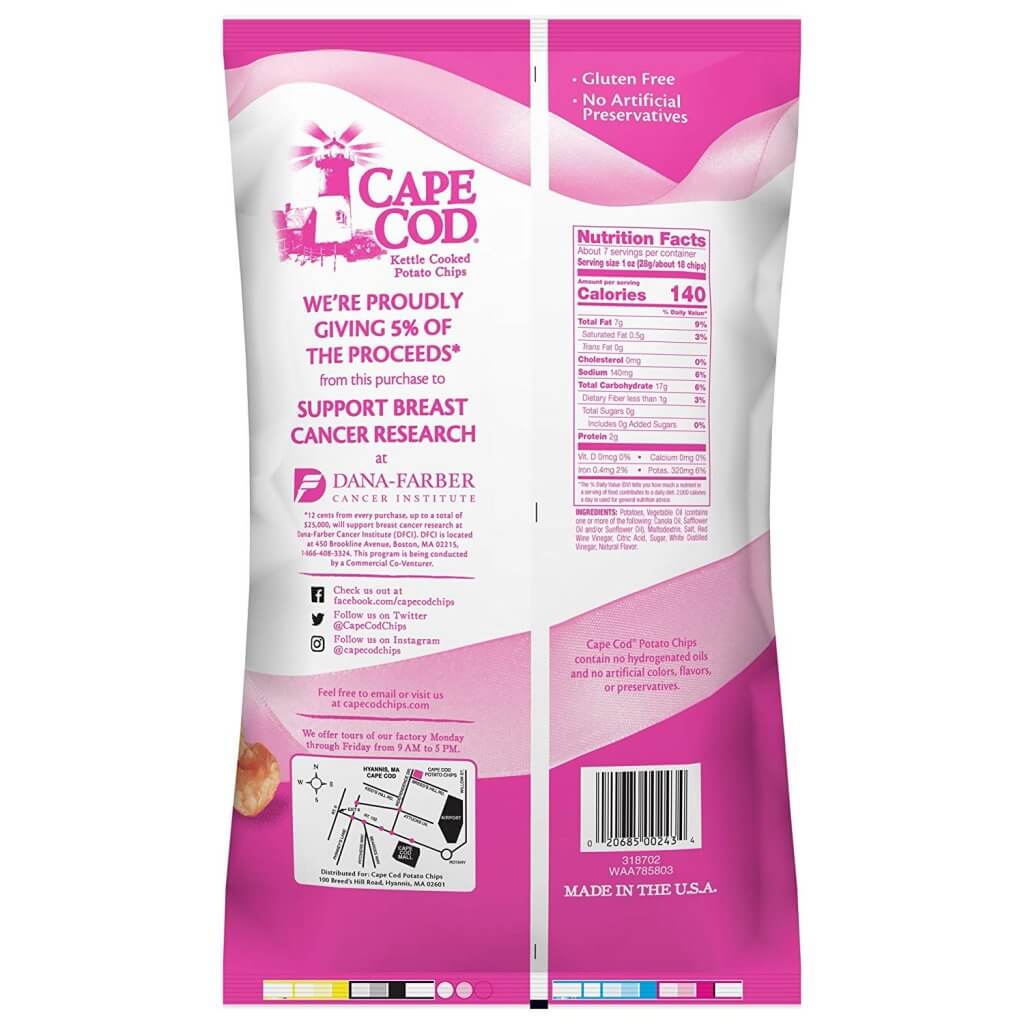 RELATED: "Research is the Reason Women Are Surviving"
This information is also easy to find on Cape Cod Chips' website. For some products, however, it's harder to find information about where the donations end up – if the pink ribbon is symbolizing a donation at all. After all, Think Before You Pink, a project started by the organization Breast Cancer Action (which is strongly against the commodification of breast cancer awareness), points out on its website that "Any company can put a pink ribbon on its products. The widely recognized pink ribbon symbol is not regulated by any agency and does not necessarily mean it effectively combats the breast cancer epidemic." That's why Think Before You Pink encourages consumers to look into the actual monetary pledge and where it's going before buying a pink product.
"When people purchase pink ribbon products, they are wanting to do a good thing, but many companies are simply interested in raising revenue," Breast Cancer Action's resource liaison Zoë Christopher said. "It's shameful they do so on the backs of breast cancer patients… Taking a little time to ask the right questions is well worth the effort."
Kelly Shanahan, a breast cancer survivor and the medical director of the breast cancer organization MET UP, which pushes for direct action to change the landscape of metastatic breast cancer, told SurvivorNet that, when it comes to making a difference in breast cancer survival, increased research funding is key.
RELATED: Metastatic Breast Cancer: You Are Not a Statistic
"To bring awareness to those of us that are not the rosy, pink happy, rah-rah stories… we can emphasize the need for research," Shanahan said. "We can all use our voices to call our elected representatives, demand more funding through the NIH."
"Research is the Reason Women Are Surviving"
Learn more about SurvivorNet's rigorous medical review process.
---