Leaning into Faith as a Cancer Survivor
Breast cancer survivor Robin Roberts has an uplifting perspective on life, even after her partner Amber Laign, 47, battled the same disease and finished her radiation treatments this past summer.
On Wednesday morning Roberts shared another daily prayer and followed through with the sweet ritual of hitting a button that lets out the sound of someone's voice – presumably her partner Laign's.
Breast cancer is a common cancer that has been the subject of much research, so there are many treatment options out there. Mammograms, a standard screening procedure for breast cancer, and self breast exams can save lives.
Although it's not for everyone, leaning into faith can help cancer warriors stay positive when times get tough.
"Amen, let's tap the buzzer for Sweet Amber," ABC's Robin Roberts says as she offers her daily social media morning prayer. The buzzer tap is the anchor's way of acknowledging her partner, Amber, as she goes through breast cancer treatment.
Though the sounds emitted by the buzzer are somewhat difficult to make out, the sentiment is all about love, joy, and an affirmation of their bond.
Read More
Roberts, 61, is a breast cancer warrior with an uplifting perspective on life.  And even after her partner Amber Laign, 47, battled the same disease, the American TV broadcaster maintains her faith and spreads hope to those around her.
In a video shared on Roberts' social media pages Wednesday morning, the TV anchor gave her fans a daily morning message of prayer.
"I have heard it said that you have to carry a crown before you can wear one. In other words, you have to do all you can right where you are to serve with excellence," Roberts explained before moving on to the prayer of the day.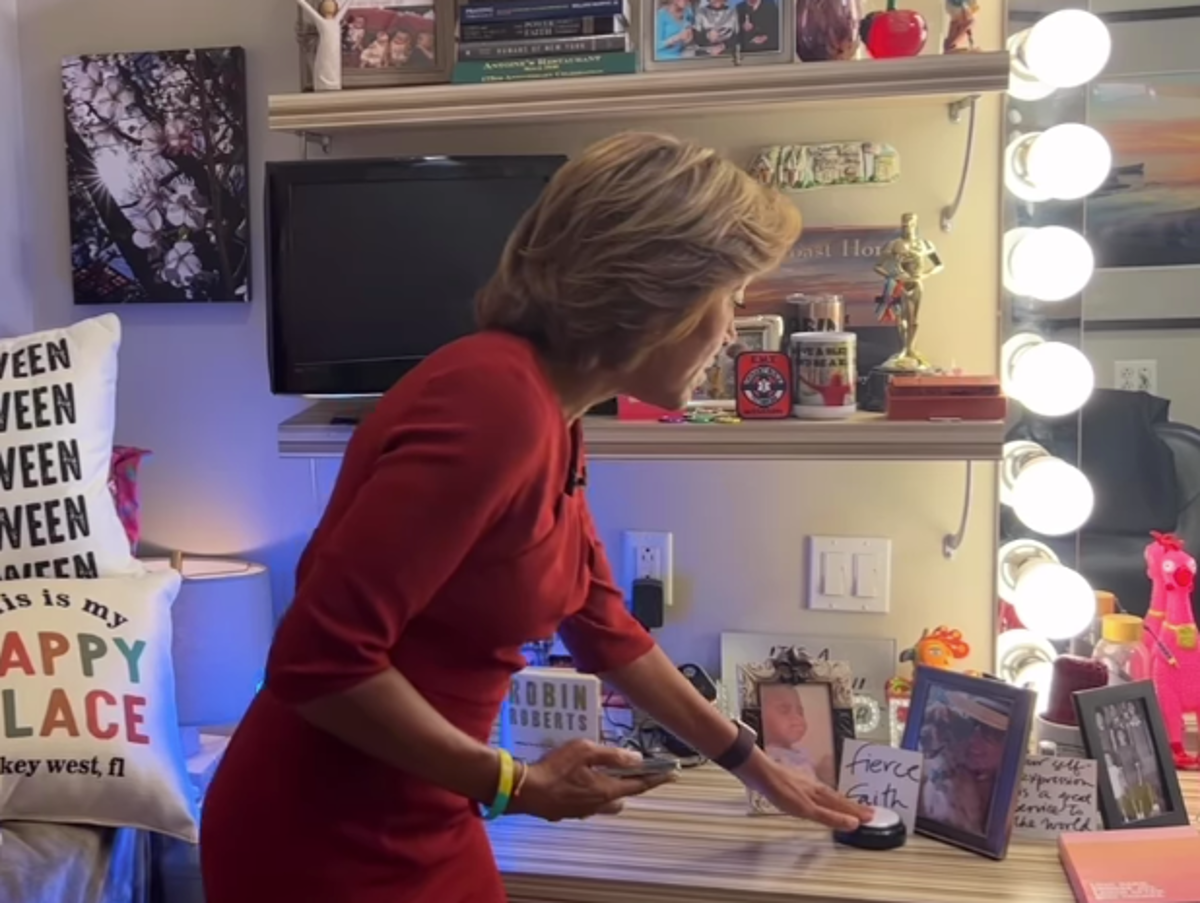 She continued, "Father, Thank you. Thank you that you have a crown for me. That you're taking me higher step by step. Thank you that as we make it our daily business to serve others faithfully that you are leading us to our destiny. We believe and declare that you will give us opportunities that you have never seen before."
Roberts concluded the prayer with her ritual move of hitting a button that lets out the sound of someone's voice – presumably her partner Laign's.
"In Jesus' Name. Amen. Right, Sweet Amber?" Roberts asked as she hit the buzzer.
Good morning! #GlamFam and I here sharing a bit of #WednesdayWisdom #cmon pic.twitter.com/YulvNb3sOr

— Robin Roberts (@RobinRoberts) October 26, 2022
Before wishing her viewers a blessed day, Roberts added: "You know, you wear that crown sometimes people want to knock it off, you just put that back right on, straight on."
Robin Roberts and Amber Laign Battle Breast Cancer
Roberts has been with her partner, Laign, for 17 years. And throughout their relationship, they've had to support each other during many highs and lows – including each of their breast cancer battles. Thankfully, it seems that Roberts' faith has helped her keep a positive outlook on life despite the challenges she's faced.
Roberts received her breast cancer diagnosis in 2007. Ironically, she was diagnosed after finding a lump in her breast during her preparation for a news segment on performing self-checks.
Thankfully, Roberts was declared cancer-free after surgery. But Roberts shared that Laign had to face breast cancer as well in February. Since her partner's diagnosis, Roberts has been doing everything she can to support her partner throughout her cancer journey.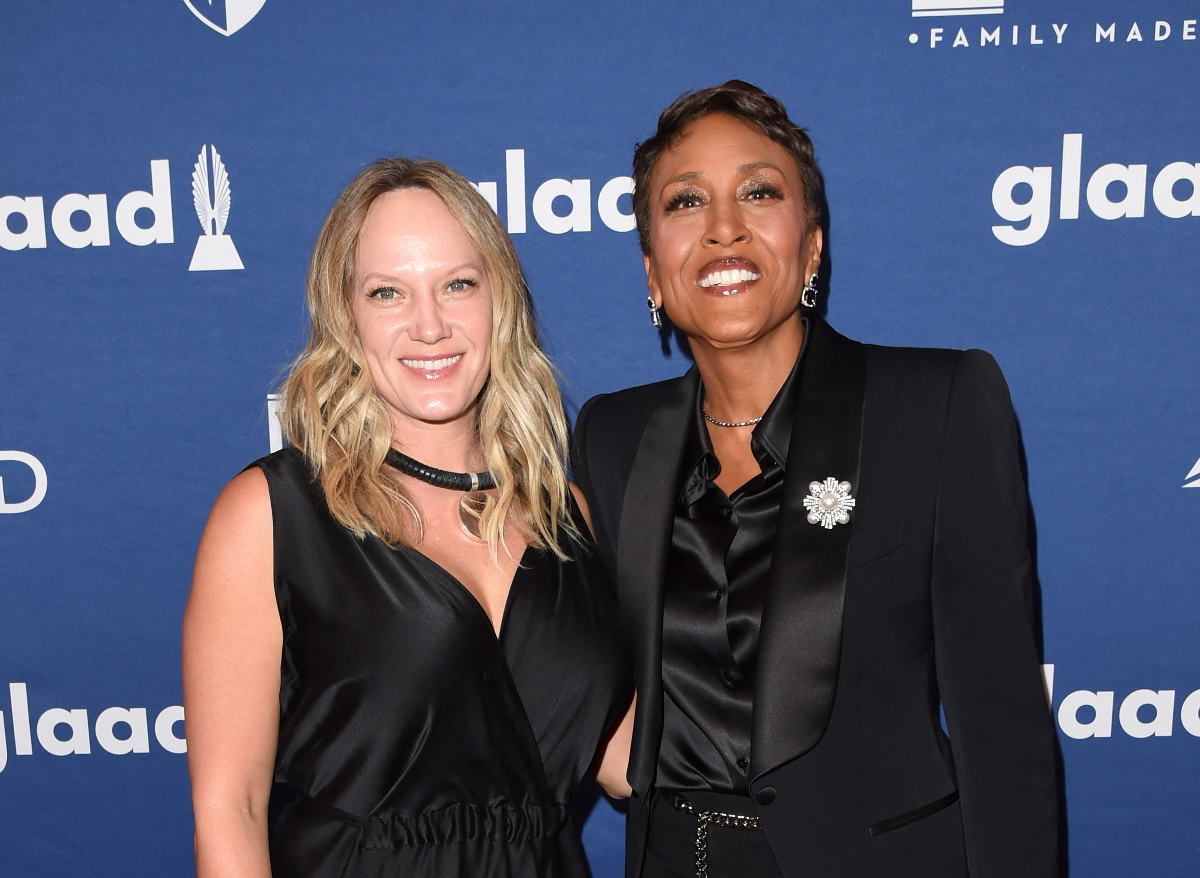 "I didn't realize how much I had blocked out during my journey, and it was because of sweet Amber—because she protected me and navigated for me," Roberts said in a previous interview with Ellen Degeneres. "So, I'm doing the same thing for her."
And though she's "had some complications with the chemotherapy" and "challenging" weeks to work through, Laign has since triumphantly completed her radiation treatments. In a post from July, Roberts shared the exciting news with fans.
"Sweet Amber completing radiation, a very important phase of her treatment!," Roberts wrote under a video of Laign ringing a bell to signify the end of radiation. "We both thank you for all your well wishes and prayers. Proud of her and all fellow Thrivers for your grit and grace during a challenging time. This is indeed my #mondaymotivation."
Understanding Breast Cancer
Breast cancer is a common cancer that has been the subject of much research. Many women develop breast cancer every year, but men can develop this cancer too – though it is more rare, in part, due to the simple fact that they have less breast tissue.
Screening for breast cancer is typically done via mammogram, which looks for lumps in the breast tissue and signs of cancer. And while mammograms aren't perfect, they are still a great way to begin annual screening. The American Cancer Society (ACS) recommends women begin mammogram screening for breast cancer at age 45. Even still, we know that a breast cancer diagnosis can come at any age.
When Should I Get A Mammogram?
It's also important to be on top of self breast exams. If you ever feel a lump in your breast, it's important to be vigilant and speak with your doctor. Voicing your concerns as soon as you have them can lead to earlier cancer detection which, in turn, can lead to better outcomes.
There are many treatment options for people with breast cancer, but treatment depends greatly on the specifics of each case. Identifying these specifics means looking into whether the cancerous cells have certain receptors. These receptors – the estrogen receptor, the progesterone receptor and the HER2 receptor – can help identify the unique features of the cancer and help personalize treatment.
"These receptors, I like to imagine them like little hands on the outside of the cell, they can grab hold of what we call ligands, and these ligands are essentially the hormones that may be circulating in the bloodstream that can then be pulled into this cancer cell and used as a fertilizer, as growth support for the cells," Dr. Elizabeth Comen, a medical oncologist at Memorial Sloan Kettering Cancer Center, told SurvivorNet in a previous interview.
The Unique Features of Breast Cancer: Deciding the Right Course of Treatment
One example of a type of ligand that can stimulate a cancer cell is the hormone estrogen, hence why an estrogen receptor positive breast cancer will grow when stimulated by estrogen. For these cases, your doctor may offer treatment that specifically targets the estrogen receptor. But for HER2 positive breast cancers, therapies that uniquely target the HER2 receptor may be the most beneficial.
Turning to Faith During a Cancer Journey
For some people, turning to faith can be a great way to keep spirits high when cancer starts taking an emotional and/or physical toll. New York City Presbyterian Pastor Tom Evans previously spoke with SurvivorNet about the importance of find ways to cope with the complex web of feelings you may be experiencing after a cancer diagnosis.
"It's important to reach out in a simple prayer to God, even if you've never prayed before, you don't know what to say, a heartfelt plea, 'God, help me, be with me,'" Pastor Evans told SurvivorNet. "You can reach out to God and you can reach out to people, your friends and family and say, 'I can't do this on my own. I need you,'
"It's in that willingness to be open and to receive that we can actually find something deeper that we never would've encountered without this hardship."
Faith Perspective: Opening Yourself Up to Others After a Cancer Diagnosis
Contributing: SurvivorNet Staff
Learn more about SurvivorNet's rigorous medical review process.
---