As quarantine restrictions ease in London, Sir Rod Stewart, 75, has been venturing out but is making sure to protect himself, and others, from the coronavirus. Over the weekend, Stewart popped into a favorite London salon — wearing a mask — to refresh his famous blonde highlights while his colorist at Steven Carey Hair also wore a protective face shield.
RELATED: Coronavirus Guide For Cancer Patients
Read More
In mid-June, Stewart and his wife, Penny Lancaster, 49, celebrated their 13th wedding anniversary, sharing a lovely 
socially-distant dinner
 of take-out in the backseat of their car.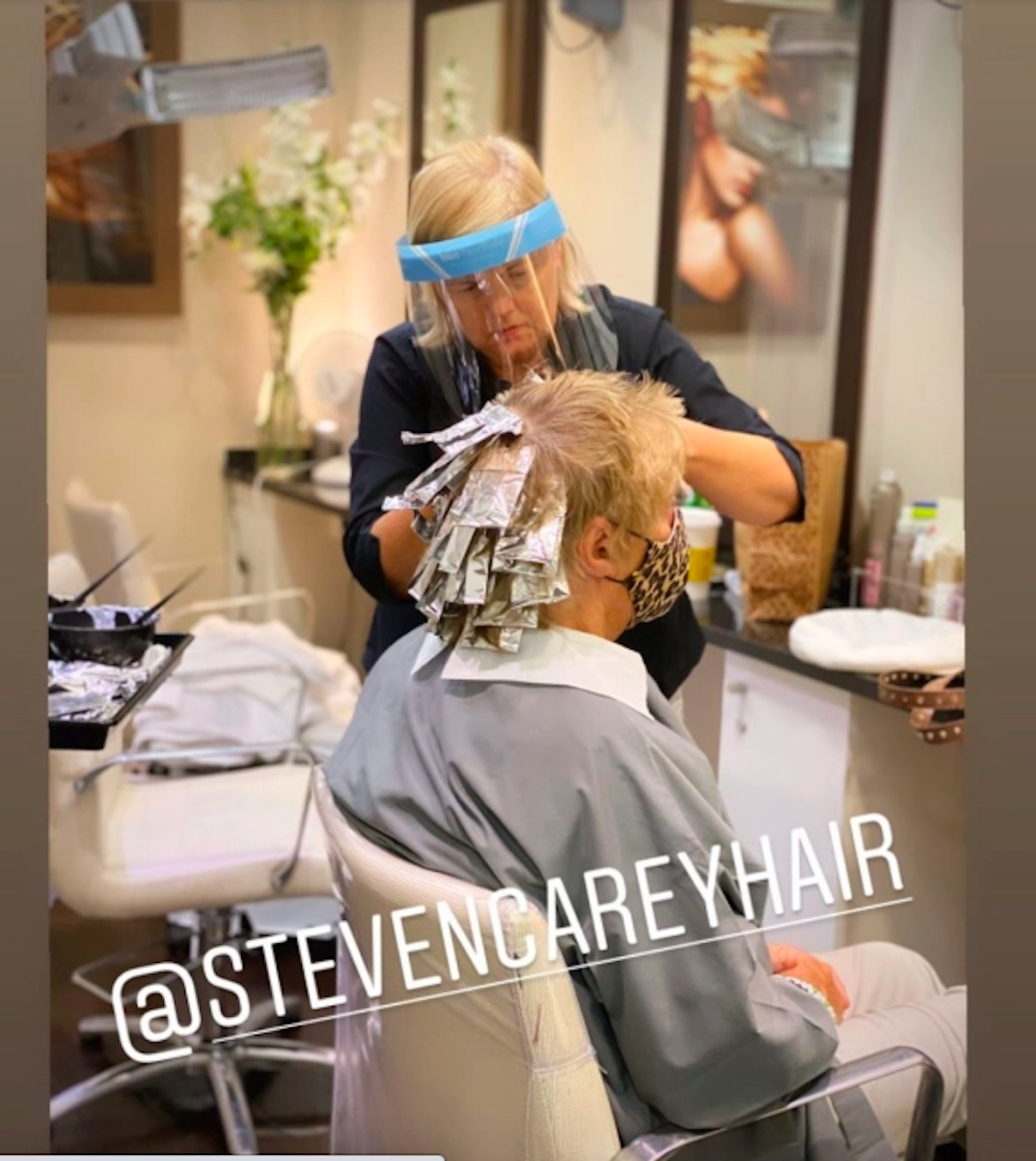 Sir Rod Stewart and his hair colorist took precautions — wearing a mask and face shield — during his weekend salon visit to refresh his famous frosted tips. 
While speaking to BBC, the legendary musician revealed that, as a cancer survivor,  he is "slightly more at risk" of infection from the coronavirus: "I'm 75 and I've just got over cancer," Stewart said, adding that he'd adjusted to life under lockdown.
RELATED: Prostate Cancer Survivor, Sir Elton John, Drops Never-Before-Seen Concert Series to Benefit COVID-19 Relief
"I'll tell you what, I'm fit. I work out three or four times a week. I've been very fortunate because down where we live I have an indoor pool and a wonderful gym … I don't think I've ever been as fit as I am now, because I've got nothing else to do."
Stewart went on to say that quarantine has provided the unexpected benefit of spending time with his family. "We're just getting on with it, battling through it, and we will," Stewart said.
RELATED: What Are Of The Risks Of Having Prostate Cancer Surgery During The Coronavirus?
In May, Stewart also showed his generous side, sending a handwritten note along with a $4000 donation to Natasha Jenkins, a COVID-19 victim and mother who spent 22 days on a ventilator, after learning of her triumphant recovery. "Hi Natasha," the note read, "a small gift to help you through the rough times."
Prostate cancer doesn't have a particular symptom, says Dr. Edwin Posadas, Director of Translational Oncology and the Medical Director of the Urologic Oncology Program at Cedars-Sinai.
"Coming Out" About Diagnosis
After keeping his 2016 diagnosis private, Stewart "came out" as a prostate cancer survivor in September 2019 — urging other men to keep up recommended screenings for prostate cancer. The "Maggie May" singer made the announcement at a fundraising event for the Prostate Project and the European Tour Foundation in Surrey, England.
Stewart explained that he was first diagnosed with the disease during a routine screening checkup — and got the all-clear from his doctors in July 2019.
He joked that he'd told his wife that he needed to "come out" — then quickly added, "No, it's not what you think. [Three] years ago, I was diagnosed with prostate cancer."
RELATED: A Crucial Message: Ben Stiller's Candid Account About Sex After Prostate Cancer
"I'm in the clear, now, simply because I caught it early. I have so many tests," the singer said of his diagnosis and treatment.
"Guys you've really got to go to the doctor … Finger up the bum, no harm done," he quipped.
Stewart's Cancer: "Quite Aggressive"
"We kept it quiet for two and a half years now," Stewart's wife, Penny Lancaster, said in an emotional 2019 interview about her husband's cancer on a British tv talk show. "But the positive news is we caught it early enough."
RELATED: Sir Rod Stewart's Wife Reflects on Her Rock Star Husband's Prostate Cancer — "The Positive News Is, We Caught it Early Enough"
"It was quite aggressive and it came on really quickly," Lancaster noted. "Instead of remaining in the [prostate] gland, it had left the gland and traveled to the outside tissues."
RELATED: The Gleason Score Predicts Prognosis and Treatment for Prostate Cancer
According to Lancaster, Stewart couldn't be treated with surgery alone. "Knowing it had traveled outside, we couldn't have the gland removed, so he had to have a three-month intensive course of radiation, traveling into London the same time every single day, going to the clinic."
Screening For Prostate Cancer
The PSA (or protein-specific antigen) test is a blood test that can screen for prostate cancer, and can also track a patient's response to treatment. Typically when a man goes in for prostate cancer screening, doctors will do a PSA test and a digital rectal exam — where the doctor touches the prostate gland through the rectum. A lot of men are wary of going in for these tests, but experts assure that the PSA and digital rectal exams are quick, and mostly non-invasive.
RELATED: The PSA Blood Test and a Rectal Exam are Vital for Prostate Cancer Screening
In a previous conversation with SurvivorNet, Dr. Edwin Posadas of Cedars-Sinai Medical Center, explained the simple tests. "No man is really excited about having a rectal examination … honestly, it takes less than 30 seconds to get it done, it's relatively painless. I'm not saying it's comfortable, but at the same time the amount of information that is gained from that can be tremendous," Dr. Posadas said.
Learn more about SurvivorNet's rigorous medical review process.
---