His Legacy Lives on in Spirit
The Rolling Stones recently lost longtime drummer Charlie Watts, who died in August at 80 years old.
Stones guitarist Ronnie Wood insists Watts' stage presence lives on, and recently spoke about feeling Watts' "spirit" in an interview.
Woods and Watts both battled and beat cancer; Woods was recently given the "all-clear" with lung cancer, and Watts beat throat cancer in 2004. Smoking and the sexually-transmitted virus HPV can cause lung and throat cancer; It's important to know the risk each poses to your health.
The Rolling Stones
are one of the biggest bands on the planet, have been together for nearly six decades, and the fact that the much-older rockers were all still alive and kicking together for so long was one of the biggest rock phenomenons of all time—that is until the group lost longtime drummer Charlie Watts, who died in August at 80 years old.
Watts' death marked a huge loss for the music history, but band members insist his stage presence lives on.
Read More
Related: Rolling Stones Drummer Charlie Watts Has Died 'Peacefully' at 80 Years Old; The Rocker Previously Battled Throat Cancer
Stones guitarist Ronnie Wood, 74, recently opened up about how strange it feels to be without drummer Charlie Watts.
"It is, yeah, but his spirit is there," Wood shared on Ireland's Late Late Show. "He loved his girls and his wife. Everyone's handled it really well, and I'm sure he's with us all the time when we're playing."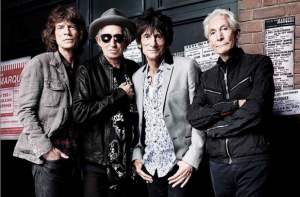 The cause of death was not publicized, but it is known that Watts had battled throat cancer in 2004.
"It is with immense sadness that we announce the death of our beloved Charlie Watts," Watts' publicist shared at the time of his death. "He passed away peacefully in a London hospital earlier today surrounded by his family. Charlie was a cherished husband, father and grandfather and also as a member of The Rolling Stones one of the greatest drummers of his generation."
 

View this post on Instagram

 
The "Wembley Whammer," as he had been nicknamed by Mick Jagger with a nod to Watts' hometown of Wembley in London, completed six weeks of radiotherapy following his throat cancer diagnosis at London's Royal Marsden Hospital. He had two surgeries and admitted that he thought he was going to die.
Related: Having Oral Sex With Multiple Partners Can Increase Risk for Throat Cancer, Says New Study
"It was benign, but [the doctor] said we should take it out. On the slide, it had tiny cancer cells on it," he explained in a 2011 interview with Ultimate Classic Rock. "He said, 'You have cancer of the whatever.' And that night I thought I was going to die. I thought that's what you did. You get cancer and waste away and die."
Throat Cancer and its link to HPV
Wood talked about visiting Watts four days before he passed and said he seemed to be "doing fine," but then apparently reacted badly to treatment. Watts told Wood he "can't wait to get out of here" and Ronnie replied, `"Well come out, Charlie, in your own good time."
Unfortunately, Watts' health continued to decline.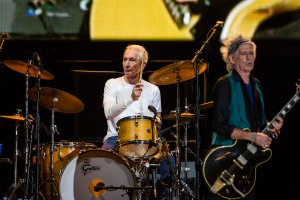 Wood battled lung cancer recently but luckily was given the "all-clear" … four times.
"I have had my fourth all-clear the day before yesterday so anybody who knows anybody who has cancer, tell them to be positive and fight it. You have to go up another gear and fight it."
Related: Rolling Stones Guitarist Ronnie Wood Beat Lung Cancer Despite Decades Of Heavy Smoking — "How's That For A Get Out Of Jail Free Card?"
When Wood was first diagnosed in 2017, he asked docs "when they can get it out" and they asked what he was doing the next Wednesday. "Too late for me," the proactive rocker replied, so they did it that Monday.
"Throughout it all I maintained a real positive attitude," he said, "and I thought if I can help anyone who is suffering from the same thing. Because sure enough when I had recovered from the lung cancer, I was invaded by the worst kind of cancer. It's called small-cell and it's all across the chest and it hides in the brain, so I had to have really heavy chemo and radiation and they said they'd given me a year's worth of medication in three weeks and my body just jumped to defense."
Preventing Lung Cancer
During a lung cancer diagnosis, the question "Do you smoke?" will often come up while speaking to oncologists. While some patients may feel uncomfortable by the question, an honest answer can be critical in determining the best treatment for the disease.
Related: Quitting Smoking Can Help the Success of Your Lung Cancer Surgery
Smoking is the primary cause of lung cancer, but non-smokers can develop the disease. Researchers are beginning to understand the differences between lung cancer in smokers versus non-smokers, says Dr. Ronald Natale, a medical oncologist at Cedars-Sinai Medical Center.
"Among patients who are smokers, who have more complex cancers that have hundreds, sometimes thousands of mutations, don't have a driver mutation that we can give a pill for, which is only a tiny percentage of lifelong smokers," Dr. Natale tells SurvivorNet. "Chemotherapy is the primary treatment in the majority of those patients."
Doctors tell SurvivorNet that it's extremely important for people to try to quit smoking for their health and to prevent a lung cancer diagnosis. The tobacco in cigarettes is a carcinogen that causes mutations in lung cells and enables the growth of cancer, and 80% of lung cancer deaths are caused by smoking.
Related: FDA Orders The Most Significant Change To Cigarette Labels in 35 Years
"If you're smoking, stop," says Dr. Joseph Friedberg, the head of the Division of Thoracic Surgery at the University of Maryland School of Medicine. "That decreases your chance of getting a lung cancer. We don't need the diagram for this. Basically, smoking causes mutations and so forth, and it's a carcinogen, a substance that causes cancer. Just like asbestos or you know, certain metals and so forth."
CT Screening Saves Lives
One effective way to find lung cancers early is with a low-dose computed tomography (CT) scan. This test uses a very small amount of radiation to create highly detailed pictures of your lungs. It can reveal cancer long before your first symptom appears.
Related: If You've Been a Smoker, You Need to Get Screened for Lung Cancer: New Research Says This Specific Screening Test Could Save Your Life
A study published in the February 2020 issue of The New England Journal of Medicine found that former and current longtime smokers ages 50 to 74 who had low-dose CT scans were less likely to die from lung cancer (24% lower risk in men and 33% lower risk in women) than those who didn't have this test.
People who are at high risk for lung cancer because of their smoking history should receive free annual screenings with a low-dose CT scan starting at age 50 regardless of whether they have symptoms, according to new recommendations from the U.S. Preventive Services Task Force released earlier this year. Experts told SuvivorNet the news is a step in the right direction.
"The expansion of lung screening eligibility is a direct reflection of the growing body of research showing that lung screening saves lives," Dr. Kim Sandler, assistant professor of Radiology and Radiological Sciences and co-director of the Vanderbilt Lung Screening Program, tells SurvivorNet. "It is imperative that we continue to raise awareness for lung cancer screening and these new eligibility guidelines so that we can detect lung cancer at its earliest stage when people can be cured."
The new guidelines specify that adults ages 50-80 who have a 20 pack-year smoking history and currently smoke or have quit within the past 15 years should qualify for the screening. (One pack-year is the equivalent of smoking an average of 20 cigarettes, or one pack, per day for a year.)
Previous guidance from the USPSTF released in 2013 recommended annual screening for lung cancer in adults aged 55-80 who have a 30 pack-year smoking history and currently smoke or have quit within the past 15 years.
Learn more about SurvivorNet's rigorous medical review process.