Just nine months after Supreme Court Justice Ruth Bader Ginsburg underwent treatment for early-stage lung cancer, she was again treated for a cancerous tumor — this time on her pancreas. The Supreme Court released a statement today announcing that a localized tumor had been discovered on Justice Ginsburg's pancreas, and that she just completed three weeks of radiation treatment at Memorial Sloan Kettering Cancer Center in New York.
The statement said that Ginsburg began treatment on Aug. 5, a few days after the tumor was discovered. Her treatment also included the insertion of a stent in her bile duct. Ginsburg's doctors confirmed that after the radiation, there was no evidence of disease left anywhere in her body.
Read More
RELATED: ALEX TREBEK, RUTH BADER GINSBURG, STEVE JOBS – WHY ARE SO MANY FAMOUS FACES DIAGNOSED WITH PANCREATIC CANCER?
Prior to this new diagnosis, Ginsburg had battled cancer three times. Her latest bout with the disease came in December when the 86-year-old Justice had surgery to remove two cancerous nodules from her left lung. The lung cancer was considered early-stage — and was discovered in an X-ray she received after she fell in November and fractured several ribs. Her first bout with cancer came in 1999 when she underwent treatment for colorectal cancer. Then, in 2009, she faced pancreatic cancer.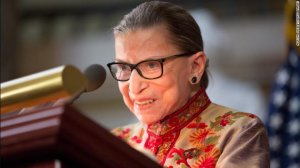 This latest bout with cancer has many Americans worried, as Justice Ginsburg has become a feminist icon and a champion of liberal causes in her 25 years of work on the Supreme Court. However, the Court's statement assured that Ginsburg is in good health after completing her rounds of radiation. The tumor on her pancreas was discovered when a routine blood test in early July detected an abnormality and Ginsburg underwent a biopsy.
"As part of her treatment, a bile duct stent was placed. The Justice tolerated treatment well. She cancelled her annual summer visit to Santa Fe, but has otherwise maintained an active schedule. The tumor was treated definitively and there is no evidence of disease elsewhere in the body," the Court's statement reads.
Why is Pancreatic Cancer So Dangerous?
One of the reasons pancreatic cancer is so deadly — the 5-year survival rate is only about 9% — is because it is often detected in its later stages. Ginsburg's tumor was localized, that means the cancer did not spread to the surrounding areas, or any distant part of her body, which would make her cancer more difficult to treat.
With more advanced pancreatic cancer, treatments like chemotherapy and radiation tend to be less effective. Luckily for Ginsburg, her disease was discovered during a routine blood test. When it comes to treating pancreatic cancer, early detection is key.
In a previous conversation with SurvivorNet, Dr. Allyson Ocean, a Medical Oncologist at Weill Cornell Medical Center, said that pancreatic cancer is the solid tumor cancer that is the most difficult to treat.
"It is the solid tumor cancer that has the worst prognosis. It is right now the third leading cause of cancer death, soon to be the second leading cause of cancer death in the United States," Dr. Ocean said. "Mortality is rising because it is caught so late and we don't have enough effective medications against the cancer. The cancer cells are surrounded by what is called a stroma [tissue that surrounds the cancer tumor], and the stroma serves as a barrier for medications to get in to the cancer to kill it. So chemotherapies have a hard time getting in, radiation has a hard time penetrating."
Additionally, Dr. Anirban Maitra, co-leader of the Pancreatic Cancer Moon Shot at MD Anderson Cancer Center, told SurvivorNet in a previous conversation that by the time many patients are experiencing symptoms — such as jaundice, weight loss, or back pain — their pancreatic cancer has already spread and will be more difficult to treat.
"Each year in the United States, about 53,000 patients get pancreatic cancer, and unfortunately most will die from this disease within a few months to a year or so," Dr. Maitra said. "The reason for that is most of the patients — about 80% — will actually present with what we call advanced disease, which means that the cancer has either spread beyond the pancreas or into other organs like the liver. So you cannot take it out with surgery. Only about 20% of patients will be a candidate for surgery."
Dr. Maitra went on to explain that MD Anderson, along with many other institutions, is working to come up with ways to detect pancreatic cancer earlier to improve the poor prognosis for the disease.
Learn more about SurvivorNet's rigorous medical review process.