Sex is something that's often overlooked when it comes to cancer treatment. Doctors are so focused on keeping people alive, that the sexual side effects that come with cancer treatment aren't really factored in as an important part of the equation. This is an issue that comes up often when we interview survivors.
SurvivorNet medical advisor Dr. Elizabeth Comen, an oncologist who treats women with breast cancer, said that even though it may be an uncomfortable topic, it's a really important one. "It takes time after breast cancer [treatment] for some women to feel sexy again, to feel good in their skin again," she said.
Read More
In a new
article for Elite Daily
, writer and survivor Meredith Goldberg gave an account of just how much breast cancer surgery changed her sex life.
Reconstruction
is a great option for a lot of women who have had to undergo surgery for breast cancer, but when it comes to sex, the hard truth is … things are going to be different. After getting a mastectomy on her left breast, Goldberg was baffled to wake up and find that she was missing a nipple … something she had overlooked when discussing treatment options with doctors.
Her surgeon suggested she get a nipple tattoo — which was definitely not what she wanted to hear. "A tattoo? A f-cking tattoo?" Goldberg wrote. "What the hell was I supposed to do with a tattoo? It had no nerve endings, it didn't even have elevation. It was like a mirage in the desert; something you see but isn't really there."
Before the surgery, her breasts had been a big part of her sex life. Afterwards, it was hard to get them involved at all. "By the time I had finished chemotherapy and radiation, it had been almost a full year since my surgery," Goldberg wrote. "I took that time to become acclimated with my body and what it now looked like … for a year after my surgery and treatment, I let no one unhook my bra to reveal my new set. What was the point?"
Eventually though, she got used to her new body, and found some different things she was into in the bedroom. "Once I opened my mind and body, I found that there were many other ways to turn me on — that spot just behind my ear, the trace of a hand across my back, a mouth on the inside of my thigh. I rarely think about my breasts and what I'm missing," Goldberg wrote.
Goldberg is certainly not alone in how she felt after cancer treatment. Survivors regularly tell us that it can be hard to get back in the dating game after treatment.
But cancer can also open up doors to exploring your body in a way you never have before. Breast cancer survivor Ericka Hart said anyone worrying that they may never have sex again after facing cancer, really shouldn't. "If you've just been diagnosed and you are thinking you're never going to have sex again, think again," Hart said. "You are going to have amazing sex all the time and you get to explore your body in a whole new way. Kink and BDSM was a huge part of my healing. When you go through breast cancer, it's almost like a non-consensual pain you're going through … but to have someone spank you, or flog you, or even choke you in a consensual way that you're asking for can be a really beautiful way to reclaim your body."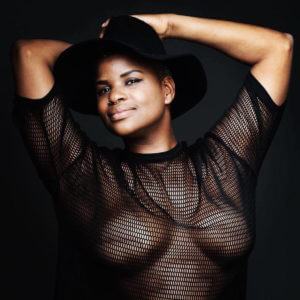 Hart also said that her doctors totally missed the mark when it came to discussing sexual side effects. "One [doctor] talked to me maybe about losing my nipples, and being able to breast feed later. But not losing my nipples in the sense of sensation."
Even aside from sexual function, certain side effects that come from cancer treatment can really affect sexual desire. To put it plainly, it's hard to be interested in sex when you don't feel sexy. Ann Caruso, a stylist and breast cancer survivor, said that after treatment, she really began to appreciate all the other things that make women sexy. "I think that femininity is a state of mind," Caruso said. "As breast cancer survivors, society has us thinking that our breasts are what makes us sexy. There's so many other things … there's touch, our eyes, a glance, the way we speak, the curve of our body, the way that we think … there's so much beauty about being a woman. It's more than just out breasts."
Learn more about SurvivorNet's rigorous medical review process.
---