Shannen's Cancer Diet & Finding Moments of Joy
Actress Shannen Doherty, 51, recently shared on Instagram some news about her diet during cancer and a joyful video of her dancing with her mom.
Doherty was first diagnosed with breast cancer in 2015 after finding a lump in her breast which turned out to be cancerous. Her cancer later returned and spread to other parts of her body.
Focusing on the good through cancer can help the journey, experts say.
90210
TV star, actress Shannen Doherty, is living her best life through breast cancer and continuing to flourish; lately that includes eating a healthy diet and spending cherished moments with loved ones, like dancing joyfully with her mom.
In one recent post about her diet and health habits, Doherty writes, "21 days of a reset diet and today was my cheat meal. After no carbs, no sugar and clean eating from @sunfare I dived into fries, bread and wine. Oh and dessert. Loved my cheat meal but honestly, it felt like work. Right now, I just want to be the best version of myself. Not sure what that is but I know eating right is the start. Tomorrow I go back to my clean eating but for now, I will enjoy one more dessert!"
Read More
She looks beautiful and radiant
in the pensive selfie accompanying the post.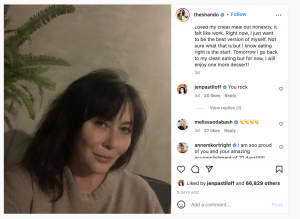 In another post, the fun-loving daughter, 51, dances in a video with her mom inside a kitchen that may be at Doherty's home. We love to see these beautiful moments spent with family. Surrounding yourself with loving, supportive people – like parents, friends, and partners (Doherty is married to Kurt Iswarienko)  – during a cancer journey is so powerful.  
Shannen's Breast Cancer Battle
Shannen Doherty was first diagnosed with breast cancer in 2015 after finding a lump in her breast which turned out to be cancerous. She had hormone therapy to fight her cancer, but it was ineffective and the cancer had spread to her lymph nodes. Doherty underwent a single mastectomy and also had chemotherapy and radiation. After going into remission, she announced in February 2020 that her cancer returned, and this time it had spread to other parts of her body.
Surgery, like the kind Shannen Doherty had (a single mastectomy), is a common treatment path for many people fighting breast cancer. In an earlier interview, an oncologist at the Dana-Farber Cancer Institute explains the path to surgery.
She says, "So when I talk to a woman who comes to me and she has breast cancer, I evaluate what the standard options for treatment for her are, which typically include cutting out the cancer– which is either a lumpectomy if you can get it all with just a little scooping around of the area that's abnormal or a mastectomy for some women meaning taking the full breast because sometimes these lesions can be very extensive in the breast."
When Should You Consider a Mastectomy?
Eating During Cancer
It's admirable that Doherty is focusing on her health holistically, including focusing on what she's eating and how her diet looks.
Marisa Gholson, a Physicians Assistant at Compass Oncology says in an earlier interview, "We get questions all the time about whether they should cut out dairy or sugar or soy. And basically what I tell patients is that you should eat a well-balanced diet."
Gholson says, "There's not great evidence that cutting out sugar or dairy or soy is going to slow down or reverse the growth of your cancer. So I think just making sure that you're getting the nutrition that you need."
She says that due to some cancer treatments, like chemo, some people may lose their appetite during their cancer journey. "One of the side effects of chemo can be a loss of appetite," Gholson explains. "You can also taste changes. So when those side effects occur, I tell patients just to try and eat whatever tastes good and to supplement with nutritional shakes like Ensure or Boost, just to make sure that they're getting the nutrition that they need to make it through treatment."
"Everything in moderation," she says.
Focusing on the Positive Through Cancer
We love how Doherty is keeping an attitude of joy – as exhibited through her dancing! – amid her breast cancer journey.
Anecdotal evidence from SurvivorNet experts points to how a positive mindset and gratitude can positively impact a cancer prognosis. One oncologist at Cedars-Sinai tells SurvivorNet in an earlier interview, "My patients who thrive, even with stage 4 cancer, from the time that they, about a month after they're diagnosed, I kind of am pretty good at seeing who is going to be OK. Now doesn't that mean I'm good at saying that the cancer won't grow," he says.
"But I'm pretty good at telling what kind of patient are going to still have this attitude and probably going to live the longest, even with bad, bad disease. And those are patients who, they have gratitude in life."
Learn more about SurvivorNet's rigorous medical review process.