The Healing Power of Nature
Stage 3 ovarian cancer warrior Sherry Pollex, former longtime partner of NASCAR driver Martin Truex Jr., is enjoying nature this week in the Blue Ridge Mountains of North Carolina.
Sherry Pollex, 44, was first diagnosed with ovarian cancer in 2014 at age 35. In 2016 the cancer returned. While she beat it both times, Pollex was told in late 2020 that her cancer had returned once again.
Ovarian cancer is a type of cancer that starts in the ovaries, which are the female reproductive organs that produce eggs. Women don't often experience symptoms until it has reached later stages.
We've all heard that nature has healing powers in the past. SurvivorNetTV's "Between Two Harbors" looks into how time spent outdoors and around water can truly help people to recover after dealing with difficult cancer treatments.
As Sherry Pollex, the former partner of NASCAR driver Martin Truex Jr., is battling ovarian cancer for a second time, after having beat the disease following a 2014 diagnosis, she is taking time to appreciate one of life's greatest joysthe beauty of nature.
Pollex, a 44-year-old ovarian cancer advocate who co-founded the Martin Truex Jr. Foundation, shared some gorgeous scenery photos on social media this week of a cabin in North Carolina's Blue Ridge Mountains.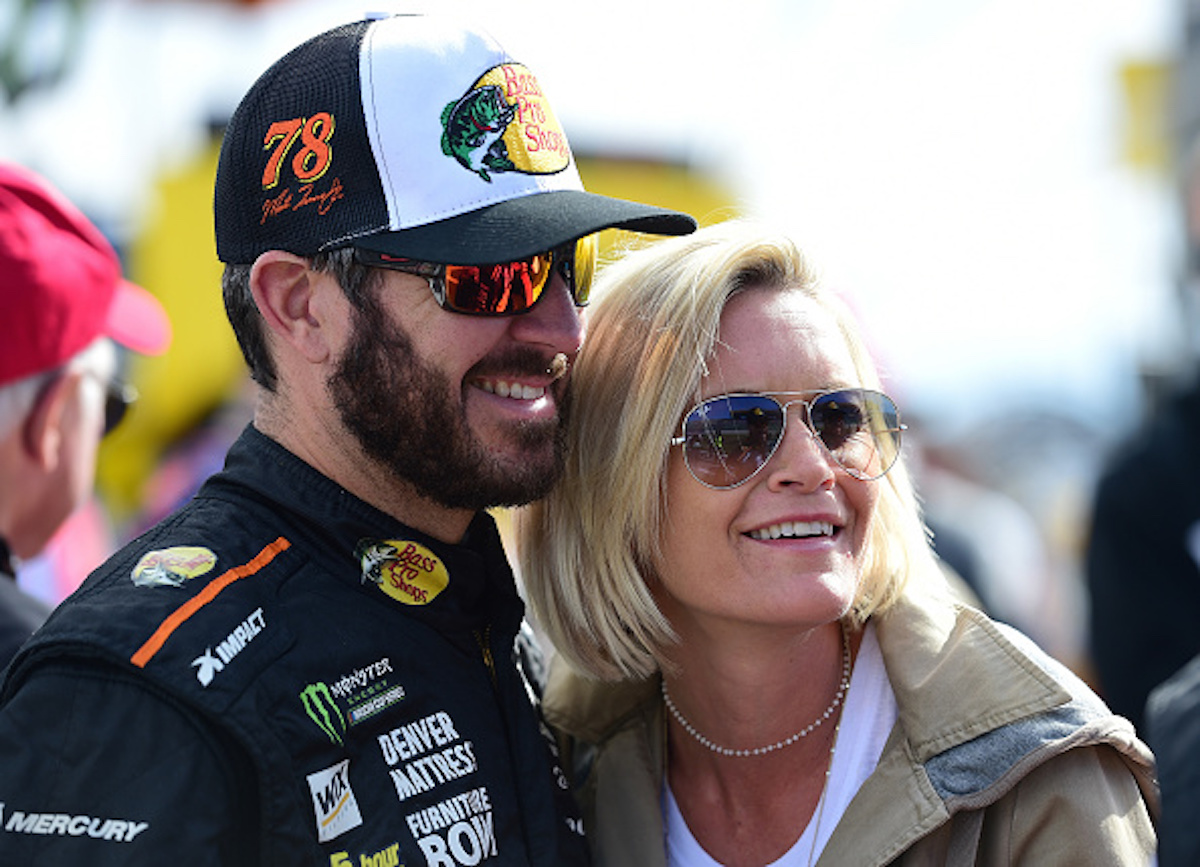 Read More
"This place is breathtaking," Pollex wrote in an Instagram story post showing a Blue Ridge Mountain Rental home dubbed "
Sunday Money at Eagles Next
." Alongside the private home, which offers a "year-round mountain view" and sleeps 10 with three suites, a fire pit, and a hot tub, is a forest and a river. As per another scenic photo Pollex shared on her Instagram story, it appears she's renting out the home from her friends, something she admits to being "so grateful" for.
Following another pic featuring Pollex's pleasing surroundings, the cancer warrior wrote, "The flowers around this place are unreal."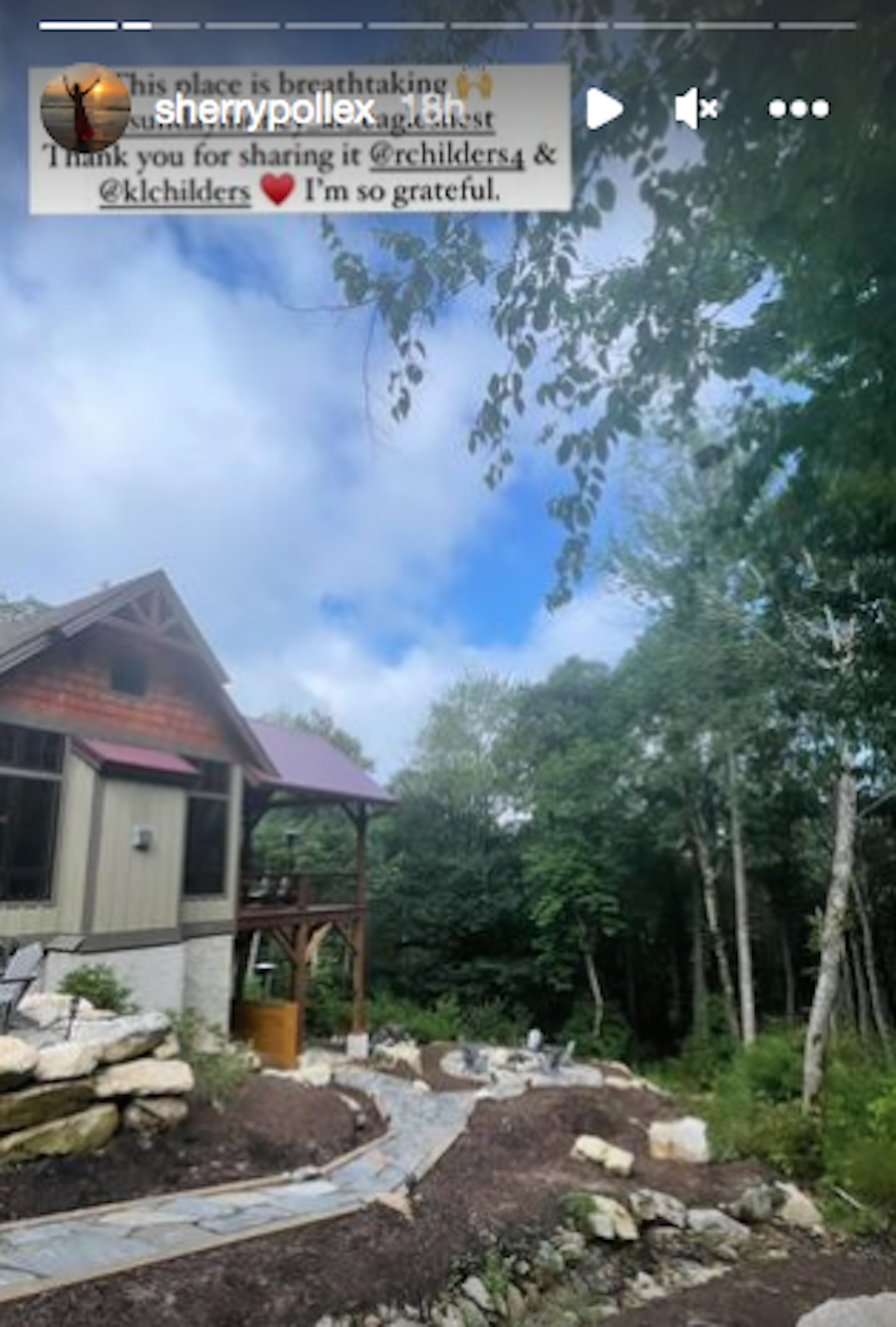 Pollex also shared footage of the surrounding mountains, accompanied by the song "Hell of a View" by Eric Church.
The lyrics of the background song are, "Ain't always heaven, baby/ This livin' on the edge/ You holdin' me holdin' you/ It's a hell of a view."
RELATED: Sherry Pollex & Her NASCAR Ex Martin Truex Jr. Still Working Together Their New Way To Raise Money For Cancer
Pollex's friend Katrina Childers also promoted the home on Instagram, writing in a recent post, "Introducing @sundaymoney_at_eaglesnest @rchilders4 and I are over the moon with this little slice of heaven!!
"We've been searching for the perfect get away for years and finally found it and we'd love to share it with you!! If you're looking for a beautiful place to relax and reconnect you can find our listing with @blueridgerentals or you can access the link directly through our @sundaymoney_at_eaglesnest insta page"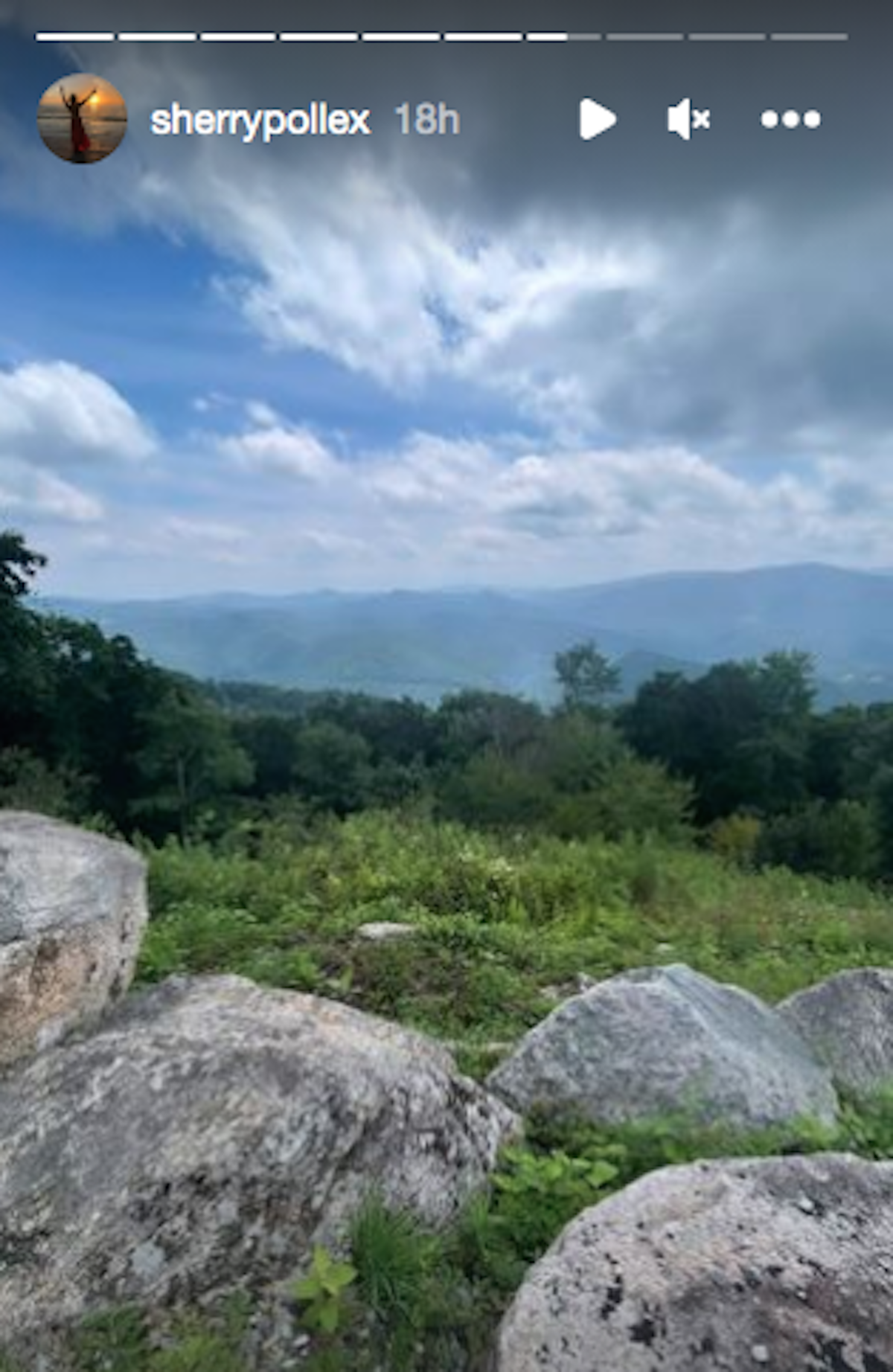 The Power of Nature
We've all heard that nature has healing powers in the past. SurvivorNetTV's "Between Two Harbors" looks into how time spent outdoors and around water can truly help people to recover after dealing with difficult cancer treatments.
"Between Two Harbors": Nature's Hand in Healing
The documentary, here and on SurvivorNetTV, follows a group of individuals as they battle cancer and showcases a one-of-a-kind recovery program in the scenic Catalina Island. Through their inspiring stories and strength, it becomes abundantly clear just how much our mindsets can be affected by our surroundings.
The program puts the focus on mindset while those featured are either going through treatment, or the recovery process, and invites them to enjoy the open water with activities like surfing, paddling, kayaking, and sailing.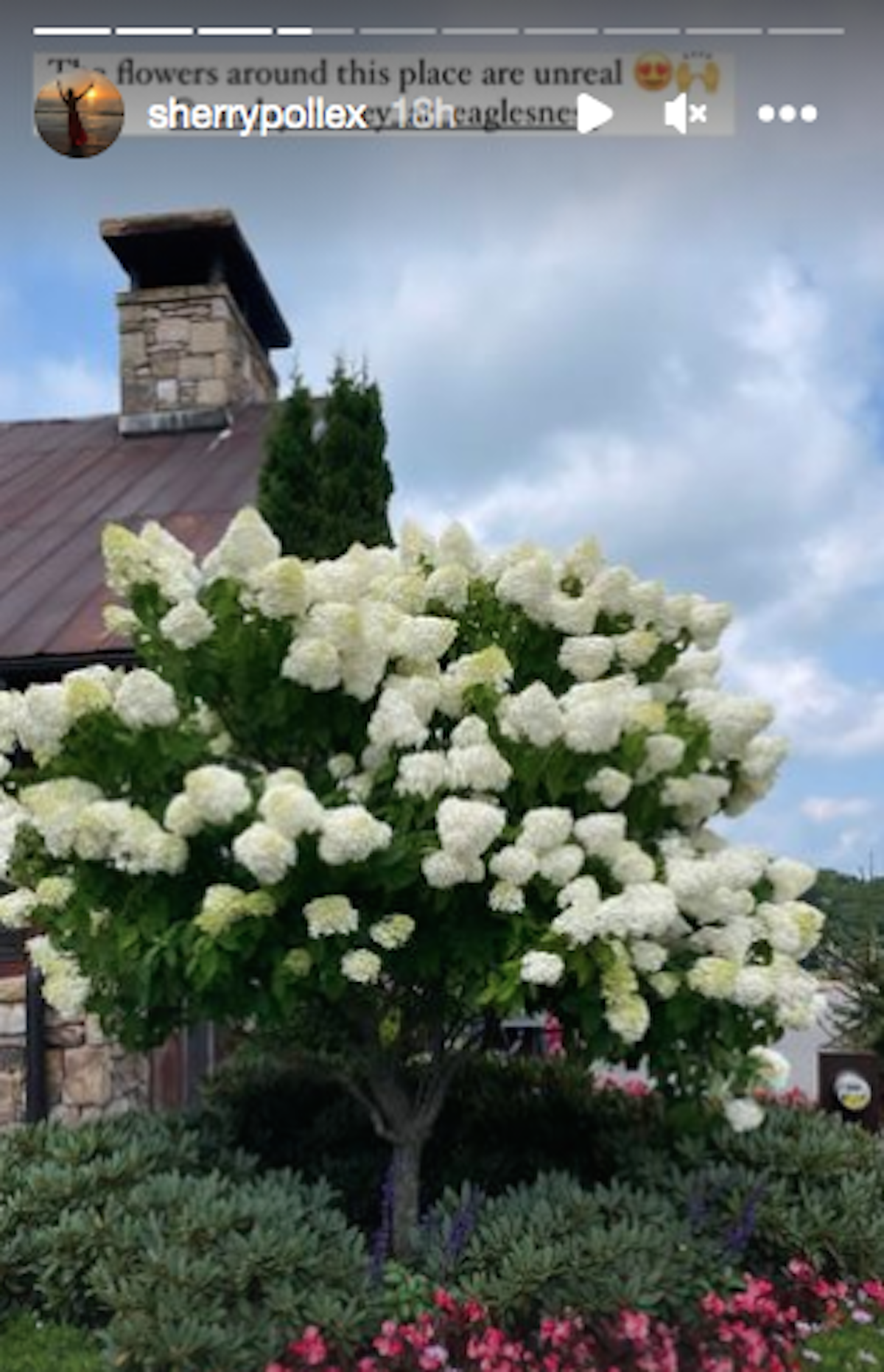 While we may not all be able to jet away to beautiful Catalina while going through our own struggles, the takeaway from Between Two Harbors is clear: a positive mindset can make all the difference during life's toughest moments.
Check this documentary, plus so many other inspiring stories out on SurvivorNetTV!
Sherry Pollex's Ovarian Cancer Journey
In 2014, at age 35, Sherry Pollex was diagnosed with stage 3C ovarian cancer, meaning the cancer had spread from her ovaries to her abdomen. Her doctors told her that her chances of survival were just 30% over the next five years, TobyChristie.com previously reported.
Now, nearly 10 years later and counting, Pollex continues to live a full life with cancer. She has entered remission a number of times. Her cancer returned in July 2022 and spread to her lung and esophagus.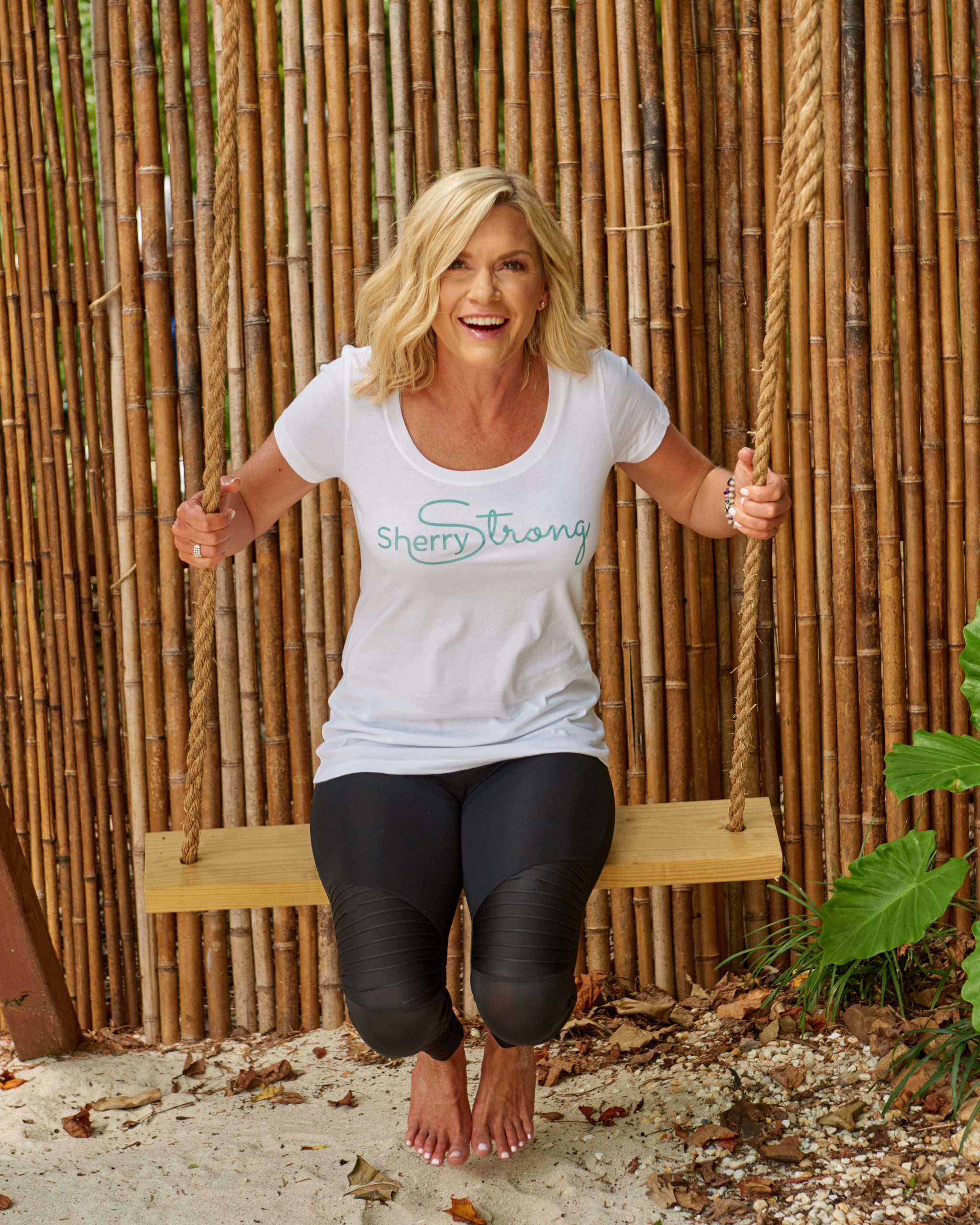 The last time Pollex underwent chemotherapy, a few months before her latest recurrence, was when she discovered her cancer was what they call "platinum-resistant," so she and her medical team are determined to find other options.
Pollex previously underwent her first debulking surgery, which took eight hours, in August 2014 at Novant Health in Charlotte. Debulking is important when the cancer has spread throughout the belly. One report said she had 40-50 tumors.
However, she can't confirm that, saying instead, "If you picked up a handful of sand, it was like that plaque-like tumors blanketing my peritoneal area. I had a radical hysterectomy, liver resection, colon resection, appendectomy, stomach scraped. It was intense. Waking up after that surgery, was like, 'Whoa. You've gotten cut from your sternum to your pubic bone.'"
Six rounds of IV chemotherapy followed, using a port near her rib cage.
"For eight hours they chemo wash you. They turn you around. Every 8 hours. That was the toughest six months of my life."
And that's when she stopped recognizing herself. "You weigh 80 pounds, no hair, no eyelashes."
She recovered and had a reprieve until the cancer returned 15 months later in her spleen and liver. Another surgery was on the horizon and six more months of chemotherapy.
How Do You Diagnose and Treat a First Relapse?
In 2017, she started taking a drug called a PARP inhibitor, which prevents cancer cells from repairing their damaged DNA and multiplying.
Pollex also got into integrative modalities and noticed another area for improvement in the cancer world.
"There's such a breakdown in our system of teaching cancer patients how to take care of themselves after we pump them full of drugs. You cannot be in the same environment you got sick in. We need to be teaching patients that," she said.
Integrative medicine for Pollex meant eating healthy foods, doing yoga and meditation and spending time in a hyperbaric chamber. (A hyperbaric chamber is an enclosure where a user breathes in oxygen at levels above normal atmospheric pressure.)
Mind Over Cancer How to Gain Greater Control Over Ovarian Cancer, and Feel More Empowered in the Process
She follows a ketogenic diet and gets "mistletoe injections in my body every week." And It's important to note that she stresses her regimen is not for every patient.
"I don't recommend you go out and start taking them. You need to have a doctor overseeing that care." She adds that it's not covered by insurance another factor to consider.
To help make sure patients have access to integrative medicine, she opened the Sherry Strong Integrative Medicine Oncology Clinic in November 2020, which offers services such as oncology massage, acupuncture, meditation, yoga, and nutrition counseling to patients regardless of their ability to pay.
Learning About Ovarian Cancer
Ovarian cancer, like what Pollex has, is a type of cancer that starts in the ovaries, which are the female reproductive organs that produce eggs. It is often called the "cancer that whispers" as women don't often experience symptoms until it has reached later stages, says Dr. Beth Karlan, director of the Women's Cancer Program at the Cedars-Sinai Medical Center.
Ovarian Cancer: The Cancer That Whispers
Recognizing ovarian cancer warning signs is extremely important. If symptoms do present, they may include:
Feeling full earlier/decrease in appetite
Feeling bloated
Changes in bowel habits
Pain in the pelvis
Urinary symptoms, such as an urgent need to go
Extreme fatigue
Abdominal swelling
Pain during sex
Dr. Karlan tells SurvivorNet that she and many other doctors urge women to be vigilant of changes to their bodies and get the tests and screenings they need. Due to many of these symptoms being associated with women's menstrual cycles, it may be necessary to be insistent with doctors who may want to write off symptoms.
RELATED: Ovarian CancerIf You Feel Something, Get Tested
According to the American Cancer Society, a woman's chances of getting diagnosed with ovarian cancer at any point in her lifetime is estimated to be 1 in 78.
The cancer often arises in older woman, with half of those diagnosed being 63 years or older.
Ovarian Cancer: Symptoms & Diagnosis
In her conversation with SurvivorNet, Dr. Karlan pointed out the average delay from the time a woman notices symptoms to the time that she is diagnosed with ovarian cancer is around 9 months.
"That's why, if you do have these symptoms, even if it's only for two weeksbut they're happening everyday and seem to be getting worse, you should call your doctor and say, 'I'm having these symptoms. I'm concerned it could be ovarian cancer. Can I have an ultrasound and a CA-125,'" Dr. Karlan said.
Feeling Overwhelmed by Your Ovarian Cancer Diagnosis? Here Are Some Ways to Regain Your Equilibrium
Meanwhile, living in gratitude like the king Pollex does takes work; it requires effort to focus on the positives over the negatives. And that extra mental legwork is especially true if you're battling a difficult disease like cancer.
Related: Grateful Celebrities: From Robin Roberts to Jeff Bridges, These 5 Stars Embody Thankfulness
However, if you're able to train your mind to stay grateful and positive and therapy can help you do that you'll find that it benefits your health journey. For starters, it can help you to feel better mentally. Also, some experts have found that having a positive attitude may improve prognosis in some instances.
Contributing: SurvivorNet Staff
Learn more about SurvivorNet's rigorous medical review process.
---