Siegfried Fighting Pancreatic Cancer
Update: Siegfried Fischbacher, 81, has passed from his battle with pancreatic cancer. His sister confirmed he died at his home in Las Vegas.
Siegfried was said to be battling pancreatic cancer and had treated his disease with surgery; Siegfried lost his longtime partner to COVID-19-related complications last year.
Pancreatic cancer is a quickly progressing disease, and surgery isn't always an option if the cancer is detected at a later time.
Losing someone you love can feel like the end of the world, but those emotions can be eased by talking to someone trained to help, like a therapist.
UPDATE:
Dolore Fischbacher, Siegfried's sister, has told NBC News that Siegfried died on Wednesday evening, in his home in Las Vegas, from pancreatic cancer. She told the news outlet that she wasn't able to see him due to the pandemic but that they spoke on the phone and he said "Okay," which she said was "kind of like an amen." 
Legendary animal tamer Siegfried Fischbacher, 81, of famous Siegfried & Roy duo, is reportedly currently battling pancreatic cancer a mere eight months after losing his longtime show partner, Roy Horn, to COVID-19-related complications. Roy was 75 when he passed. As the global pandemic rages on, coping with grief and battling cancer all at once during this time is no doubt overwhelming, and we're sending support from afar to the amazing performer, Siegried.
Read More
Related: It's Important To Continue Cancer Screenings Through COVID-19
The Daily Mail reported the news from a German publication, which said that Siegfried has cancer. Siegried is said to be recovering at his home in Las Vegas after undergoing a 12-hour surgery to treat his disease. It's reported that he had his malignant tumor removed during surgery.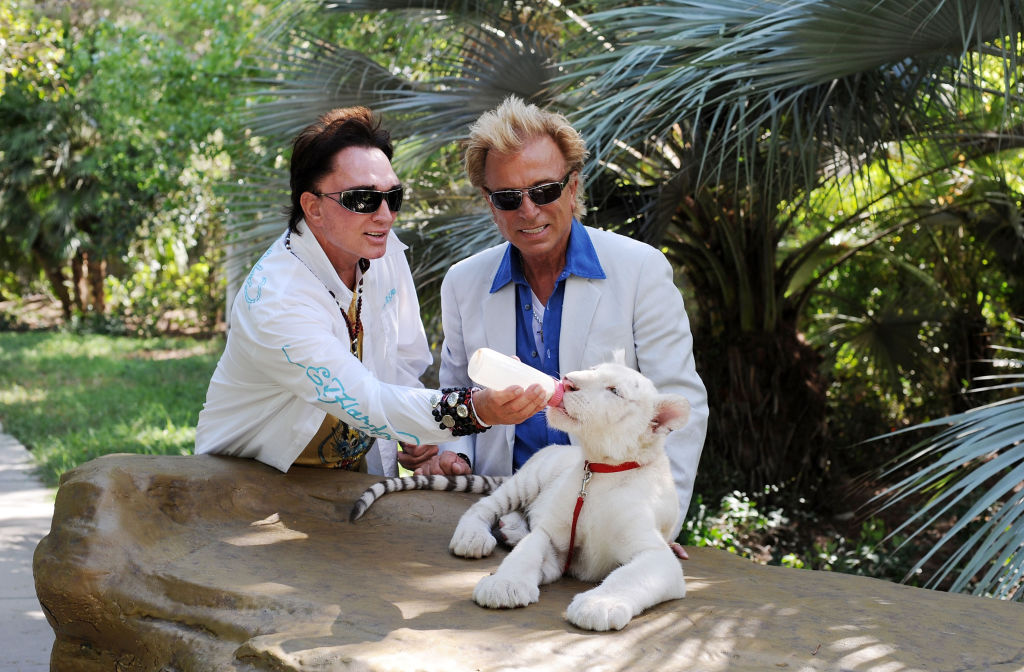 Pancreatic Cancer Detection
It's possible a good sign that one of the showman's treatment options was surgery because that isn't always the case for people diagnosed with pancreatic cancer. This type of cancer is aggressive and quickly progressing, which may lead to surgery being ruled out for treatment. In a previous interview, Dr. Anirban Maitra, the Co-Leader of the Pancreatic Cancer Moon Shot at MD Anderson Cancer Center, said, "Because the pancreas is inside the abdomen, it often doesn't have symptoms that would tell you that something is wrong with your pancreas. By the time individuals walk into the clinic with symptoms like jaundice, weight loss, back pain, or diabetes, it's often very late in the stage of the disease. Each year in the United States, about 53,000 patients get pancreatic cancer."
Related: Alex Trebek Hosts His Final 'Jeopardy!' In What Is Sure to Be an Emotional Watch; Trebek Died of Pancreatic Cancer in November
Dr. Maitra said that a pancreatic cancer diagnosis has options that may include surgery, depending on the timing of the diagnosis. "Unfortunately, most will die from this disease within a few months to a year or so from the diagnosis. And the reason for that is that most individuals, about 80%, will actually present with what we called advanced disease, which means that the cancer has either spread beyond the pancreas or into other organs like the liver, and so you cannot take it out with surgeries. Only about 20% of individuals will actually be candidates for surgery."
Detecting Pancreatic Cancer Early Is Crucial
Coping with Loss of a Loved One
After losing a loved one – as Siegried did last year when he lost Roy – it's important to seek the support you need. Coping with grief can be helped with resources like therapy. In a previous interview, Camila Legaspi spoke about how therapy helped her after the loss of her mother to breast cancer. "Therapy saved my life. I was dealing with some really intense anxiety and depression at that point. It just changed my life, because I was so drained by all the negativity that was going on. Going to a therapist helped me realize that there was still so much out there for me, that I still had my family, that I still had my siblings."
Related: A Major Step in the Cancer Journey: Learning to Deal With Vulnerability
"The reality is, is when you lose someone, it's really, really, really hard. And it's totally OK to talk to someone. And I'm so happy that I talked to my therapist. Keep your chin up, and it's going to be OK. No matter what happens, it's going to be OK."
"Therapy Saved My Life": After Losing A Loved One, Don't Be Afraid To Ask For Help
Learn more about SurvivorNet's rigorous medical review process.