A single mom who raised four children and still cares for her adult daughter with Down Syndrome is battling multiple myeloma.
Alison McDonald, 56, felt intense pain in her ribs and lower back when she finally decided to see a doctor earlier this year.
Read More
She dismissed the pain but could not escape the fact that her children had started to notice that she was shrinking at a rapid rate.
That pulled muscle ended up being a weakened spine, which had caused McDonald to shrink four inches by the time she sought treatment.
"It was a bit of a shock. I think my mum has quite a high pain threshold. She's one of those folk who doesn't like to cause a fuss and so just got on with things. We couldn't believe it," said McDonald's daughter Vicci Hughes in an interview with The Daily Record.
"My mum is a brilliant human being. She's spent most of her life as a single mum bringing up four kids and being a carer to my 24-year-old sister Ashley, who has Down Syndrome and needs all-day supervision and additional support. She has been an amazing nana to my two girls and they adore her."
Hughes added: "She doesn't complain, she doesn't wallow in self-pity, she just carries on with grit and determination every single day."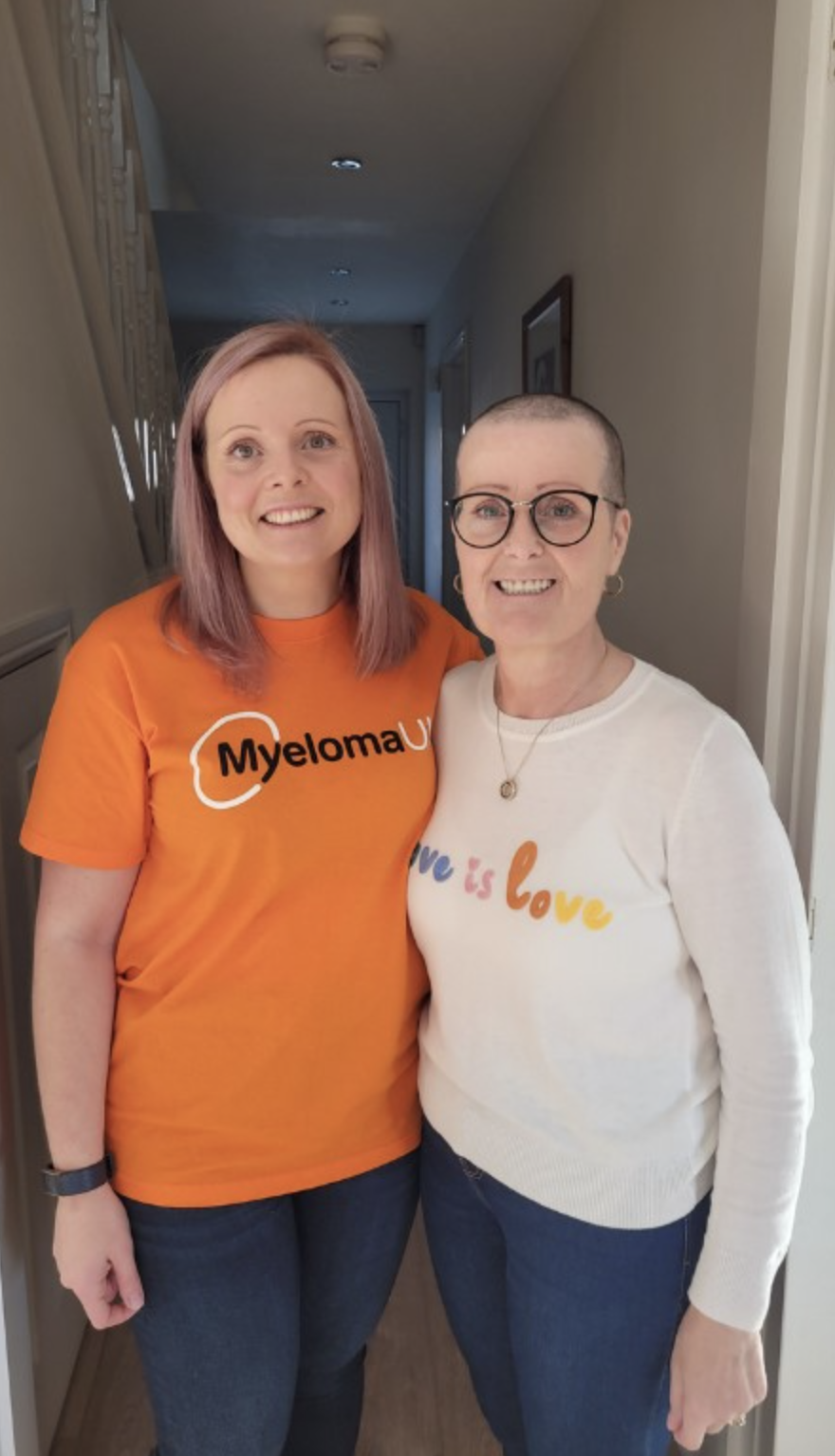 McDonald is now undergoing her second round of chemo to prepare for a possible stem cell transplant. She had been two weeks away from getting a transplant following her first round of chemo, but a sudden sickness forced her to delay the procedure.
Her daughter is hopeful that advancements in myeloma treatment will allow her mom to live a long and full life.
"I live in hope for [a] cure or at least even better treatments to allow my mom to live her life to the fullest for as long as possible," said Hughes.
"Last year, she finally got engaged and moved in with her partner of 17 years. They plan to get married in the near future and deserve so many happy years together."
Hughes also showed her solidarity by shaving her head alongside her mom ahead of her stem cell transplant in the coming days.
"I know my mum feels quite emotional about losing her hair on top of everything else that's going on, so just before her treatment, she is going to have her hair cut short, at that same time, I am going to get my hair shaved off in support of this," said Hughes.
"We can be baldies together."
What Is Multiple Myeloma?
Multiple myeloma is rare cancer that forms in a type of white blood cell called a plasma cell.
Those are the cells that detect germs and viruses in the body and then build up the antibodies needed to fight those foreign invaders.
The plasma cells begin to grow out of control in multiple myeloma patients and, because they are in the bone marrow, start to block out other cells.
This can result in low blood counts, bone density problems, severe infections due to the lack of an immune response, and even kidney failure.
"Some people come because they're just tired, and a blood count shows that things are abnormal. The plasma cells tend to take up space in the bone marrow, so sometimes, patients will come to us with a new fracture or a new break in the bone. The myeloma cells can also produce proteins and cause you to have kidney failure," says Dr. Nina Shah, a hematologist who specializes in multiple myeloma at UCSF Medical Center.
Multiple myeloma is an incurable disease that patients can live with for years if they stay on top of their treatment and scheduled check-ins.
Understanding Multiple Myeloma
Living With Multiple Myeloma
After being treated for multiple myeloma, an oncologist will discuss the next steps required to keep the disease at bay.
For Alison McDonald and many others battling the disease, stem cell transplants are a possible next step. Others may be offered induction therapy.
Dr. Shah revealed that there are also several developments and advancements in the field of treatment.
"There are several treatments available for people who have multiple myeloma, and doctors who treat the disease are excited about the possibilities that immunotherapy presents," said Dr. Shah.
"We're using new techniques like immunotherapy to get at the myeloma in a way that hasn't already been gotten to. We now have drugs that use the immune system to make myeloma go away. One of the fascinating ones is something called a CAR-T cell."
A T-cell is a cell that's responsible for killing viruses and some bacteria. When people have cancer, a lot of times, the T-cells don't function properly. CAR-T therapy involves reprogramming the T-cells and getting them to attack cancer cells.
"These [reprogrammed] T-cells can kill myeloma, so much so that people who may have had their bone marrow packed with myeloma can see the bone marrow clean of myeloma," explained Dr. Shah.
Immunotherapy and Multiple Myeloma
Learn more about SurvivorNet's rigorous medical review process.
---