Sisterhood of Support
Sarah Michelle Gellar will interview best friend Shannen Doherty about her battle with metastatic breast cancer.
Metastatic breast cancer is also known as advanced breast cancer, which means the cancer has spread throughout the body.
In dozens of conversations with cancer survivors, they say that a strong support system can really shape someone's cancer journey.
Sarah Michelle Gellar had, what is likely the most honest conversation we'll ever hear, with Shannen Doherty about how she's doing during her current battle with
metastatic breast cancer
. After all, if you can't be open and raw with your best friend, then who can you talk to honestly?
Gellar will interview long-time gal pal Doherty in an intimate and personal one-on-one conversation. The chat will premiere on Entertainment Tonight next Tuesday, and judging by the teaser, it's filled with laughter, and a few tears. In fact, it appears that Doherty takes the reigns at one point and starts asking Gellar a few questions. Besides their lasting friendship, there's a possibility that Doherty may open up about her current battle with metastatic breast cancer. Throughout her cancer journey, Gellar has been right by her side.
Read More
Related: Sarah Michelle Gellar Thanks Bestie Shannon Doherty, Who's Battling Breast Cancer, For Supporting Her Through Tough Times
"What I very much want to acknowledge is the fear," Doherty says in the teaser.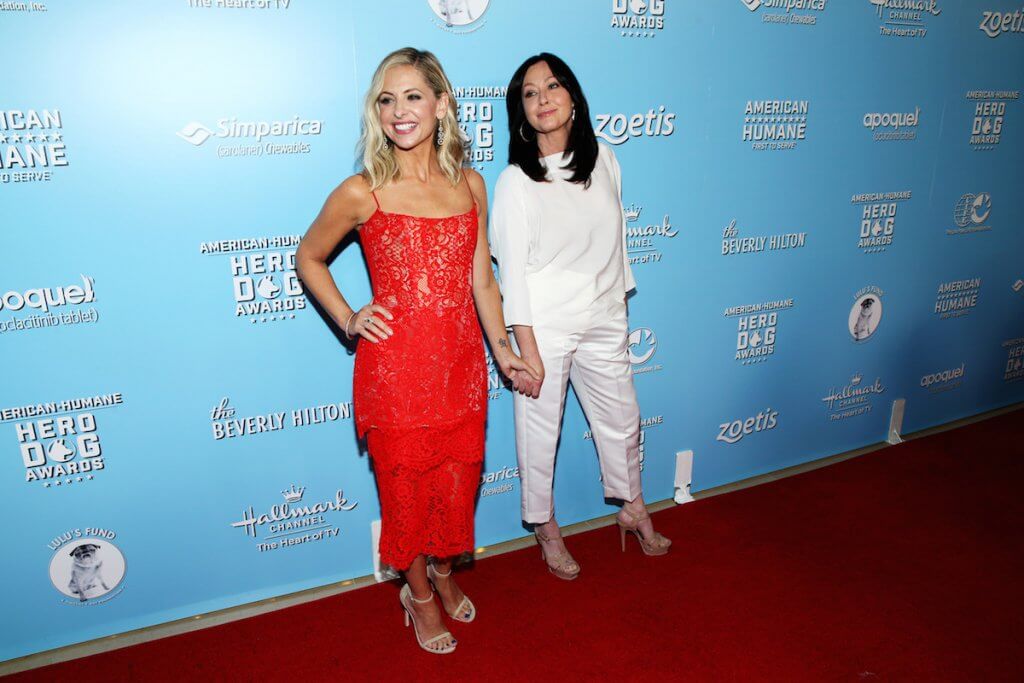 Overview of Metastatic Breast Cancer
Metastatic breast cancer, also referred to as advanced breast cancer, means the cancer has spread to other parts of the body. Although there is currently no "cure" for advanced breast cancer, there are many ways it can be maintained so women can reach important milestones.
Treatment to maintain the disease can be tailored to specific characteristics of someone's tumor, which can help outcomes be more successful. This is called targeted therapies, and they've shown immense promise for women facing an advanced breast cancer diagnosis.
Related: What Are CD4/CD6 Inhibitors? And How Can They Fight Advanced Breast Cancer?
"I have so many patients who are living with their cancer," Dr. Elizabeth Comen, a medical oncologist at Memorial Sloan Kettering Cancer Center, tells SurvivorNet. "[There's] lots of different ways of thinking about how we treat [advanced] breast cancer, that it isn't just about living, but living well."
Dr. Elizabeth Comen breaks down treatment options for metastatic breast cancer
The Power of Support
A strong support system can really contribute to someone's cancer journey. Not only does it prevent them from feeling alone and isolated during the experience, but also help them stay positive. Mindset is a huge part of doing well during treatment, and leads to more successful outcomes. Even after treatment, a support system can help someone heal and face their new reality.
Tracy White, a two-time cervical cancer survivor, says she watched her friends step up to the plate after her cancer returned. Even the loved ones who lived far away would visit as much as they could. According to Tracy, she wouldn't have been able to stay positive if it weren't for them.
Related: 'Tell People What You Need"– Dallas Ovarian Cancer Survivor Terri Moore On The Value of a Support System
"Without my support system, I definitely don't think I would have healed as well," Tracy tells SurvivorNet. "I had so many friends that stepped up. Two, in particular. One is a nurse, she lives in Ohio, and she came out so many times. Another best friend, who's locally here in New Jersey, and she would also come and take care of me…I couldn't have done it without all of them."
While helping Tracy, her friends would pick up some slack by caring for her son, cooking meals, and driving her to appointments. Support can come in many different forms, and even the smallest gesture can make a difference.
Cervical cancer survivor Tracy White credits her support system as the reason she healed
Learn more about SurvivorNet's rigorous medical review process.