Taking Antioxidant Supplements May Be Harmful
A new study indicated that taking supplements, particularly antioxidant supplements, may be harmful for people undergoing chemotherapy for breast cancer
Vitamins A, C and E were found to increase a person's risk of having a breast cancer recurrence and slightly increase risk of death
Non-antioxidant supplements such as iron and B12 were also found to negatively affect disease-free and overall survival rates
A new
study
that looked at the association of dietary supplements, particularly antioxidants, and breast cancer outcomes found that people may want to avoid them during chemotherapy for breast cancer.
We've all heard about the benefits of antioxidants, which interact with and neutralize free radicals that play a role in heart disease, cancer and more. Some popular foods, such as dark chocolate and blueberries, are often eaten for their antioxidant properties. But the findings suggests that when taken in supplement form (think: vitamins A, C and E) both before and during treatment, there may be an increased risk of cancer recurrence, as well as a slightly increased risk of death.
Read More
"Our findings are consistent with those from other studies showing that antioxidants and other supplements may be harmful to health. The best advice is for patients to try to obtain nutrients from a well-balanced diet, with adequate intake of vegetables, fruits and whole grains," study co-author
Dr. Christine Ambrosone,
 of Rowell Park Comprehensive Cancer Center, tells SurvivorNet.
Published in the Journal of Clinical Oncology, the study also found use of non-antioxidant B12 supplements before and during chemotherapy was linked to poorer disease-free survival as well as overall survival. And the use of iron during chemo was linked to a significantly higher risk of recurrence.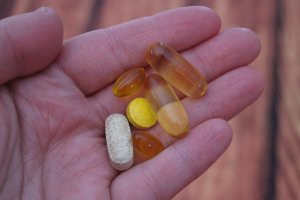 The study, noted Dr. Ambrosone, had certain limitations. Patients were reporting their supplement use themselves, for instance, and while they were undergoing the same chemotherapy regiments, their health may have differed in other ways.
RELATED: A Warning About Using High-Dose Vitamin C to Treat Cancer
Little Data Exists on Supplements During Chemo
Despite widespread use of dietary supplements during treatment, very little data exists about the safety of these products, according to the authors, who work in conjunction with the SWOG Cancer Research Network, a cancer clinical trials network funded by the National Cancer Institute (NCI)
Dr. Sarah Cate, a breast surgeon at Mount Sinai Beth Israel, told SurvivorNet that she always advises patients to clear all supplements or herbal medications with their oncologists prior to taking them.
"We know that many of [the supplements] are metabolized by the liver, and the liver metabolizes both chemotherapy agents and anti-estrogen treatments," Dr. Cate said. "While larger studies are needed to validate these findings, I would recommend that patients really limit these medications while on active treatment for cancer."
Antioxidants
The body does create some antioxidants on its own, but mostly relies on diet to get these helpful chemicals. Natural antioxidants occur in foods such as fruits, vegetables and grains. However, because of their reputation as a relatively easy way to boost your overall health, many Americans take antioxidants in supplement form.
There has even been some lab research, according to the NCI, to suggest that antioxidants can be helpful in cancer prevention because they can prevent free radical damage associated with the development of cancer. However, research into whether antioxidant supplements can help prevent the risk of developing or dying from cancer in humans has yielded unclear results.
RELATED: The Lure of Vitamins & Supplements in Cancer Treatment
Learn more about SurvivorNet's rigorous medical review process.