Stanley Tucci's Long Road
Stanley Tucci said that radiation during his cancer treatment caused his mouth to fill with ulcers, and by the third treatment food tasted liken "wet cardboard." He then compared drinking tea to "eating chalk."
The actor, 60, knew all too well the devastating toll cancer could take long before his diagnosis. Tucci's first wife, Kate Spath-Tucci, passed away from breast cancer in 2009 when she was just 47. He said his newborn daughter Emilia helped pull him through his recovery.
Chemotherapy and radiation can result in painful side effects that make eating, drinking, and even brushing teeth a problematic process. It is crucial that oral hygiene be maintained so bacteria does not build up while the immune system is weakened.
Actor Stanley Tucci opens up about his battle with cancer in his new memoir
Taste
and reveals the "horrible" side effects of radiation to kill a tumor that had formed on his tongue.
The radiation caused his mouth to fill with ulcers by the third treatment and destroyed his ability to taste his food, he said in an interview promoting the memoir with  The New York Times.
Read More
As a result, most dishes tasted like "cardboard covered in human excrement," while sipping beverages like teas felt "like eating chalk," recalled Tucci.
"I mean, if you can't eat and enjoy food, how are you going to enjoy everything else?" said Tucci.
The actor, 60, knew all too well the devastating toll cancer could take long before his diagnosis.
Tucci's first wife, Kate Spath-Tucci, passed away from breast cancer in 2009 when she was just 47-years-old.
He noted, however, that he had to pull through his cancer battle, if only because he had so much to teach his then newborn daughter Emilia.
"There was no way I wasn't going to make it," explained Tucci. "I've wanted to tell for a long time the story of Italy and the disparate cuisine in every region."
Emilia, whose mother is the literary agent Felicity Blunt, arrived on the scene halfway through Tucci's treatments.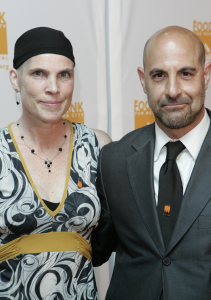 Related: Fragrance Maven Jo Malone Lost Her Sense of Smell From Chemo During Her Breast Cancer Battle; How to Manage Chemo Side Effects
The treatment required him to be strapped on a board with a careful cut-out surgical mask and mouth guard to make sure the radiation was targeting the precise location of his tumor.
In addition to saving his life and beating his cancer into remission, the radiation therapy did provide one culinary benefit for Tucci.
Tucci noted his lactose intolerance and inability to digest sugar before therapy disappeared after treatment and that now dairy and sweets are no problem.
His taste had returned when filming commenced on his CNN reality show Stanley Tucci: Searching for Italy, but another issue caused the actor a bit of distress.
"It was hard because I could taste everything, but I couldn't necessarily swallow," recalled Tucci. One dish required 10 minutes of chewing to get each bite down, while other times, he "just had to get rid of the food."
His love for cooking even led him to watch culinary shows, even though "the smell of good then would just make me want to throw up."
Tucci also bemoaned a risotto Milanese he made for co-star Colin Firth around this time, telling the actor he was "mortified" that it tasted so "awful."
Firth has a different recollection of the dish.
"He simply wasn't tasting what we were," said the Oscar-winning actor.
"One was left to imagine how distressing this was because most of the time, he put on a very brave and matter-of-fact face."
Related: Sexually Transmitted Infection or Cancer? Stage 4 Tongue Cancer Survivor Could Have Lost Her Life Due to Shame Over Potential STI-Related Mouth Sore
How Chemo and Radiation Affect the Mouth
Tucci had to contend with a particularly painful ulcer due to his radiation treatment targeting his mouth.
Chemotherapy can also leave some people with painful side effects that make eating, drinking, and even brushing their teeth a problematic process.
"Your tongue starts to feel super wrong, kind of like you put it against a shredder or something," Dr. Danoosh Amrooei, a breast cancer survivor and dentist at Monaco Dentistry in Apollo Beach, Florida, previously told SurvivorNet.
"Depending on the chemo, your side effects could be better or worse, but I know with the chemo that I underwent that you get really sensitive teeth and gums … even something like brushing your teeth becomes really painful."
After just her first treatment, Dr. Amrooei began experiencing pain, discovering that she could no longer use her electric toothbrush because of her suddenly sensitive teeth and gums.
These treatments aim to kill the cancerous cells building inside the body but often kill healthy cells in the process. The cells inside the mouth are ones that usually end up as ancillary victims during treatment.
Among the most common oral symptoms are:
Sensitive or painful teeth and gums
Burning, peeling, or swelling of the tongue
Dry mouth
Taste bud alterations
Infection
Why Radiation Makes It Difficult to Taste, Swallow Food
Why Oral Health Is Crucial During Cancer Treatment
At the same time, individuals receiving chemotherapy or radiation must keep their mouths as clean as possible so that bacteria that could damage their weakened immune system does not build up.
Dr. Christina Wood, a dentist at Station Dental in Colorado, told SurvivorNet that she recommends all chemo patients pay a visit to the dentist before treatment.
In addition to a regular check-up, individuals should also request a fluoride treatment, said Dr. Wood.
"These provide a high dose of fluoride for your teeth to help increase mineralization of the enamel [strengthen the teeth] and prevent mucositis [painful mouth inflammation]," she explained in a previous interview with SurvivorNet.
She also shared a list of tips for once chemo starts to mitigate pain and keep the mouth clean:
Try to have a dental exam and teeth cleaning before chemo starts
Steer clear of mouthwash with alcohol in it; this can be extremely painful for sensitive gums and teeth
Stay away from spicy and acidic foods, which can exacerbate pain
Try eating foods that can soothe the mouth, such as dairy items
Keep different toothpaste options as your tastebuds change during chemo, and certain flavors might suddenly become unappealing.
Steer clear of whitening toothpaste, which has more grit and can further irritate the gums.
If your treatment is making you vomit frequently, try mixing 1/4 teaspoon of baking soda with 1/8 teaspoon of salt and 1 cup of warm water as a mouth rinse; this can help make your mouth less acidic, which can protect the enamel on your teeth.
What Does Radiation Feel Like
Learn more about SurvivorNet's rigorous medical review process.
---