Doing What You Love Amid Cancer
Despite continuing to undergo treatment for triple-negative stage 4 breast cancer, 32-year-old street car racer Lizzy Musi, 32, is back on the race track.
Musi raced last weekend during the Street Outlaws No Prep Kings Tulsa Raceway event. She shared a photo of herself alongside her race car exuding confidence and strength.
The famous drag racer and TV personality has triple-negative breast cancer, one of the most aggressive forms of the disease. It does not have any of the main drivers of breast cancer — the estrogen receptor, the progesterone receptor and the HER2 receptor — and consequently doesn't respond to treatments that target them.
One expert tells SurvivorNet that emotional health is associated with with better cancer-related outcomes. So, it's important to keep doing things that you love during your cancer journey. And for some people, that may involve working.
Lizzy Musi, a star of the hit reality show "Street Outlaws: No Prep Kings," is back to racing despite continuing treatment for stage four, or metastatic, triple-negative breast cancer.
The 32-year-old street racer has been battling triple-negative breast cancer, one of the most aggressive forms of the disease, since earlier this year. But since learning in May that the cancer has "no progression" and her tumors have decreased in size, Musi has mustered up the strength to put the pedal to the metal once again.
Read More
Earlier this summer, Musi raced in her stylish all-black car, from when she competed in the
NPK Invitational in Bowling Green, Kentucky
. And this past weekend, Musi brought the "heat" to Tulsa Raceway Park in Oklahoma, for the Street Outlaws No Prep Kings Tulsa Raceway event.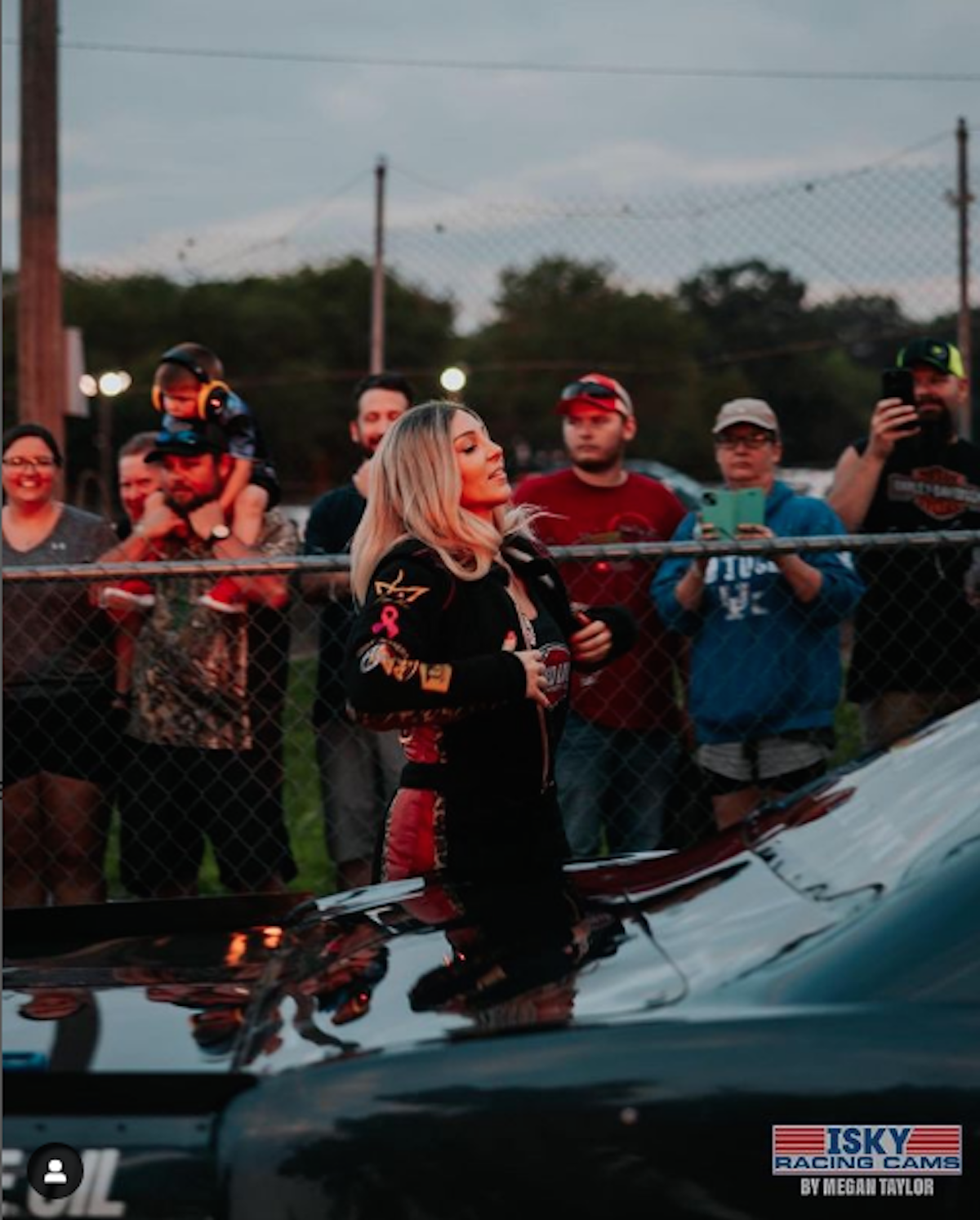 Recapping her most recent race,
Musi shared an image of herself
exuding confidence and strength while dressed in her racing gear alongside her car. She captioned the Instagram post, "RACE WEEKEND! Bringing the heat to @tulsaracewaypark as if it wasn't hot enough. Picture by @megan___taylor #tulsa #oklahoma #npk #lizzymusiracing #streetoutlaws."
And just yesterday, she posted another photo on Instagram, promoting her recent appearance on The Wes Buck Show.
"Make sure to tune in to The Wes Buck show recap from last weekend! 🔥 #winningweekend #redlineoil #interview #dragillustrated #lizzymusi #wesbuckshow #letssgoo," she wrote alongside the post.
In another recent post by Musi, she shared a short video clip of her experience at her first NASCAR race.
"Small photo dump from my first @nascar race ever! Such a cool experience! Way different to see it in person than on tv. #nascar #xfinityseries #45 #michigan #greengreengreen," she captioned the post, featuring the sunglass-wearing racing star sitting with an up-close view of the track.
Prior to those events, Musi competed at the NPK Invitational in Kentucky. She even shared Musi's a clip of her tearing up the track in her stylish race car.
"@lizzymusi heating up the track in Bowling Green, KY for No Prep Kings!," the caption by Simpson Race Products read.
According to a video posted by Leigh Millican Hubbard, someone who regularly shares results from "No Prep Kings," Musi won the first round and lost the second in a very tight race.
Regardless of what place Musi came in, we are delighted to see her moving forward with something she lives as she follows through with her cancer treatments.
Lizzy Musi's Breast Cancer Battle
Musi took to Instagram on July 13, 2023, to share good news, along with a selfie of herself, an image of a CT machine, and her imaging results from The University of Texas MD Anderson Cancer Center in Houston, Texas.
Alongside the images, she wrote, "SCAN RESULTS SHOWED NO PROGRESSION!! Just after two treatments since May! And all tumors have decreased in size! There are two that a larger due to dead tumor tissue around that area!
GOD IS GOOD & amazes me everyday!!"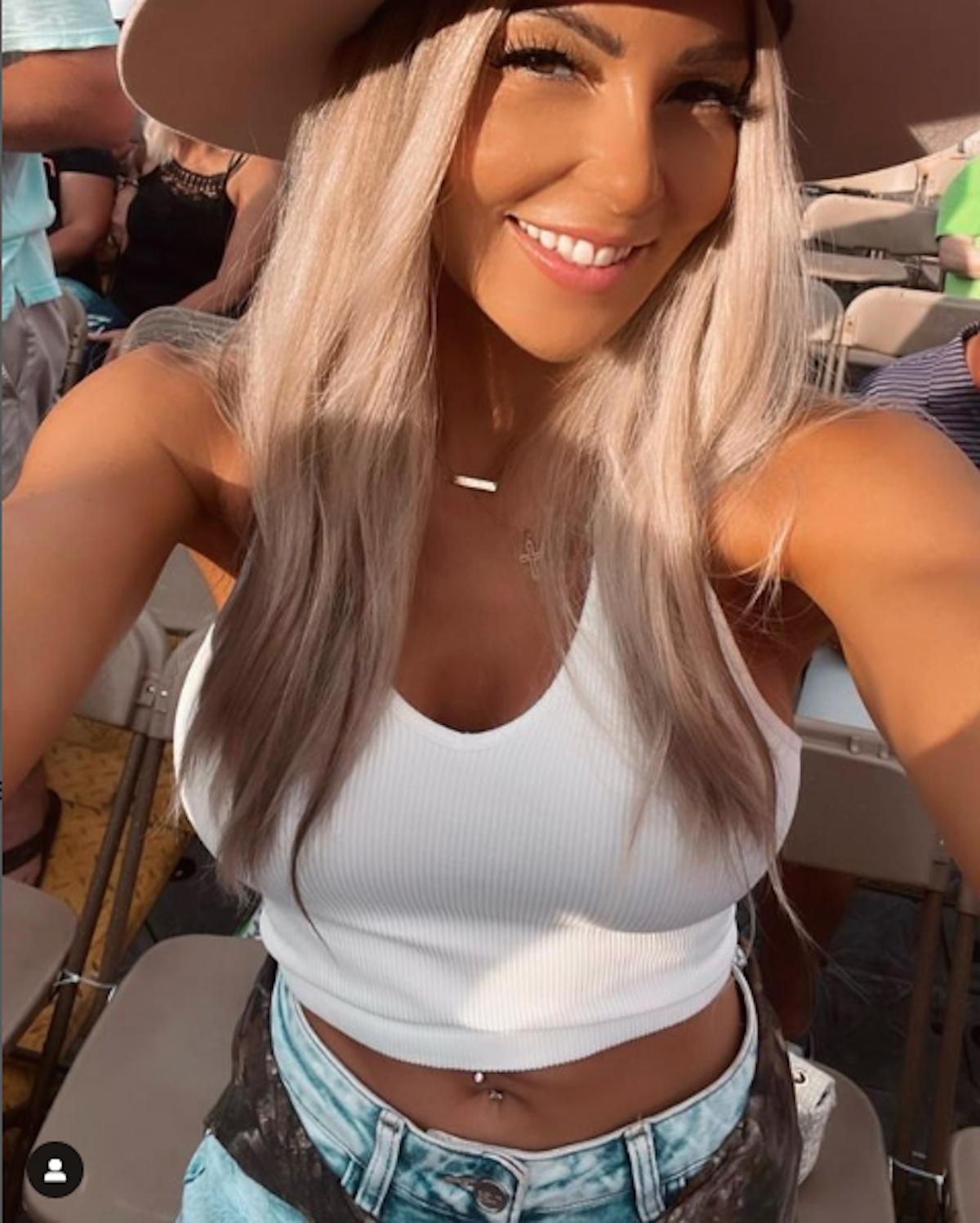 On the impressions (the radiologists summary) section of her CT scan results, the key takeaways from the scan read, "Interval decrease of size of right breast and right axillary lymphadenopathy.
"Multiple hepatic metastasis again noted, most appear smaller in comparison to prior study, a few lesions are slightly larger."
The exciting announcement came as Musi has been battling stage four breast cancer since her diagnosis earlier this year, which she revealed to the public back in April.
RELATED: Loving Fans of TV Race Car Driver Lizzy Musi Are Helping Her Stay "Lizzy Strong" Amid Cancer Battle – The Power of Support During a Cancer Journey
"Hey Everyone, I haven't been able to have much time to post due to an unexpected life change," she wrote in an Instagram post. "A few days ago I have been diagnosed with Triple Negative Stage 4 Breast Cancer that has moved to my lymph nodes to my liver."
Her cancer journey began when she found "a marble-sized lump" in her breast after breast augmentation surgery.
After visiting a doctor who wasn't too worried about the lump, she decided to make another appointment when the spot grew to the size of a Cuties brand clementine just a month later.
Survivor Giuliana Rancic's Advice for Those Living With Cancer
Eventually, that led to her diagnosis of triple-negative breast cancer.
"I kinda felt numb, I didn't know how really to act," she said of first hearing her diagnosis. "I was in disbelief, honestly. I didn't cry which is weird."
Triple-negative breast cancer means it does not have any of the main drivers of breast cancer — the estrogen receptor, the progesterone receptor and the HER2 receptor. Consequently, the cancer doesn't respond to treatments that target them, making it difficult to treat.
As for the treatment she's undergoing, which appears to be working, Musi is taking the antibody-drug conjugate Trodelvy (generic name sacituzumab govitecan) and immunotherapy through a clinical trial.
The First Immunotherapy Approved For Breast Cancer – Hope For Triple Negative Breast Cancer
As a result, she's suffered from hair loss as a result of her treatments, however, her spirits have remained high.
"Racing honestly is the only thing that's giving me my motivation right now," Musi said in a video she shared in May.
RELATED: How To Treat Metastatic Breast Cancer: The Drug Trodelvy Shows A Promising Boost In Survival Rates
Understanding Stage 4 Breast Cancer
Stage 4, also known as metastatic breast cancer, means that your cancer has now spread to distant areas of the body. Even though there is currently no cure for metastatic breast cancer, doctors have many options to treat this advanced stage of breast cancer.
RELATED: Do What You Love — Even if Cancer Gets in the Way of Your Dreams
Hormone therapy, chemotherapy and targeted drugs are all treatment options to discuss with your doctor, depending on your individual needs. At times, surgery and/or radiation is considered as part of the treatment. However, focusing on improving your quality of life is the most important.
A Leading Expert Discusses Metastatic Breast Cancer
The course of treatment for metastatic breast cancer patients largely depends on the specific needs of the woman, whether they need an aggressive chemotherapy or depending on the doctor's assessment, they may benefit from another medication.
For hormone-receptive positive cancer breast cancer patients, doctors try to see how long they can keep patients on oral therapies. Very often, newly diagnosed metastatic hormone receptive-positive breast cancers (where cells have either estrogen (ER) or progesterone (PR) receptors or both) respond best with different hormonal medications, and sometimes for many many years.
Dr. Erica Mayer, a medical oncologist at Dana-Farber Cancer Institute, says clinical trials have shown that hormone medicines are more effective when paired with targeted therapies. At some point, chemotherapy will be introduced, which according to Dr. Mayer, is delivered at a dose and schedule that's as well-tolerated as possible.
The First Immunotherapy Approved For Breast Cancer
"We are so lucky in breast cancer that we have so many effective and well-tolerated treatments," Dr. Mayer told SurvivorNet in an earlier interview. "I'm so gratified to see that patients are doing better and living longer today with metastatic breast cancer than they have ever done before."
Overall, there is no one-size-fits-all type of breast cancer treatment, so options may include:
Treating Metastatic Breast Cancer
Bottom line, there are more and more options becoming available for patients to manage symptoms of advanced-stage disease, and it's best to talk about specific treatment plans and what is best for you with your own doctor.
Continuing to Do What You Love during a Cancer Journey
Just because you're undergoing cancer treatment, does not mean you should stop doing what you love. In fact, experts recommend quite the opposite. Studies have shown that patients who are able to stay upbeat and positive often have better treatment outcomes.
It doesn't really matter what you do, but experts like, Dr. Dana Chase, a gynecologic oncologist at Arizona Oncology, recommend doing whatever makes you happy.
Dr. Dana Chase Encourages Those Facing Cancer To Find Moments of Joy During Treatment
"We know from good studies that emotional health is associated with survival, meaning better quality of life is associated with better outcomes," Chase told SurvivorNet in a previous interview. So working on your emotional health, your physical well-being, your social environment [and] your emotional well-being are important and can impact your survival.
"If that's related to what activities you do that bring you joy, then you should try to do more of those activities."
Contributing: SurvivorNet Staff
Learn more about SurvivorNet's rigorous medical review process.
---