The SurvivorNet community is full of cancer survivors who've now also survived COVID -19. Most of these inspiring survivors are over age 60 and two were getting cancer treatment. One received a heart transplant in 2019; another celebrated her 90th birthday in January. All became infected with the coronavirus and survived the disease it causes.
Treatments ranged from zinc to Zithromax (an antibiotic also known as a Z-Pak) to the malaria drugs, Chloroquine and Hydroxychloroquine — all unproven.
Read More
RELATED: Coronavirus Guide for Cancer Patients
Several were placed on ventilators before recovering. But the simplest solution provided the most dramatic relief: When L.A. doctors shifted Steve Schlosberg from his back to his stomach — they'd heard doctors in New York had tried this approach with success — his breathing improved within hours and he was able to avoid being put on a ventilator.
Ten Cancer Survivors Who Survived COVID-19

George Alagiah, 64, London, England
"If I can live with cancer, I can certainly live with COVID-19," George Alagiah, a BBC newsreader who is battling bowel cancer, told BBC. Alagiah, 64, told colleagues he'd tested positive for coronavirus after experiencing a fever. Once he had a fever, he was tested and, a few days later, his oncologist told him he had COVID-19.
RELATED VIDEO: Clinical Trials for Colorectal Cancer Can Offer Cutting-Edge Treatment
Alagiah's case was mild; he did not have other symptoms and he just returned to work after a period of quarantine. Alagiah was first diagnosed with bowel cancer in April 2014. After a brief remission, he revealed in December 2017 that the disease had returned. Alagiah took a break from the news desk until January 2019 during his cancer treatment but decided to enter quarantine in March during the virus outbreak.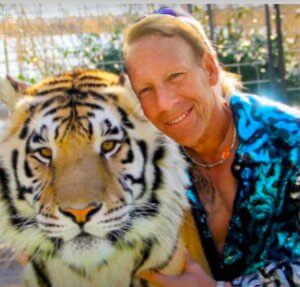 Adam Barnett, 61, Long Island, NY
Adam Barnett spent a week at MountSinai South Nassau Hospital after testing positive for COVID-19 last month. "It was the most brutal, brutal thing I ever felt in my life," he said. "I had 103.5 fever, I couldn't move, I couldn't do anything, I couldn't pick up my phone." Five years ago, Barnett was diagnosed with stage-4 prostate cancer and underwent 65 sessions of radiation.
RELATED VIDEO: After Diagnosis: Tips For Getting Through The Next Steps From A Stage 4 Prostate Cancer Survivor
After a round of chemotherapy, he started feeling sick and knew it wasn't from the chemo. "It was the worst feeling in the world. I got up from my bed, walked ten feet and I had to sit on the floor," Barnett said.  Doctors prescribed hydroxychloroquine and the Z-Pak to help Barnett fight the virus. He remembers reminding himself that he was a fighter, while lying in his hospital bed. Barnett credits the doctors and nurses for saving his life. Well-wishes and prayers helped, too. Without them, he says he doesn't think he'd be here today.
"I wasn't supposed to walk out of that hospital," he said.  A week after recovering, he headed back into the gym to cycle and lift weights.

Oumou Barry, Queens, NY
Barry, a mother of two, survived breast cancer and received a heart transplant in December 2019. Now, she's beaten COVID-19, too. She was discharged to roaring applause from staffers at Manhattan's Mount Sinai Hospital. Mt. Sinai cardiologist Dr. Anu Lala said it was a "scary process but we are really overjoyed to be sending her home."
RELATED: Investigation Finds Critical Lapse in the Sharing of Information About Heart Risk with New Cancer Drugs
"God willing, everything will be safe and sound," Lala said in news footage. Barry thanked hospital staffers as she was wheeled out of the hospital. "I'm so happy. I'm free. I'm free of cancer… Free [of] coronavirus," Barry said. "I am going home today." She urged others to "keep strong and keep praying for coronavirus to go away."
"We have to fight," Barry said. "If we fight, we are going to get through."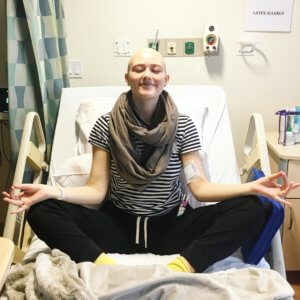 Kara Ladd, New York, NY
First cancer, then coronavirus. When SurvivorNet interviewed Kara Ladd about her experience with synovial sarcoma, she told us her diagnosis at 34 reordered her priorities. She began focusing on health, mindfulness, and energy healing. Her cancer experience, she believes, helped prepare her for COVID-19. Ladd says she began feeling symptoms in mid March.
RELATED: Sarcoma at Age 24 and Then COVID-19 — Survivor Kara Ladd Says Cancer Helped Her Overcome Coronavirus
"It was like someone was squeezing my ribs on either side of my body, inhibiting my ability to breathe fully and deeply," she tells SurvivorNet from Boulder, Colorado where she'd taken refuge. "The second day that this symptom persisted, in addition to very slight body aches, I knew something was off. I called the COVID-19 hotline in Boulder right away and was approved for a test given my past history with synovial sarcoma."
Her symptoms — headache, tightness in the chest — were mild. But the loss of her senses of taste and smell has lingered. While Ladd says she is grateful; as a cancer survivor, she found the experience scary.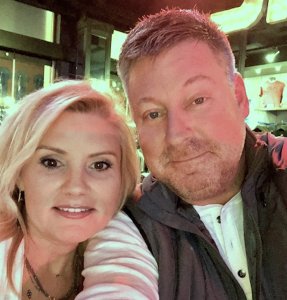 Paul Lee, 50, Indianapolis, IL
At just 48-years-old, Paul Lee was diagnosed with prostate cancer in 2019 and finished radiation in November. Just a few months later, Paul, who has asthma, was struggling with an unknown illness that would later be identified as COVID-19. On March 16, Lee and his wife, Julie, started to feel sick. Although Julie had trouble tasting, she recovered within days. But Paul's condition worsened.
RELATED: Ben Stiller Says a PSA Test Saved His Life: Beating Prostate Cancer 
"It moved to where he couldn't walk and he couldn't talk and I said to him influenza B doesn't cause you to not be able to walk or talk," Julie explained. After several doctor consultations, she took him to the hospital on March 24. Hours later he would be put on a ventilator with an intense fight to save his life. Julie and their blended family of eight children couldn't see him; had to stay home and quarantine. Neighbors and friends pitched in to bring dinners or send food deliveries. Julie was only able to FaceTime Paul a few times while he was in the hospital. After several close calls, Paul was released from the hospital on April 16th. Neighbors made signs, brought cowbells and cheered as the couple drove down the main entrance.

Maryanne "Momma" Lopez, 90, Staten Island, NY
She celebrated her 90th birthday in January, after recovering from a broken femur. Maryanne "Momma" Lopez, had survived both breast and stomach cancer and managed a heart condition, atrial fibrillation. In March, she fell ill with COVID-19 in March. Her monthlong ordeal with the illness included two hospital stays but, by Easter, the former school crossing-guard and mother of 5 was home with her family to celebrate the holiday. "It was easier having babies than this," she said. Her daughter first noticed breathing difficulties –but no fever. She was checked at Staten Island University Hospital in Ocean Breeze and sent home.
RELATED: Gloria Vanderbilt, Socialite, Fashion Icon, and Mother to Anderson Cooper, Dies of Advanced Stomach Cancer at Age 95
A few days later, with her oxygen low, she returned to the hospital where a test confirmed she'd been infected with the coronavirus. After two days, doctors sent her home, thinking her case was mild. Soon, she was readmitted. The young girl next to her, on a ventilator, did not survive. Loped, 90, did and was released after 7 days. She continued to recover under her daughter's care.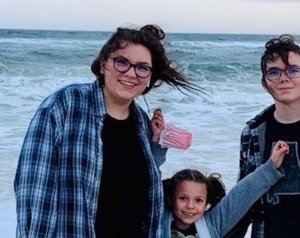 Jennifer Pratschner, Spanish Fort, AL
After being diagnosed with cancer 3 years ago, Jennifer Pratschner now faced another battle. For 3 weeks, she was separated from her family in her own home. "There are moments of fear, you know dealing with cancer and then being a survivor now and then stepping through COVID-19. You've just got to keep your chin up and focus on what's important to you," she said. Her husband, Michael, and their 3 children have been her focus during her quarantine. She was finally able to be with them all again this week.
RELATED: Life and Death Decisions: An Emergency Physician on Taking Control During COVID-19 Uncertainty
"It was so special knowing that I stepped out of something that some people aren't stepping out of right now. The love of my family and the support they have been during all of this, it was like Christmas," she said. Pratschner remembers the tough 3 weeks.  "I had a fever for 14 days. It just wouldn't let up. Every day I was hoping, 'today's going to be the day'. No," she said. At one point, she and her husband discussed the unthinkable. "A couple of nights into the journey, my husband and I had the 'what if you don't pull out of it?' talk. And that was so scary," she said.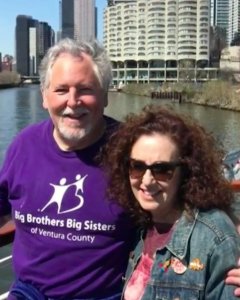 Steve Schlosberg, 67, Los Angeles
A prostate cancer survivor, Scholsberg tried to self-isolate at home, hoping his intense headaches, body aches, fever, and fatigue would pass. But he said, "after one week, my body was just shutting down." At St. John's Regional Medical Center in Oxnard, Ca. doctors found he had pneumonia, in addition to COVID-19. His condition worsened. "I couldn't get enough oxygen," Schlosberg said, "they kept having to increase the oxygen they were giving me."
RELATED VIDEO: What Are Of The Risks Of Having Prostate Cancer Surgery During The Coronavirus?
Schlosberg was given five different drugs, including hydroxychloroquine in the ICU. When he didn't improve, doctors decided to try turning him onto his abdomen, something they'd heard had worked in New York, before putting him on a ventilator. "If they turned me over and … miraculously my need for oxygen dropped steadily over the next six hours." After 10 days in the hospital, Steve was sent home and, now, feels grateful for every breath: "I can't say from my experience which [treatment] made me become cured, I just know … my story means there's hope for others," Schlosberg said.

Carl Schuck, 72, Jacksonville, FL
"Everything was against me, with my age, health status, I pulled a miracle, truly," he said. Schuck was treated with hydroxychloroquinine, zinc, and zithromycin to fight the infection. As he left the hospital, Schuck said, "they [doctors and nurses] had a whole line of staff that were cheering."
RELATED: Lung Cancer Survivor, 72, Beats COVID-19, Leaves Florida Hospital to Cheering in 'Easter Miracle'
"It's just such an overwhelmingly warm engulfing feeling," Schuck said, adding, "This hospital is amazing. They moved mountains to get me what I needed. God bless you all." The couple will continue to practice social distancing at home, as experts have not yet determined whether coronavirus immunity is conferred on COVID-19 survivors.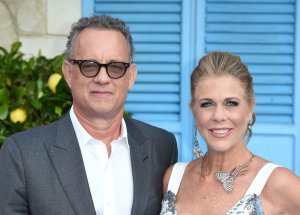 Rita Wilson, Los Angeles, CA
For many of us, the pandemic suddenly felt real on March 13th, when word came that Wilson and Hanks were sick with COVID-19. Wilson, in particular, said she'd been hyper-vigilant long before social-distancing rules went into effect: "It was early March, but I was already doing no handshakes no handshakes, no hugging," she told The Guardian. "Then on the plane to Australia … I had wipes, sanitizer… everything."
RELATED: Tom Hanks and Rita Wilson Give Coronavirus Update — Will Her Past Cancer Battle Affect Her Recovery?
When the couple fell ill, Wilson says, "we both had a high fever and were extremely achey," Wilson recalls in an interview with The Guardian, referring to her husband, Tom Hanks. "I lost my sense of taste and smell, had stomach issues and shivering like you wouldn't believe. Yeah, I was scared," she says. With no known medicines to fight the infection, the decision was more of a medical guess. Chloroquine, Wilson makes clear, is "not hydroxychloroquine," the unproven treatment President Trump has promoted.
While the drug did bring her fever down, Wilson says the side-effects of chloroquine were were "incredibly harsh" and included "extreme nausea, vertigo, my muscles felt like wet noodles, so I couldn't really stand," she says. As doctors scramble to find drugs to employ against COVID-19, cancer survivors, like Wilson, should understand the consequences of untested and off-label drug therapies. Now home in Los Angeles and feeling much better, Wilson and Hanks are continuing to recover at home under quarantine.
Learn more about SurvivorNet's rigorous medical review process.
---