A young student is in a lifelong battle with synovial sarcoma after her decision to ignore a lump in her leg during her final year of graduate school resulted in a stage III diagnosis.
Maddie Beavis, then 21, was a nursing student who spent her days working in a hospital back in 2019 when she noticed the lump for the first time.
Read More
She never had it looked at assuming it was just a blood clot and went weeks before finally deciding to have it properly examined by a doctor.
The doctor assumed it was a clot as well at first and actually wrote her a prescription for blood thinners before sending Maddie off for an ultrasound of the area to be safe.
It was then that Maddie's life changed forever.
Related: Inspiring College Student, 20, Builds Community on TikTok Sharing Her Cancer Journey During COVID-19
"He continued to scan, and when I looked at him, I saw all of the colors had drained from his face. He called another doctor into the room, then that doctor called another doctor into the room. I knew something wasn't right; I asked them to tell me what was going on," Maddy told The North West Star in an interview.
The clinician who took the ultrasound soon called in the oncologist who was on duty, who also examined the results.
"He told me I had a mass in my leg but reassured me there was a one in a million chance of it being cancer," said Maddie.
"But he continued to say, 'the problem is it just doesn't resemble anything else.'"
The ultrasound could neither confirm nor deny that the growth was cancerous, so Maddie next underwent a biopsy that was sent to two separate labs before learning that she had stage III synovial sarcoma.
Also called malignant synovioma, synovial sarcoma is cancer that forms on soft tissues such as the muscle or ligaments.
It is commonly found close to the joints in the ankle and wrist in areas such as the arm, leg, or foot. In some instances, it is also found in the lungs or abdomen.
The main symptom is a painless growth, which is why it is so hard to detect. That is also why many people wait weeks or even months before having the lump properly examined by a doctor.
This is why Maddie assumed she had a clot, and why while her classmates were celebrating their last year, Maddie was spending every day for six straight weeks undergoing radiation sessions.
She described the radiation as "sunburn on steroids," a far cry from just a few moths earlier when she was partying with friends.
Then came the surgery to remove the sarcoma.
Related: Sarcoma Survivor Who Lost Her Leg Due to Cancer is the First Amputee to Compete in Miss World Pageant Qualifier: 'Looking Different Doesn't Make You Any Less'
The 18-hour procedure took course over two days, the first a grueling 14 hours and the second a quick but incredibly painful four. Some of the muscles from her good leg were removed and used to rebuild the area where the sarcoma had been located.
Maddie then began the rehabilitation process, and two weeks later was walking again and ready to move on with her life.
Those hopes were quickly dashed though at her next appointment when her doctor suggested she undergo chemotherapy.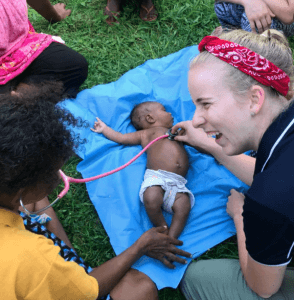 Maddie had concerns, specifically about her fertility, but decided that chemotherapy was the best option upon learning radiation had killed just half of the cancerous cells in her body.
She had been given a week to weigh the options, but after sitting down her in doctor's office to tell him of her decision there was a sudden shift.
"I said no, not doing it," revealed Maddie.
She still has no idea why she made that decision, but now that she has been in remission for 16 months it is a decision she is glad she made that day.
Maddie is also now using her own experience to help the women around her as she is now a working nurse.
"I take things seriously when patients talk to me about their concerns. Women will bring up things that might seem really small to me or to someone else – but if someone is bringing it up, then they're worried about something, and I always have that in the back of my mind," explained Maddie.
"When people are concerned, you need to trust them, and I take that into every appointment."
Related: The Ultimate Cancer Caregiver: Senator Ted Kennedy Helped His Two Children and Ex-Wife Fight the Disease Before He Lost His Battle
Synovial Sarcoma Symptoms
The main symptom of synovial sarcoma is a slow-growing, painless mass.
This is why it is so hard for many to detect, and why Maddie believed she had a blood clot.
"Unfortunately, most sarcomas do not cause many of the symptoms that may be associated with other cancers," Dr. Dale Shepard, director of the Cleveland Clinic Taussig Cancer Institute Phase I and Sarcoma Programs, previously told SurvivorNet.
Shepard explained that this often leads to large tumors at the time of diagnosis.
"Soft tissue sarcomas are typically painless," explained Dr. Shepard.
"Bone sarcomas may be mistaken for orthopedic injuries. A mass the size of a golf ball or larger and growing should be evaluated as a potential sarcoma. It's important that patients who do have symptoms are not dismissive of them."
Inspiring College Student, 20, Builds Community on TikTok Sharing Her Cancer Journey During COVID-19
Types of Sarcomas
The word sarcoma refers to a large array of bone and soft tissue cancers, and those are then further broken down into more specific forms of the disease, including:
Ewing's sarcoma
A cancer that typically occurs in and around the bones, often in the arms or legs, or the bones of the pelvis. It most commonly occurs in children and young adults.
Kaposi sarcoma
Very rare type of cancer that causes lesions on the skin, in lymph nodes, organs, and the mucous membranes of the mouth, nose, and throat. It typically affects people with compromised immune systems, such as those with HIV.
Epithelioid sarcoma
A soft tissue cancer that grows slowly. It is likely to begin under the skin of areas like the finger, hand, forearm, lower part of the leg, or foot.
Synovial sarcoma
Known also as a Malignant synovioma, this is a cancer that can form soft tissues such as muscle or ligaments, commonly close to joints or in areas like the arm, leg, or foot.
Osteogenic sarcoma
Known also as osteosarcoma, this cancer forms in the bone and is most common in young children.
Spindle cell sarcoma
A rare form of the disease that accounts for less than two percent of all primary bone cancer cases. It is most common in adults over 40 and often forms in the bones of the arms, legs, and pelvis.
Eight-year-old Lilly Bumpus, who was diagnosed with Ewing Sarcoma, is the epitome of resilience
Learn more about SurvivorNet's rigorous medical review process.
---