Treating Two Cancers Simultaneously
Tennis star Martina Navratilova, 66, has been diagnosed with throat and breast cancers, but that hasn't stopped her from carrying on with normalcy. She was recently spotted going out to dinner with her wife in Miami Beach, Florida.
In 2010, the tennis star was diagnosed with ductal carcinoma in situ (DCIS), a noninvasive form of breast cancer; DCIS means abnormal cells can be found in the breast milk duct and have become cancerous but have not yet metastasized – or spread – to other parts of the body. She treated it with a lumpectomy.
Last month, Navratilova began treatment for her breast and throat cancers; the throat cancer was detected after she found a lump in her neck, and further tests revealed the presence of breast cancer. Both of her cancers were detected at an early stage, making them potentially more treatable.
Tennis icon Martina Navratilova
, 66, was spotted going out to dinner over the weekend with her 50-year-old wife, former model Julia Lemigova, just weeks after her recent throat and breast cancer diagnoses.
Wearing a bright-colored tropical print shirt, jeans, and white sneakers with rainbow shoe laces, the 18-time Grand Slam singles champion who fought breast cancer back in 2010, was photographed alongside her Russian partner outside of Estiatoria Milos, a Greek restaurant in Miami, according to the Daily Mail.
Read More
Lemigova, wearing a brown velvet blazer and pant set with leopard print shoes, was sporting a serious facial expression, similar to Navratilova, who didn't appear to be wearing makeup. Their outing comes shortly after it was reported that Lemigova was diagnosed with stage one breast and throat cancers.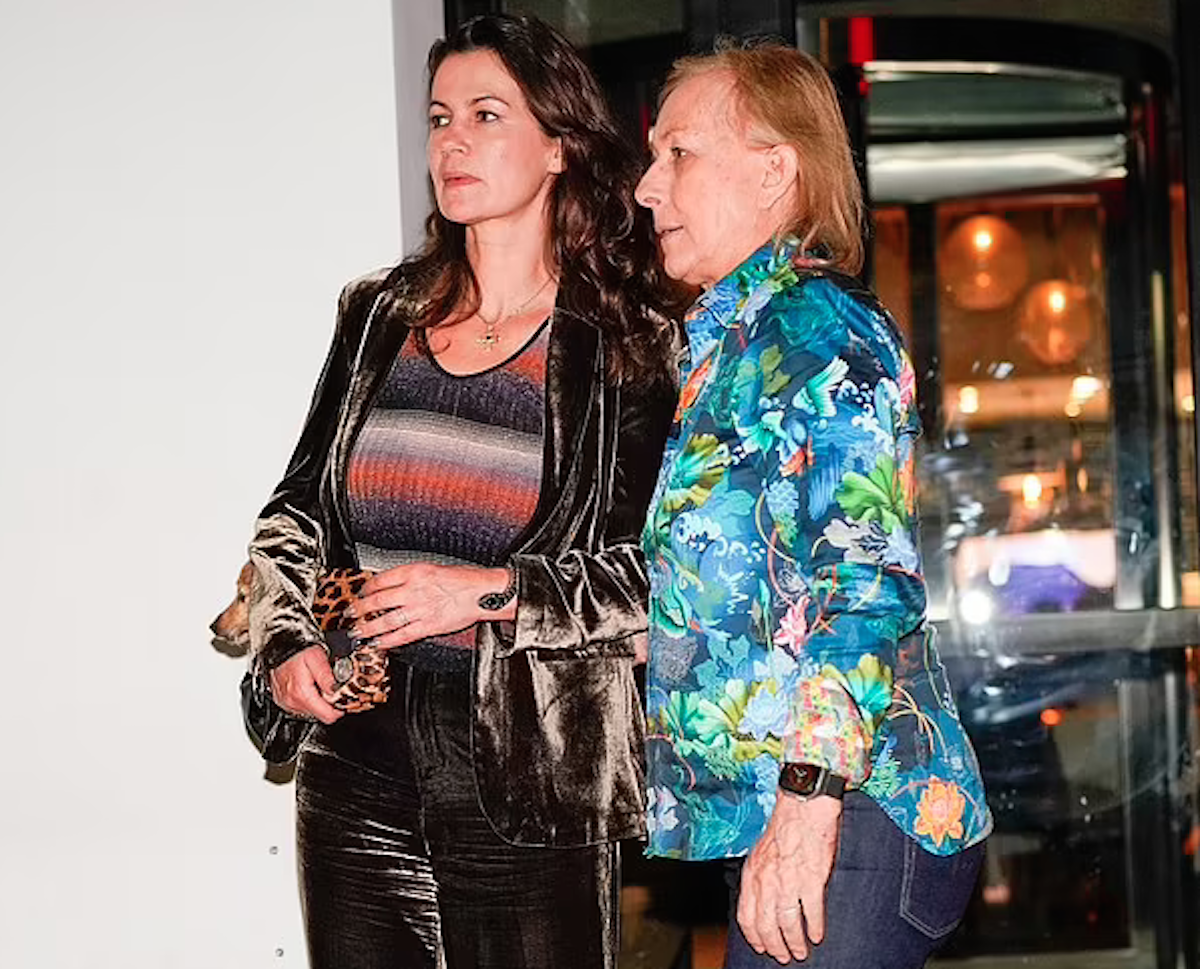 In a statement shared on
Navratilova's website
, the Czech-American said, "I have been diagnosed with stage 1 throat cancer. The prognosis is good and I will start her treatment this month. The cancer type is HPV and this particular type responds really well to treatment. I noticed an enlarged lymph node in her neck during the WTA finals in Fort Worth."
"When it didn't go down, a biopsy was performed, the results came back as Stage 1 throat cancer. At the same time as I was undergoing the tests for the throat, a suspicious form was found in her breast, which was subsequently diagnosed as cancer, completely unrelated to the throat cancer," she continued. "Both these cancers are in their early stages with great outcomes. I won't be covering the Aussie Open for Tennis Channel from their studio but hope to be able to join in from time to time by zoom."
The Prague native spoke about her new diagnosis last month, BBC reported, "The double whammy is serious, but fixable, and I'm hoping for a favorable outcome. It's going to stink for a while, but I'll fight with all I have got."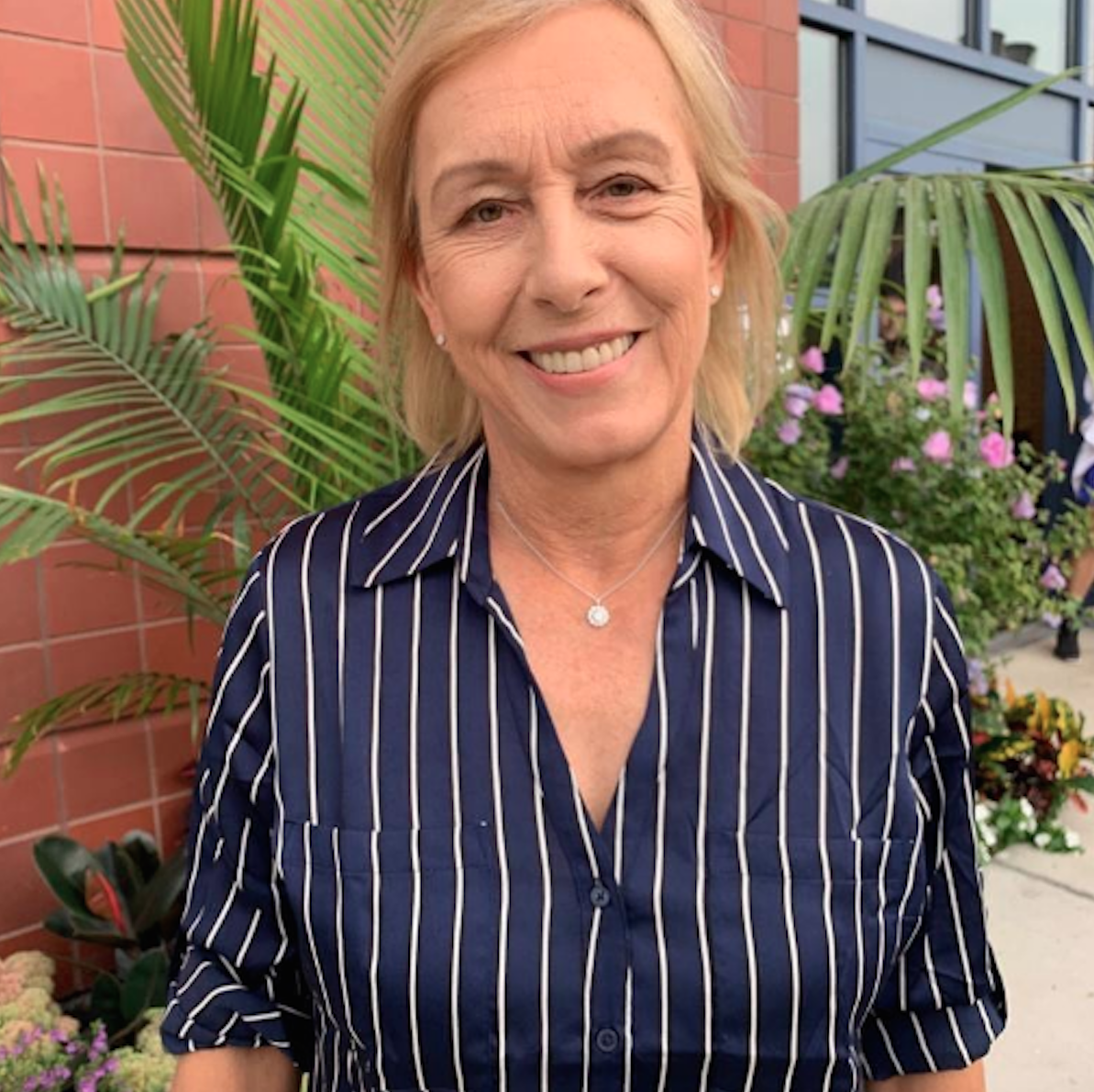 The nine-time Wimbledon singles champion said she felt "helpless" after she was diagnosed with cancer in 2010, but decided to go public with the news to help other women suffering similar health problems.
Navratilova's 2010 Breast Cancer Battle
In 2010, Navratilova was diagnosed with ductal carcinoma in situ (DCIS), a noninvasive form of breast cancer. It was detected via mammogram, the screening method for breast cancer that looks for lumps and early signs of cancer in the body.
In April of that year, the tennis champ went public with her health battle, shining a light on the importance of screening for breast cancer and getting mammograms. Women aged 45 to 54 with an average risk of breast cancer should get mammograms annually. (For women with a family history of the disease, you should begin screening earlier.) Speak with your doctor to schedule one if you're overdue for your mammogram.
When a person has DCIS, stage zero cancer, it means abnormal cells can be found in the breast milk duct and have become cancerous but have not yet metastasized – or spread – to other parts of the body. Navratilova's cancer was removed via a lumpectomy, and she underwent radiation to treat her cancer as well.
Should I Have a Lumpectomy or Mastectomy?
Throat Cancer Treatment Options
The BBC reports that Navratilova observed one of the lymph nodes in her neck was enlarged. She observed this during the WTA Finals in Fort Worth, Texas in November. As a result, the tennis star underwent tests, which showed she had stage one throat cancer.
The two main causes of throat cancer are smoking and excessive drinking, but throat cancer can also be caused by the human papillomavirus (HPV).
Dr. Ted Teknos, president and scientific director of the Seidman Cancer Center at University Hospitals Cleveland Medical Center, says in a previous interview, "When I first started training and practicing head and neck surgery, we saw this group of patients that were becoming increasingly more frequent, who were those patients who never smoked, were not drinkers, and were developing head and neck cancer. And in the beginning part of my career in the early '90s and mid-90s, those were rare patients, but then, year by year, those numbers increased dramatically."
"What we know now, through science, is going back and looking, decade by decade, the rates of HPV-related head and neck cancer have increased exponentially," says Dr. Teknos. "If you look at the percentage of patients who developed throat cancer, really, cancer of the tonsils and the base of the tongue, in the '80s compared to the 2010s, if you will, the rate of HPV-related head and neck cancers has gone up by 300%. So there is no myth. HPV causes throat cancer, and it's a sexually transmitted disease. And it's something that is an epidemic in the United States."
Treatment for throat cancer can include surgery, radiation, and chemotherapy. Navratilova has not publicly shared her specific treatment path.
Rocker Eddie Van Halen Says He Got Throat Cancer From Putting Metal Guitar Pick in His Mouth, Is That Possible?
Breast Cancer Treatment Options
As a result of the tests that revealed throat cancer, it also showed a lump in Navratilova's breast tissue. It was diagnosed as an unrelated cancer. Navratilova's representative Mary Greenham says, "Both of these cancers are in their early stages with great outcomes."
Breast cancer treatment options vary and depend upon the stage of the breast at the time of diagnosis. Surgery is a common treatment path for breast cancer when it's in an earlier stage. Surgical treatments for breast cancer include a mastectomy, lumpectomy, tissue expansion, mammaplasty, and lymph node dissection. Other treatments include hormone therapy, chemotherapy, and radiation.
In an earlier interview with SurvivorNet, Dr. Elisa Port, the Chief of Breast Surgery at Mount Sinai, explains how the treatment path is determined. Dr. Port says, "Breast cancer is multiple different subtypes. These different subtypes can behave extremely differently, almost like different diseases."
"We know that there's no one size fits all and we customize and tailor treatment, both the treatments that people get and the order that they get them, based on the subtypes of cancer and a variety of different factors," she explains.
"It's very tailored, personalized precision medicine approach, for not only the person, but also the tumor," Dr. Port says of treatment for this disease.
Surgery or Chemo First? How is Breast Cancer Treatment Order Determined
Contributing: SurvivorNet Staff
Learn more about SurvivorNet's rigorous medical review process.
---