Lilli Durante, who was diagnosed with cancer at the age of five, doesn't let her illness come in the way of her passion for princesses — instead, she uses her treatments as an opportunity to dress up in her favorite royal dresses.
"It's hard to say what inspired her to wear dresses to her appointments, but it makes her so happy and makes it easier," her mom Courtney told TRIB Live about her decision.
Read More
Lillie, who lives in a suburb of Pittsburgh called Manor, Pennsylvania, was diagnosed with a cancer that occurs primarily in children called optic (nerve) pathway glioma, a type of brain cancer that develops behind the eye. Nearly 75 percent of optic nerve pathway gliomas occur in children younger than 10, with most younger than 5 years of age at the time of diagnosis, according to the
Dana Farber Cancer Institute
. This type of tumor accounts for about 5 percent of brain tumors in children.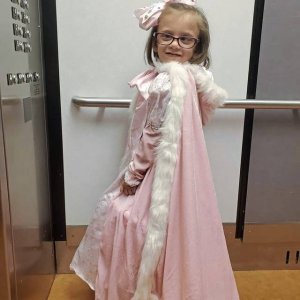 Information about optic nerve glioma
Optic nerve gliomas are a type of glioma, which are slow growing tumors that arise from what are called "glial" cells in the child's brain. Glial cells are responsible for supporting and nourishing the neurons in the brain.
Gliomas are classified in four different grades, and the higher the grade, the more severe the cancer. About two thirds of gliomas are classified as "low grade," meaning they are in grade 1 or 2. Grades 3 and 4 are considered "high grade."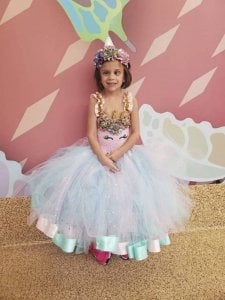 The most common symptoms of the illness include:
Vision problems such as squinting, difficulty reading, or turning to see things out of the corner of the eye
Proptosis (eyeball protrusion), which occurs when the tumor has grown to the extent that it is pushing the eye outward from the socket. Usually an eye with proptosis has very little vision
Hormonal problems, including abnormal growth, weight gain or loss, endocrine dysfunction (such as having to urinate frequently) or early puberty
Treatment for optic nerve glioma can usually be treated with traditional chemotherapy, but in some cases, if the tumor is resistant to chemotherapy, radiation therapy may also be an option.
Lilli Durante's cancer journey
Lilli received her diagnosis last December, after she woke up one morning to find that one eye was severely crossed. After a lot of doctors appointments and an MRI, doctors knew it was optic nerve glioma.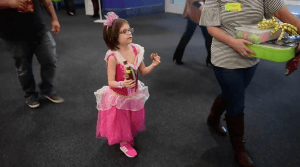 In order to treat the cancer, Lilli has undergone 27 rounds of chemotherapy at the UPMC Children's Hospital in Pittsburgh since February when she began treatment. By the end of her treatment, she will have undergone 50 rounds of chemo.
"We had to start chemotherapy to save her vision," her mom told TRIB.
The toy-drive for kids like Lilli
When the counselor at Lilli's school, the Sunrise Estates Elementary School in Penn Township, asked Lilli's mom what the school could do for Lilli and her family, Lilli's mom told her that her family didn't need anything, but that they'd love to help other kids. Since Lilli loved taking toys home from the "treasure chest" that the hospital had in the cancer department, she thought the school could donate some toys.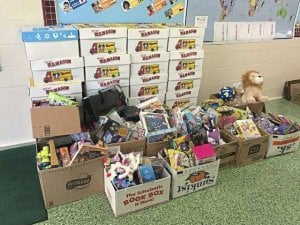 The school collected a total of 1,530 toys, crafts, dolls, and coloring books items during a huge toy drive, as well as $2,300 for the Children's Hospital hematology and oncology department's treasure chests, to bring a little joy to kids like Lilli.
"Lilli was so excited. She was full of energy and so happy to give back. She had a great time filling the treasure chest. She said her favorite part of the day was 'getting the toys to make people happy!'" said Lilli's mom.
Learn more about SurvivorNet's rigorous medical review process.
---