"You might as well flush your lungs while you're at it," is one of the lines from the new government sponsored ad campaign to raise awareness among young people about the dangers of vaping. The campaign also includes posters featuring teenagers with bulging, linear scars on their faces. As some snarky folks pointed out today, the new effort could very well make the often ridiculed "Just say no to drugs" campaign from the 1980s look like an Oscar winner.
As part of its ongoing effort to curb youth vaping, the U.S. Food and Drug Administration (FDA) has just announced that it will air educational TV ads about the dangers of using e-cigarettes. The TV ads, along with a series of posters that will be displayed in high schools and middle schools across the country, are part of the FDA's "The Real Cost" Youth E-Cigarette Prevention Campaign, a $60 million effort.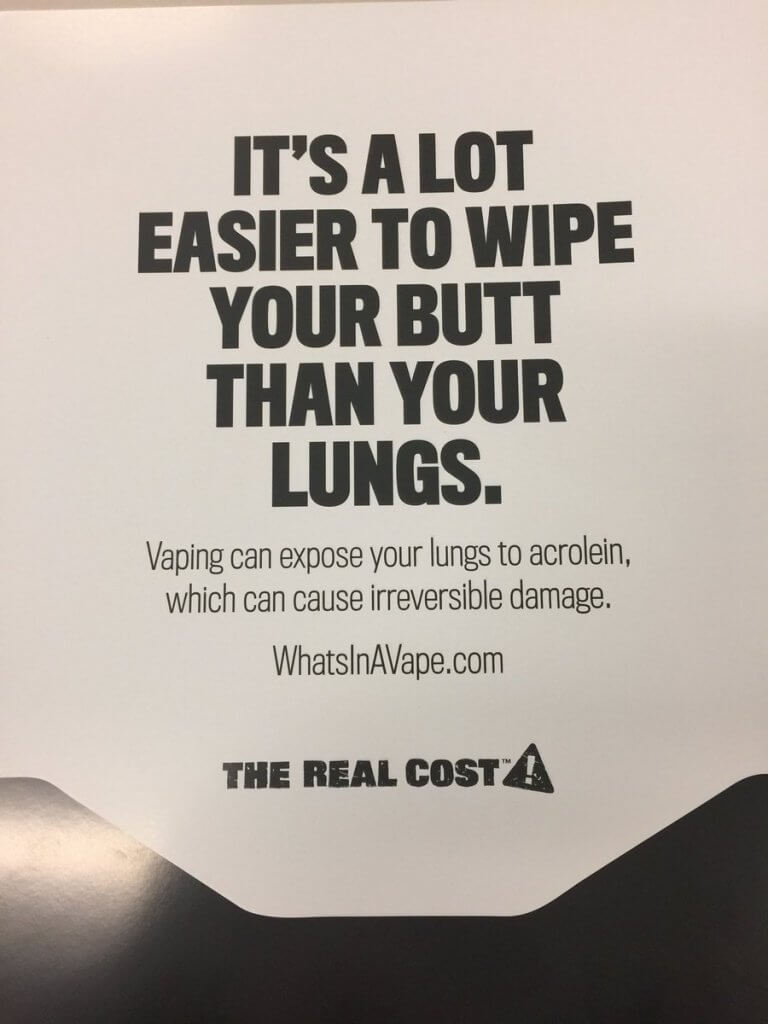 Read More
The campaign initially launched in September, mainly targeting social media and digital sites. Some of the most striking ads featured images of teens with parasites beneath their skin. While parasites aren't themselves a known side effect of e-cigarettes, the FDA's message was one of comparison: teen vaping is spreading like a parasite.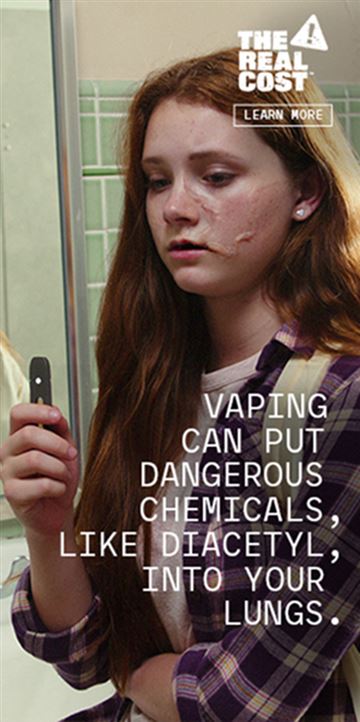 The existing ads are now joined by the new TV ads and posters, which are expected to reach the nearly 10.7 million youth between the ages of 12 and 17 who have either used e-cigarettes or are open to the idea of using them.
RELATED: Teens Love E-Cigs and Now a Leading Manufacturer is Being Investigated for Marketing to Them
The ramped-up efforts come on the tails of 2018's National Youth Tobacco Survey, which found that more than 3.6 million middle and high school students nationwide had used e-cigarettes within the past 30 days. The number is more than double that of the previous year, 1.5 million students.
According to the FDA's press release about the new ads and posters, the agency's similar effort for traditional cigarettes, "The Real Cost" Cigarette Prevention Campaign, successfully prevented 350,000 youth from taking up smoking and has saved the country over $31 billion in medical costs as well as the lost wages, lower productivity, and increased instances of disability that come with smoking-related health conditions, including lung cancer.
As E-Cigarette Companies Receive Pushback for Youth-Friendly Marketing, Questions About Safety Remain
The wildly successful companies that produce and sell e-cigarette devices, especially JUUL Labs, which makes the most popular of the bunch, the JUUL, claim that their products are meant only as an alternative to cigarettes for adult smokers.
Dr. Brendon Stiles of Weill Cornell Medicine and NewYork-Presbyterian spoke with SurvivorNet about the question of vaping and cancer risk.
But the colorful, teen-friendly marketing and fruity flavors have raised doubt about these claims, and the companies have been under fire from the FDA for intentionally marketing their products to America's youth.
RELATED: The Issue With Vaping — Doctors Don't Know How Dangerous It Is Yet
The companies market the products as "safer" because they do not contain tobacco and several other carcinogens in cigarettes that are known to cause lung cancer. But while e-cigarettes do not contain tobacco, the nicotine liquid they contain is made with a number of other chemicals and metal particles, which could potentially have dangerous long-term health effects, too. The question as to whether these chemicals and particles will ultimately lead to lung cancer remains unknown simply because it is too early to tell. Cancer can take decades to develop, and the research needed to prove a link will not surface until then.
"Vaping is still in its infancy," Dr. Raja Flores, Chairman of the Department of Thoracic Surgery at Mount Sinai Health System, told SurvivorNet in a previous conversation about e-cigarettes. "In order to prove something causes cancer, you need a large number of people and a longer period of time."

What Type of Messaging Will the New Ads Use to Get Teens' Attention?
The FDA press release has shared several examples of the messaging it plans to use on the posters in school bathrooms (where many teens sneak off to use e-cigarettes). One example is, "You might as well flush your lungs while you're at it. Vaping can deliver toxic metal particles, like nickel, lead and chromium directly into your lungs." Another is, "When you find out what's in a vape, you won't be relieved. Vaping can expose you to some of the same cancer-causing chemicals as those found in cigarette smoke."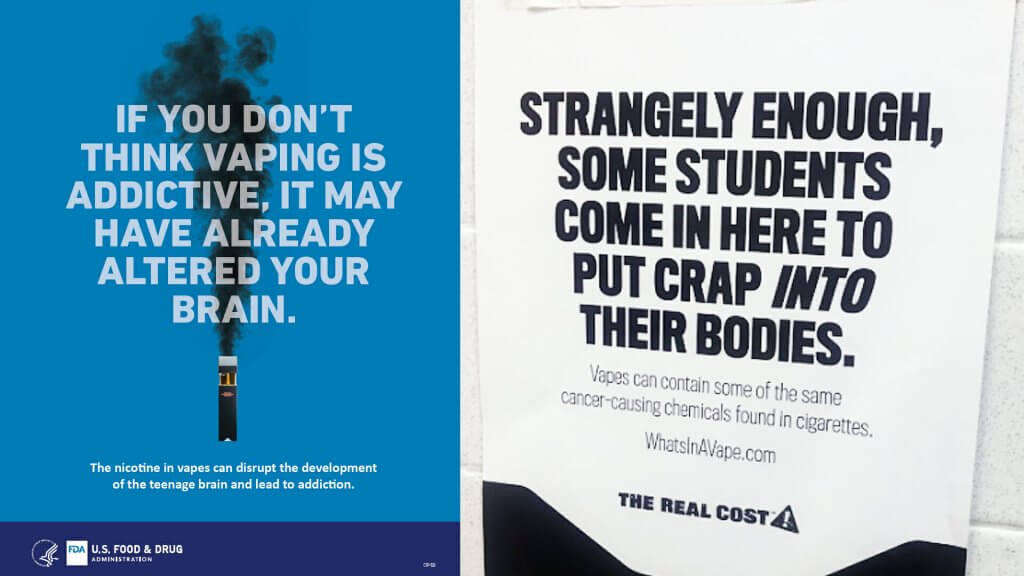 As for the TV ads, the FDA has shared one called "Magic," in which the popular magician and social media personality Julius Dein turns an e-cigarette into a traditional cigarette in front of a group of laughing teens. The video then shares that teens who use e-cigarettes are far more likely to take up smoking traditional cigarettes than teens who do not use e-cigarettes are, a statistic that was published in the Journal of the American Medical Association this past February.
RELATED: "Secret Shoppers"– JUUL Tries To Clear its Name By Sending Fake Shoppers To Spy On Sellers
"The troubling epidemic of youth vaping threatens to erase the years of progress we've made combatting tobacco use among kids," Dr. Ned Sharpless, Acting Commissioner of the FDA, said in the press release for the new ads. "It's imperative that our work to tackle this immensely concerning trend continue to include efforts to educate our nation's youth about the dangers of these products."
Learn more about SurvivorNet's rigorous medical review process.
---