The Legacy of Frank Shankwitz
On January 24, Make-A-Wish Foundation co-founder, Frank Shankwitz, died from esophageal cancer at age 77.
Shankwitz was a highway patrolman in Arizona and helped found the organization in 1980, after granting the wish of a seven-year-old with leukemia who wanted to become a patrol officer.
Since then, Make-A-Wish has granted the wishes of more than 500,000 children worldwide.
Frank Shankwitz, co-founder of the
Make-A-Wish Foundation
, died on January 24 from
esophageal cancer
. The 77-year-old former law enforcement officer helped change the lives of so many children with cancer and other critical illnesses.
Make-A-Wish started with a single wish. In 1980, Christopher Greicius, a seven-year-old boy with leukemia, wanted more than anything to be a Highway Patrol Motorcycle Officer like the characters Ponch and John on his favorite TV show, "CHiPs." Shankwitz, then an officer with the Arizona Department of Public Safety, joined with a few of his fellow officers to make Chris' wish come true. Chris became the first and only Honorary Arizona Highway Patrol Officer. Wearing his custom-made uniform, badge, and "Smokey Bear" hat, Chris took a helicopter tour of Phoenix, and got to "drive" a police car.
Read More
Seeing Chris's delight at having his wish granted, Shankwitz and a few of the other AZDPS officers decided to do the same for other children with serious illnesses. Together, they
founded the Make-A-Wish Foundation
.
More than four decades later, Make-A-Wish has fulfilled the wishes of more than 500,000 children worldwide. The organization has helped children meet their favorite celebrities, travel to Walt Disney World and Hawaii, and perform on the Broadway stage.
In honor of Shankwitz's legacy, SurvivorNet takes a look back at 10 of the most amazing, unforgettable, and heartwarming wishes Make-A-Wish has granted over its 40-plus-year history.
10. John Cena visits a young fan at home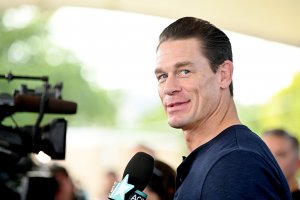 Getting a visit from former pro wrestler-turned-actor John Cena might not seem out of the norm for an organization that regularly connects young fans with their celebrity idols. But John Cena is a Make-a-Wish legend. He's granted over 650 wishes — far more than any other celeb. And the timing of his visit to 7-year-old David Castle, who has Wilms tumor, came right in the middle of the COVID-19 pandemic. Coronavirus was no impediment to the wrestling legend, who brought lots of WWE swag and joy to his young fan.
9. Seven-year-old sails off on a pirate adventure
In 2015, after spending eight months in the hospital undergoing treatment for leukemia, seven-year-old Albrecht ("Alby") Gaby wanted more than anything else to play pirate. Make-a-Wish said "Aye!" They sent Alby and his family to the U.S. Virgin Islands for a full-blown swashbuckling adventure. Alby captained his own pirate ship to an island to dig for buried treasure, cheered on by nearly 100 buccaneers — including a Captain Jack Sparrow lookalike.
Related: Make-A-Wish Foundation Forced To Put 5,000 Wishes On Hold Due To COVID-19 — Children Battling Cancer Waiting For Their Dreams To Come True
8. Budding designer creates her own dress at Macy's
Six-year-old Elizabeth dreamed of becoming a fashion designer. For three of those six years, she'd been living with leukemia. In January 2020, Make-a-Wish sent her to New York City to spend two days training with professional fashion designers at Macy's. The budding fashionista got to select fabrics and create her own exclusive dress, which Macy's produced and sold online and in select stores. The company even treated Elizabeth to a dress launch party and a billboard in her hometown of Austin, Texas.
7. Beyonce fan sings with her idol in Vegas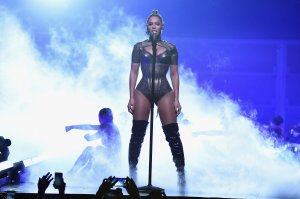 In 2013, Make-a-Wish gave a young Beyoncé fan the night of her life. When 12-year-old Taylon Davis was diagnosed with an inoperable brain tumor, her last wish was to dance with her idol. The Make-a-Wish-Foundation gave Taylon a front-row seat to Queen Bey's performance, where she had the chance to sing and dance along to "Survivor" with the Grammy-winning performer.
The impact of a childhood cancer diagnosis on the whole family 
6. Carl lives out a WWII mission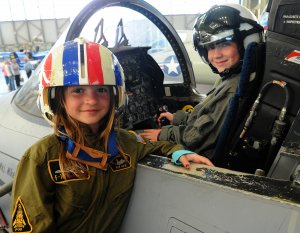 Carl Hess and his sister, Kayelynn; Photo courtesy U.S. Air Force
Most Make-A-Wish kids dream of meeting their favorite celebrity or going to Disney World, but not Carl Hess. He wanted to be a downed World War II pilot. The 11-year-old, who was diagnosed with acute lymphoblastic leukemia (ALL), flew to Hawaii to make his one-of-a-kind wish come true. U.S. Marines convoyed Carl from the airport in an original WWII jeep to the USS Missouri battleship, where he spent the night. The next day, while flying over the bombing route of Pearl Harbor, Carl's plane conducted a (simulated) emergency landing, leaving him and his team to "survive" overnight until help arrived. "On a scale of one to 10, I'd say this was a 10," Carl said of the experience.
5. Max blows up a building
Like many seven-year-olds, Max Hinton was pretty keen on explosions. So when given the chance to make a wish after being treated for neuroblastoma, Max wanted to blow up the ConAgra grain mill in Huron, Ohio. His inspiration for the wish came from watching the TV show "MythBusters."  With the push of a button, and with 30,000 local residents watching, Max turned the old silo into rubble.
Related: Teen's 'Make-A-Wish' Changed Due to COVID-19 but He's Still All Smiles Thanks to Their Promise to Help Children Fighting Cancer
4. Five-year-old stars in his own monster movie
If blowing up a building was cool, imagine wiping out an entire city! That's what a five-year-old with leukemia got to do in 2014, thanks to the Illinois Make-A-Wish Foundation. Maddex watched his first "Godzilla" movie when he was just 18 months old, and he wanted more than anything to direct and star in his own version of the Japanese monster movie franchise. More than 100 extras showed up to a downtown Chicago set to make Maddex's dream a reality. Mayor Rahm Emanuel played a cab driver, while former football coach Mike Ditka made a cameo as the doomed city's mayor. Maddex directed and starred in the film — named "Madzilla" after him.
3. Nine-year-old makes it into the record books with millions of get-well cards
In 1989, Craig Shergold, a nine-year-old from England, was diagnosed with brain cancer. Craig's wish was to get enough cards to make it into the Guinness Book of World Records. The Sun newspaper publicized Craig's plea, and then the Make-A-Wish Foundation got involved. By 1990, Craig had received 16 million cards — including a few from celebrities like Madonna and Arnold Schwarzenegger — and had earned himself a place in the Guinness Book. The best part of the story is that an American billionaire named John Kluge heard Craig's story, and paid for him to travel to Virginia for groundbreaking surgery. Craig ultimately collected some 350 million cards. Sadly, he passed away in 2020 from complications due to COVID-19.
2. Pint-sized Batman transforms Chicago into Gotham City
Make-a-Wish staged one of its biggest productions in 2013, when five-year-old Miles Scott asked to be Batman's sidekick, "Batkid." On November 15, 2013, 16,000 volunteers came together to transform San Francisco into Gotham City. Thousands lined the streets to support Miles, who had just finished treatment for leukemia. Alongside his superhero, Batkid drove through the city in a Batmobile and rescued the Giants' mascot, Lou Seal, from the villainous clutches of the Penguin. For Miles's heroic efforts, late San Francisco Mayor, Ed Lee, gave him the key to the city. The event spawned a documentary, "Batkid Begins." Miles even got a shoutout from President Barack Obama. In 2018, Make-A-Wish reported that Miles was cancer-free.
Related: 'I Understand What It's Really Like' — Famed Magician Criss Angel Presents Make-A-Wish Award as His Son Fights Cancer
1. Sam Farris gets a baseball field in his backyard
The Make-A-Wish Foundation has temporarily turned cities into the sets of superhero escapades and monster movies, but in 2006, the organization built an entire baseball field for one special little boy with neuroblastoma. With the help of the Ole Miss athletics department, Make-A-Wish built 10-year-old Sam Farris his very own field of dreams in his Mantachie, Mississippi backyard, complete with stands, a scoreboard, and a baseball diamond. The first game played at Farris Field was a matchup between the Mantachie Muddogs and Briarcrest Saints, with Sam coaching, pitching, and cheering on his home team.
Learn more about SurvivorNet's rigorous medical review process.