For a lot of people going through cancer, making a bucket list can be helpful for dealing with some of the emotional aspects of the disease. That's what Carmela Casber, a 77-year-old woman from Waukee, Iowa who has both brain and breast cancer did. Now, she's crossing something off her list that she's always wanted to do– get a tattoo.
"I just wanted the experience of having a tattoo," she said. "I had to convince myself to do something."
Read More
"She's been a wild child all her life," said her husband.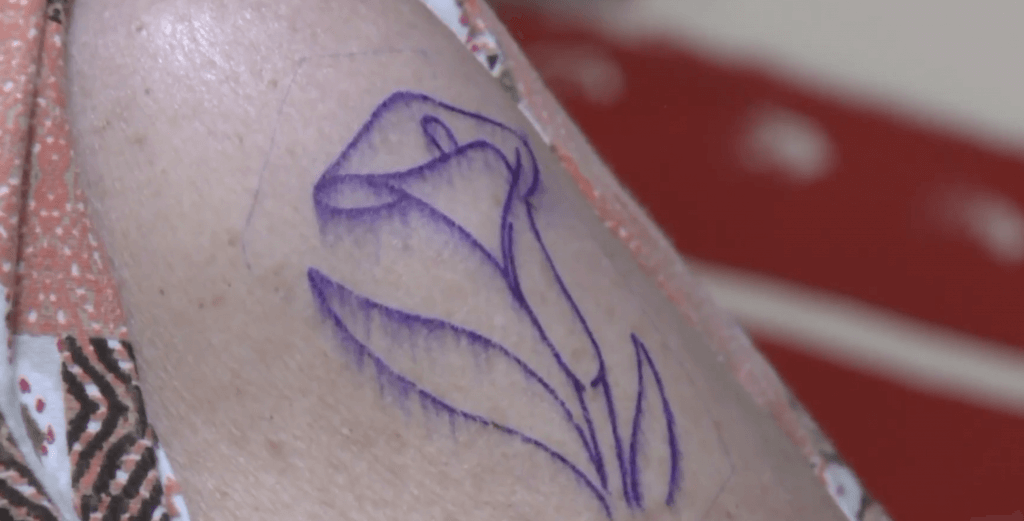 Casber's calla lily tattoo in process at the Warrior Tattoo Studio in Waukee, Iowa.
When her Avalon Hospice nurses in West Des Moines found out that getting a tattoo was on Casber's bucket list, they knew they had to make sure it happened. At the Warrior Tattoo Studio in Waukee, Casber decided to get a calla lily, often a symbol of purity, holiness, and faithfulness, and her personal favorite flower.
"She has followed through her wishes– whatever she's wanted to do," said her husband.
Seeking fulfillment and the emotional journey of cancer
A lot of people going through cancer deal with the frustration of not having fulfilled everything they set out to do in their lives, according to Dr. Chair – Department of Psychiatry and Behavioral Sciences at Memorial Sloan Ketting Cancer Center. "So there are ways of going through, well, how can we achieve that particular goal of helping you fulfill this responsibility? And it usually involves family members, other things," he said when talking to SurvivorNet in the past about the psychology of cancer patients near the end of their lives.
And some of that anger or frustration can be alleviated by fulfilling some of those life goals. "Sometimes there are actual things that you can do– People have bucket lists," he continues."
Dr. William Breitbart on "learning to forgive yourself" during cancer, which might just include scratching a couple of tasks off the bucket list.
"Ultimately," said Dr. Breitbart, "Viktor Frankl said the task of the last part of your life is relieving your existential guilt."
Treatment options for stage four breast cancer
We don't know whether Casbers cancer originate in her breasts and spread to the brain, or the other way around, or whether she had cancer originating in both areas. We do know that for breast cancer that has spread to distant parts of the body — which is the definition of stage four breast cancer– there are treatment options, even thought the disease isn't curable.
"What we're really trying to do is keep things as stable as possible, keep you from having any symptoms, and ideally decrease wherever the site of cancer is," Dr. Elizabeth Comen Medical Oncologist at Memorial Sloan Kettering Cancer Center told SurvivorNet in a past interview about treatment options for stage four breast cancer.
In the case of estrogen receptor positive breast cancer, drugs options are available. "Most of the time we're able to very successfully treat stage four breast cancer that is estrogen receptor positive with oral medications," Dr. Comen said. "These are medications that block the ability of cancer cells to use estrogen as a food supply to grow."
And these drugs can be really effective for stage four patients, according to Dr.Comen. "And what's remarkable is that women can have dramatic responses to these medications and also dramatic reduction in their symptoms."
As for Casber, she seems to have enjoyed her tattoo parlor experience. "I'm chillin out," she said while sitting in the tattoo chair. Then she joked, "How'd I get into this?"
Learn more about SurvivorNet's rigorous medical review process.
---