Shared Experiences
The Office's Angela Kinsey fought back tears after watching former co-star Mindy Kaling's emotional awareness video about pancreatic cancer; both women lost a parent to the disease.
Pancreatic cancer is often diagnosed when it is in advanced stages; symptoms sometimes don't present themselves until the cancer has spread throughout the body.
Symptoms of pancreatic cancer can include jaundice, abdominal pain, and unexplained weight loss.
Angela Kinsey, 49, has a lot more in common with former co-star
Mindy Kaling
, 41, than just starring in 
The Office. 
The TV star was recently brought to tears after hearing
Kaling tell her story of losing her mother
to pancreatic cancer, which is an experience Kinsey knows all too well.
In a series of Instagram stories, Kinsey gave an emotional shoutout of love and support to her good friend Kaling after watching her touching video with the Pancreatic Cancer Action Network (PanCAN). Kaling teamed up with the organization to spread awareness about pancreatic cancer since losing her mother to the disease in 2012. Kinsey knows first-hand how much pancreatic cancer can affect a family. She lost her father, Billy, to the disease in 2014. Kaling's video clearly tugged at Kinsey's heartstrings, because by the end of the video she was fighting back tears.
Read More
Related: Actress Mindy Kaling Lost Mom to Pancreatic Cancer & Wants to Help Others Impacted By the Disease: 'One of the Toughest Moments of My Life'
"I wanted to just take a second, because I feel like I'm really behind with keeping up with things, but I just wanted to send my friend Mindy my love; I just adore her," Kinsey says. "You know Mindy's mom and my dad both passed away from
pancreatic cancer
. Mindy I just love how you have become just a voice for pancreatic cancer and finding a cure. I just love how you made that video, Mindy, I just saw it. Anyway, I love you and that's it."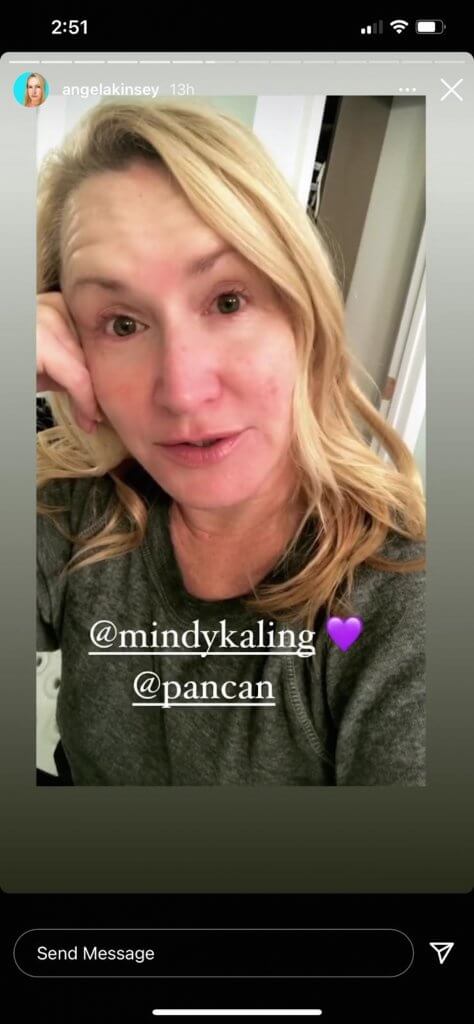 Kinsey's emotional reaction caught the attention of Kaling herself, who reposted Kinsey message to her own Instagram. In a series of stories, Kaling thanked Kinsey for the kind message and acknowledged how those impacted by this disease can feel very alone. As two people who have lost loved ones to pancreatic cancer, they are speaking out and pushing for better outcomes for those facing this difficult cancer.
"Ange and I unfortunately are in the Cancer Club," Kaling writes. "So we both know what it's like to have loved ones who've had pancreatic cancer."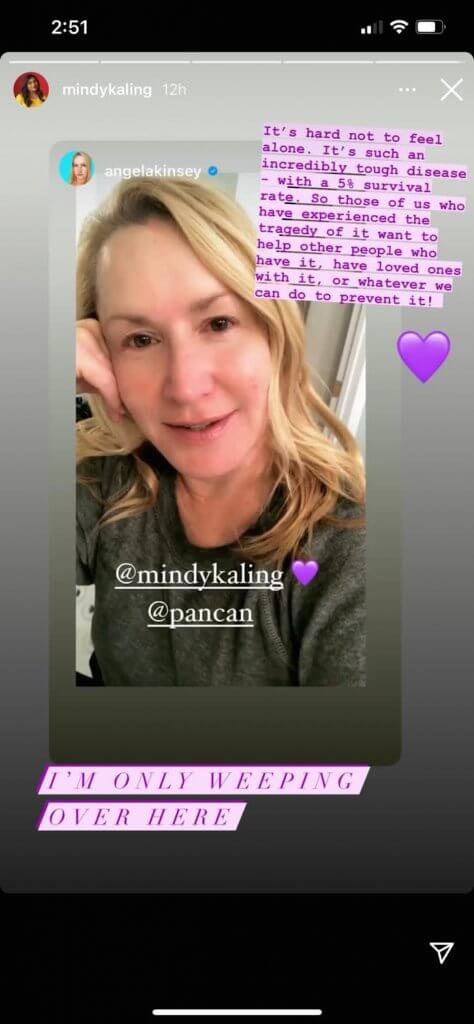 Navigating Pancreatic Cancer
It's unclear what stage Kinsey's father's disease was in, but Kaling's mother fought stage 4 pancreatic cancer before her passing. A late stage diagnosis is unfortunately far too common. In fact, 80% of pancreatic cancer cases are diagnosed by the time it has advanced. This is often because symptoms such as jaundice, abdominal pain, and unexplained weight don't present themselves until the disease has already spread throughout the body.
There's another challenge in detecting pancreatic cancer insufficient screening. Due to the pancreas being located deep inside the body, it can be difficult for the cancer to be detected through screening.
Related: When Heartthrob Patrick Swayze Showed Signs of Pancreatic Cancer He Tried to Delay Doctor Visit; His Wife Wouldn't Let Him
"Because the pancreas is inside the abdomen, it often doesn't have symptoms that would tell you that something is wrong with your pancreas," Dr. Anirban Maitra, co-leader of the Pancreatic Cancer Moon Shot at MD Anderson Cancer Center, told SurvivorNet in a previous interview. "By the time individuals walk into the clinic with symptoms like jaundice, weight loss, back pain, or diabetes, it's often very late in the stage of the disease. Each year in the United States, about 53,000 patients get pancreatic cancer, and unfortunately, most will die from this disease within a few months to a year or so from the diagnosis."
Dr. Anirban Maitra breaks down the challenges of detecting pancreatic cancer
Caregivers Turned Advocates
Watching someone you love battle cancer can really put what matters into perspective. Kaling isn't the only person who now advocates for cancer awareness after losing a loved one to the disease. In some cases, it can really light a fire under you.
This was the case for Justine Almada, who helped take care of her mother, Paulette, as she battled anal cancer. "Cancer affects the whole family," Justine told SurvivorNet in a previous interview. "I was the caregiver for my mom, as were my brother and sister. So, every decision that was made, we sat down as a family and we made it together … Unfortunately, because anal cancer had not seen any advances since the 1970s, we ran out of options pretty quickly."
Related: We Need To Be Catching Lung Cancer Early Survivor Amanda Kouri Advocates For New Detection Methods
Paulette passed away in 2010 due to the disease, and now Justine and her family members advocate for more research and treatment outcomes for the thousands of more people who will be diagnosed with anal cancer. "We decided that we were going to make sure that this never happened to any other family again," Justine says. "So we set out to fundamentally and dramatically improve the lives of anal cancer patients and, at the same time, ensure that the next generation of people didn't have to face this cancer at all."
After losing her mother to anal cancer, Justin Almada advocates for more research and treatment outcomes
Learn more about SurvivorNet's rigorous medical review process.