'The Rock' Supports WWE's Ross Through Cancer
WWE announcer Jim Ross has skin cancer and is undergoing radiation to treat it.
Ross' former WWE colleague Dwayne "The Rock" Johnson sent the announcer support and love on Twitter; Johnson is famously tuned in to the cancer battles of fans around the globe and regularly sends messages of support and encouragement to cancer fighters.
Protect your skin from skin cancer by using sunscreen daily, avoiding tanning beds, wearing a hat, and getting your skin checked regularly.
WWE announcer Jim Ross has skin cancer and former colleague Dwayne "The Rock" Johnson is sending encouragement his way as he has radiation to treat his cancer. Ross was diagnosed after finding a growth on his leg.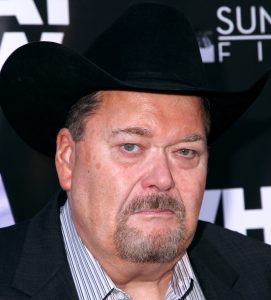 Ross shared the news of his cancer publicly on Twitter, and said that due to his cancer and its treatment, he'd be away from work until the end of December. He writes, "Due to my skin cancer care totaling 22 radiation treatments starting Monday, I will hopefully return to the announce desk on December 29 in Jacksonville. @TonyKhan supports me on this strategy which has been a blessing."
Stay strong, JR! U got this.
No steak eaters 👊🏾💪🏾

Read More

— Dwayne Johnson (@TheRock)

November 26, 2021

Expressing gratitude to his fans and loved ones for their support, Ross adds, "My thanks for all your support."

Related: Stay Positive, It Matters

Johnson, ever a beacon of positivity and support, commented on the Tweet, writing, "Stay strong, JR! U got this. No steak eaters." Johnson wrestled in the WWE for eight years before pursuing a career in film. Today, he's the highest-paid movie star on the planet, and he continues to use his voice for good, and to lift others – like Ross – up amid personal battles.

Radiation for Skin Cancer

Skin cancer is the most commonly diagnosed type of cancer in the U.S., and it's treated with surgery, radiation (which Ross is undergoing), chemotherapy, and prescription creams. The treatment path will depend on the type of cancer – if it's basal cell carcinoma (BCC), squamous cell carcinoma (SCC), or a more serious skin cancer like melanoma – and the stage of the cancer at the time of diagnosis.

Related: Veteran Journalist Chris Wallace, 74, Reveals His Private Battle with Skin Cancer: 'Please Lather Yourself with SPF and Wear a Hat'

For skin cancer treatment, radiation therapy uses high-energy rays (such as x-rays) or particles (such as photons, electrons, or protons) in order to kill cancer cells in the body. Radiation is used when a skin cancer tumor is too large or too difficult to remove via surgery.

Protect your skin from skin cancer, or simply lower your skin cancer risk, by using sunscreen daily,  avoiding tanning beds, wearing a hat, and getting your skin checked regularly.

Top 5 Ways to Protect Your Skin From Skin Cancer

The Rock as a 'Cancer Cheerleader'

Having support through cancer, whether it's from famous colleagues or your nearest and dearest loved ones, is critical. Johnson is someone who's been an incredibly vocal advocate and cheerleader for people diagnosed with cancer.

Related: Actor Dwayne 'The Rock' Johnson Shows That Anyone Can Take Two Minutes Out of Their Day to Brighten Someone Else's; Sends Video to Fan Battling Stage 4 Lung Cancer

He regularly sends videos to children fighting cancer, as a way to brighten their day, as he did for a girl diagnosed with leukemia who loves one of his movies, Moana.

Related: 'Oh My God It's Maui!' Says 7-Year-Old Leukemia Fighter Holly, As Dwayne 'The Rock' Johnson Sends Her a Video of Support for Her Birthday

The actor and former WWE fighter also used his star power to inspire and spread positivity when he reached out to fan Anna Payne during her stage four colon cancer battle. In a video message to Payne, Johnson says, "I want to tell you to stay strong—keep fighting. The fight never ends. You know that."

View this post on Instagram

And when he heard about 10-year-old Luna Perrone, who was diagnosed with a type of bone cancer called Ewing sarcoma just three weeks before turning 10, he sent her a video of support as well. In the video message, Johnson says, "You are such an inspiration to everyone around you and now to me. I'm pulling for you, the world is now pulling for you too."

View this post on Instagram

Beverly Reeves, who battled ovarian cancer, explained to SurvivorNet in an earlier interview how important community and support are when battling cancer. In fact, it's her first piece of advice to someone diagnosed with cancer: Gather your community; circle the wagons, so to speak. She says, "If I had one piece of advice for someone who had just been diagnosed with ovarian cancer, it would be to get a strong support group together."

"Get your close friends. If you're connected to a faith community, get your faith community. Get your family. Let them know what's going on and let them help you. And sometimes that's the most difficult thing to do, but just know that they are there. If they love you, they're there to help you."

'Faith, Family, and Friends' Helped Beverly Reeves Get Through Ovarian Cancer Treatment

Learn more about SurvivorNet's rigorous medical review process.